A solid day on a longtime fishing hole south of Galesburg, Illinois for me and Dad featured a couple interesting and unexpected catches. Both are detailed below in an excerpt from the original report posted to family and friends.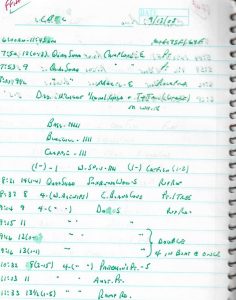 Original log entry from this day on the lake
Date: 9/17/2003
Location: Lake Bracken
Angler(s): Me and Dad
Time: 6:00 am-11:45 am
Bass: 24
Crappie: 3
Bluegill: 4
Channel Catfish: 1
Lures:
Mann's 4- crankbait (wounded alewife) – 8 bass
Spinnerbait (white) – 5 bass, 1 catfish
Quad Shad Spinnerbait (salt & pepper) – 4 bass
Mann's 1- crankbait – 1 bass
Twister tail (white or chartreuse) with spinner (gold) – 6 bass, 4 bluegill, 3 crappie
Top Bass: 2-15 Troy – Mann's 4- crankbait
Top 5 Weight: 7-6 (2-15,1-5,1-4,1-1,0-13)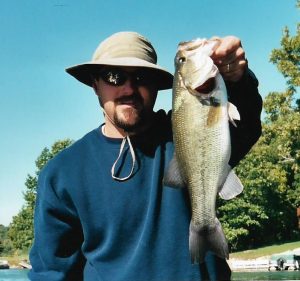 10:32am Top Bass 18″ 2-15 Mann's 4- crankbait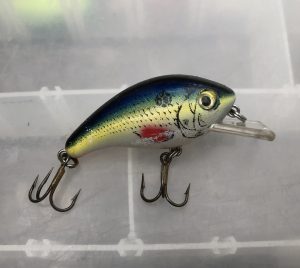 Top Lure for the day Mann's 4- crankbait (wounded alewife pattern, I think)
Between 9:14 and 9:16 am we end up with four bass in the boat at one time although we are practicing catch and release. Along the dam, I hook a small (9″) bass on my Mann's 4- crankbait (wounded alewife) that falls into the bottom of the boat as I lift it out of the water. Not wanting to waste time trying to find this fish I go ahead and fire another cast. A couple cranks into my retrieve I've got another hit and set the hook. About the same time, I see Dad ram the hooks of his Mann's 1- crankbait into a hungry bass. As we each battle our fish to the boat, I let Dad know that I've got an unusual result on my crankbait. It turns out that I've caught two fish on one lure for the second time this year. It's now 9:16 am and there's one fish flopping around in the bottom of the boat, Dad's unhooking his bass and I'm hoping neither of my bass fall off before Dad can snap a picture. Both of my bass cooperated and we got a nice picture of a 12″ bass on one treble hook and a 13″ bass on the other.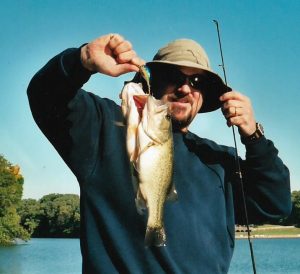 9:16am – A rare "double" during a flurry when we had four bass in the boat at one time
A second unusual catch occurred later as Dad hooked a fish on his white spinnerbait. Actually, that part is rather common, as the white spinnerbait is one of his deadliest weapons. However, the way the fish fought and the body plan upon our first glimpse suggested something other than our targeted species. I grabbed the net and soon we had a decent catfish in the boat posing for a picture. The fish makes a Grand Slam for Dad with four species along with largemouth bass, crappie and bluegill.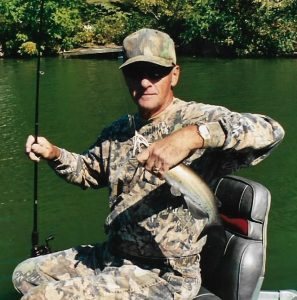 Dad's white spinnerbait is also a winner with a "whiskered" bass
Always a good time on the water and definitive proof that you just never know what lies in store with each outing. And yet again reinforces why I feel that fishing trips can always use a few tools beyond rods, reels and lures. A camera, a log book and a word processing program (after a rough draft with pen and paper on the old, trusty clipboard) all help to preserve the details for revisiting the tales anew more than a few years down the road. Talk to you later. Troy