Boy, is it fun when you get it right.
And even more rewarding when you are traipsing cross country over some challenging terrain in search of some bites with a longtime fishing companion.
The best day of 2013 (83 bass including a rock solid Top 5) comes your way below via some excerpts from the original post.
Back in 1980, the R&B/Funk duo, The Brothers Johnson, posted their third and final Top 10 hit with an entertaining cut called "Stomp!." Well, lets fast forward to September 2013 when the bass fishing duo known as The Brothers Jackson put a "stomp" on some Knox County strip mine bass. Here's how it went down.
Stats
Date: September 29, 2013
Location: Knox County public walk-in strip mines
Time: 7:50am-1:15pm (4 hours fishing, the rest walking)
Weather: Sunny/windy
Air Temp: 60-75F
Water Temp: not available
Totals: 83 bass & 2 green sunfish (7 different lakes)
Brent Totals: 44 bass & 1 green sunfish
Troy Totals: 39 bass & 1 green sunfish
Lures Brent: White Spinnerbait, Mann's 4- crankbait
Lures Troy: Rebel Suspending Jerkbait – 22 bass, Strike King Red Eye Shad (orange craw) – 10 bass, Bass Pro Shops River Bug – 5 bass, Mann's Baby 1- crankbait (rainbow) – 1 bass, K9 Walker stickbait (Madd Shad) – 1 bass
Top Bass Brent: 2-5 Mann's 4- crankbait
Top Bass Troy: 4-3 Rebel Suspending Jerkbait
Top 5 Weight: 15-7 (4-3,4-0,3-5,2-5,1-10)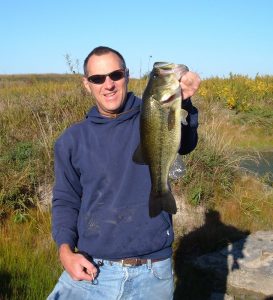 8:52am Top Bass #3 of the day 19.5″ 3-5 Jerkbait
Changeups – Lots of decisions are made during four hours on the water (or bank in this case) and it is rewarding when they pay dividends. It doesn't always work in our favor but just as I report the lackluster performances and bad calls, I also pass along the times when we get it right. Either way, it's simply a matter of giving you my version of the straight dope from a day on the water. The following "changeups" went a long way towards making this a memorable day.
9:54am Top Bass #4 of the day 2-5 Crankbait
Changeup #1 (9:54am) – Relying solely on his white spinnerbait, Brent had put on a fishing clinic at our third stop while never leaving his spot on the bank. He'd landed nine bass in just over twenty minutes before his bite left. As we were considering leaving he tied on a Mann's 4- crankbait and proceeded to nail a 2-5, his largest of the day, on his first cast. While taking the above photo I made sure to compliment Brent on this changeup to add a solid second fish to our creel (all fish released though). We wound up sticking around for another twenty minutes and landed nine more bass combined to bring the lake totals to 19 bass in 45 minutes.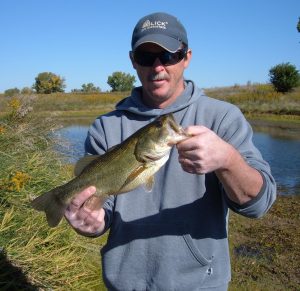 10:25am Top Bass #5 of the day 1-10
Changeup #2 (10:25am) – Brent moved from the main body of our fourth lake to a narrow finger and proceeded to clean house with his spinnerbait. In a hurry, he had five bass to my one and added another solid bass to our five fish limit with a 1-10. Once again I offered a thumbs up on a productive decision that would eventually produce a total of thirteen bass for him in forty five minutes.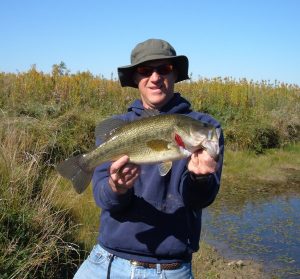 10:43am Top Bass #2 of the day 20″ 4-0 Jerkbait
Changeup #3 (10:43am) – I took over the point Brent had vacated with his move to the finger and quickly had a large bass explode on my K9 Walker stickbait. I briefly had the fish on but it let go and left me pretty bummed that it hadn't hooked up. A few casts later, to my surprise, the bass busted the bait again but completely missed with its tail clearing the water and providing reason for dejection as it was a good one. I opted to leave the fish alone and moved to a nearby dropoff with a muskrat run extending out into deeper water. Two casts later with a suspending jerkbait and Brent was snapping a photo of me holding a 4-0.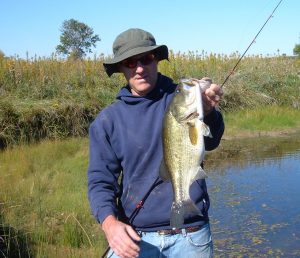 10:53am Top Bass of the day 20″ 4-3 Stickbait
Changeup #4 (10:53am) – I definitely wasn't leaving without giving my hot fish one more chance and moved back to the point where I'd enticed the two blowups. Amazingly, the bass gave me a third shot and this time his aim on the K9 Walker was true and our former Top Bass was displaced after ten minutes with a 4-3. The neat thing is that this is a handmade bait that I received from a blog reader and commenter, Frank Harvey. In fact, as I posed for the picture, leaving the lure hanging out of a lip, I said to Brent, "How cool is that to catch it on Frank's lure." Thanks, Frank, it's a winner!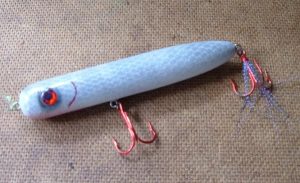 K9 Walker homemade stickbait crafted by a reader at my former blogging gig
We wound up our day hitting all the spots we'd aimed to fish, racking up a couple dozen more bass in our run and gun process. It was tough to leave a few fishing holes but we were on a mission as we had plans to attend a birthday cookout for Dad that evening. At one point during a good bite, Brent wondered aloud if we'd make it to all of the lakes we had on our agenda. I responded that if the bass kept it up we might not make it to the family gathering. It was that kind of day. We left tired and a little sore, but a good kind of tired and a little sore. It didn't take me long to get over it though as I was back the following day headed for a half dozen more lakes in a different direction. But that's another story.
Believe it or not that is the slightly abbreviated version. As much as I like to talk fishing, I sometimes find it hard to stop. Especially on a day when the bass make you look like you actually know what you are doing. Talk to you later. Troy