After 57 days without a bass I was excited to get a chance to hit the water last Sunday. My original plan was to spend the first day of Fall prowling the banks of a regular haunt while flying solo. But just for fun I sent out a text to an old fishing partner who's also been known to cover a few miles in search of some bass. And guess what? My bro was good to go. Too bad for the bass.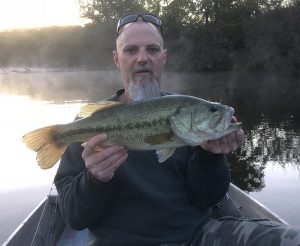 6:34am Top Bass #2 of the trip and our first bass of the day at 20″ and 4-8 on a buzzbait
Stats
Date: September 23, 2018
Location: Knox County, IL strip pits (3 public, 2 private)
Time: 6:30am-1:15pm (5.25 hours fishing, the rest walking/driving)
Weather: Sunny/calm to breezy
Air Temp: 46-74F
Totals: 48 bass, 1 crappie (Brent = 28 bass, 1 crappie, Troy = 20 bass)
Lures Troy
Senko wacky rig (green pumpkin/black flake) – 8 bass
Booyah Buzz Buzzbait (snow white shad) – 6 bass
Booyah Blade Spinnerbait (white/chartreuse) – 4 bass
Strike King KVD 2.5 Rattling Squarebill crankbait (sexy shad) – 1 bass
Yum Wooly Curltail (pumpkin/pepper/green) – 1 bass
Lures Brent
Spinnerbait (Emiquon Special) – majority of his catch
Senko wacky rig (smoke) – the rest of his catch
Top Bass: 5-1 Brent Spinnerbait, 4-8 Troy Buzzbait
Top 5 Weight Brent: 14-11 (5-1,3-7,2-3,2-2,1-14)
Top 5 Weight Troy: 12-7 (4-8,3-2,1-11,1-10,1-8)
Top 5 Weight combined: 18-5 (5-1,4-8,3-7,3-2,2-3)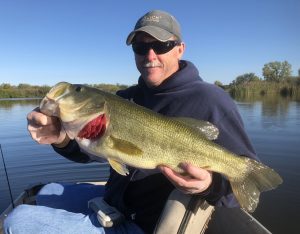 8:39am Top Bass at 22.5″ and 5-1 on a spinnerbait, just an outstanding looking fish, long and lean
Notes and Nonsense
First Bass – The original plan was to hit some walk-in strip mines but reconsidered as I had the boat loaded for Plan B. Thus we decided to row first while the prodigious terrestrial weed growth hopefully dried out a bit so we wouldn't end up starting the day soaked in the 40 degree weather. Proved to be a good decision four minutes after hitting the water as my first bite of the day wound up being a 4-8 on a buzzbait worked over a mid-lake hump. Turned out to be my biggest of the day but not the biggest of the trip.
Lunker Point – As I rowed us around stop number two I started telling fish stories as I have been known to do while on (or off) the water. Pointing to an approaching point I mentioned to Brent that it had produced a pair of five-pounders over the last couple years (5-10 and 5-0 to be exact). I even noted that I had taken to calling it "Lunker Point" when documenting the location of catches in that vicinity as they are entered in the log. Right on cue, Brent's rod loaded up with a good fish after a cast to the spot and the fight was on. After a few tense seconds trying to get a grip on the bass at boatside he hauled in the third five-pounder from the spot I'd been bragging up. Got us another fish story to add to the mix.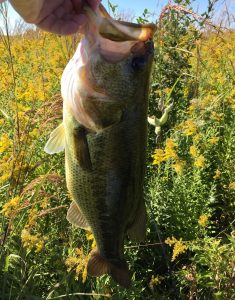 11:38am Top Bass #3 Brent's 3-7 on a spinnerbait
Dropped the Ball, Part I – It's kind of tough to explain but unfortunately there is no video footage of the two catches described above. I did have the GoPro packed along in my tackle backpack but just never got around to buckling it on. Kind of disappointing on one hand as it would have been some cool footage. But that thing can also present a bit of a dilemma as it is rather revealing. I love fishing pics and videos, especially if they are from somewhere that I fish but I must admit that I admire the background as much, if not more, than the fish. Just saying…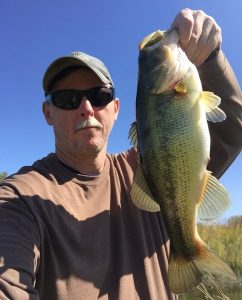 12:07pm Top Bass #5 at 2-3 Senko wacky rig, very cool as just a stout fish
Dropped the Ball, Part II – Last year I introduced something called "Lake Lowdown" here on the blog. This feature documents every bass we land via a photograph and log entry of all the details. Originally borrowed from Bassmaster's monthly "Day on the Lake" series, I've run my piece nearly every year dating back to 2003. Well, in hindsight, this would have been a real winner for the project but somehow slipped my mind. Maybe next time as I need to keep the string alive with a 2018 version.
Get to the Point – Stop number one on our walk-in part of the outing resulted in a dozen bass warm-up as prep for stop number two, our best fishing hole on the property. As we headed out I told Brent that it's "first come, first serve" on choosing our spots. He arrived first and made a solid choice. Never leaving the point he selected, he proceeded to put on a clinic in outfishing me 6 to 4 and easily outweighing me with his Top 5 on the spot tipping the scales at 11-8.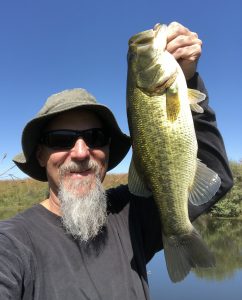 12:52pm – Top Bass #4 at 18″ and 3-2 on a crankbait
Quite a day, easily the best of 2018. I'll wrap it up with one final bit of fun via a comment that I threw out after Brent had landed his 5-1 to top my 4-8 less than two hours into our trip. As we also had several in the one-pound range in our creel I said, "Now all we need is a three and a two for a 5-4-3-2-1 day." Shortly before noon, Brent had put the finishing touch on the quintet with a 3-7 and a 2-2. Plenty more I could share from our productive day, including another batch of Trip Tunes so stay tuned. Talk to you later. Troy