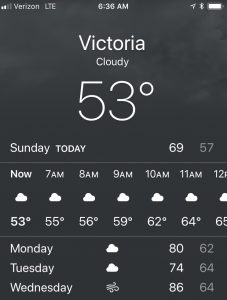 After 57 days without a bass, I was quite happy that back to back weekends to end the month offered opportunities to go fishing.  A September without any fish would be a real bummer as it is one of my favorite months of the year to get on the water.  For September fishing trip number two, on top of the expected enthusiasm, I was also looking forward to teaming up with a friend, Jim Junk, who is having quite a year as our Top 5 leader.  Here's the scoop.
Stats
Date: September 30, 2018
Location: Knox/Fulton County, IL strip pits (3 public, 2 private)
Time: 6:30am-10:45am and beyond (details later in report)
Weather: Partly cloudy/calm to breezy
Air Temp: 53-74F
Totals: 42 bass (Troy = 24, Jim = 18)
Lures Troy
Booyah Buzz Buzzbait (snow white shad) – 8 bass
Senko wacky rig (pumpkin/black flake) – 7 bass
Strike King KVD 2.5 Rattling Squarebill crankbait (sexy shad) – 5 bass
Booyah Blade Spinnerbait (white/chartreuse) – 3 bass
Zara Spook (black shore minnow) – 1 bass
Lures Jim
Wacky rigged worm or white spinnerbait
Top Bass: Jim 3-14 Wacky worm, Troy 1-13 Spinnerbait
Top 5 Weight Jim: 14-7 (3-14,3-4,2-8,2-7,2-6)
Top 5 Weight Troy: 8-11 (1-13,1-12,1-12,1-11,1-11)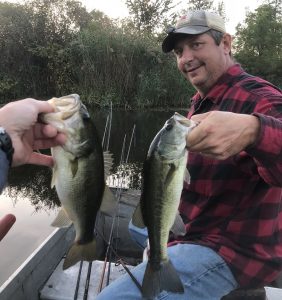 7:03am on the board with a double
Notes and Nonsense
The Shallows – After about 20 minutes without a bite we rowed into a spot that afforded casts in opposite directions, each to a shallow pocket. Prior to taking our shots I mentioned that I often get a bite despite there being some pretty skinny water. Right on cue we soon had a double in the boat and we were off and running. Our second catches, mere minutes later, also came aboard in similar synchronized fashion and we missed a third double about ten minutes later. As the day progressed, we continued to find our Knox County bass quite shallow which is just fine by me.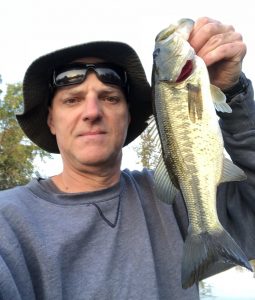 8:56am with my second largest bass of the day at 1-12 on a buzzbait
Old Boat, New Junk – Jim has posted quite a Top 5 creel this year which I find additionally impressive due to his catches coming while prowling the bank. So, while my eight foot johnboat is not particularly glamorous I hoped that it at least provided some new scenery as we hit all the spots that a bank angler views as "I sure wish I could get over there." Jim and I had visited one of the lakes in Dad's Bass Tracker in June but the little boat is a whole different ballgame and I had a laugh later upon realizing that I had added another Junk to the list of co-anglers in the watercraft. Back in the 80s I prowled Knox County waters with his brothers, John and Mark, took his sister-in-law, Lisa, along about 15 years ago (she was eight months pregnant at the time) and his nephew, Brady, has had the boat out for a few adventures (not sure if Jim's boy, Matthew, may have been aboard on some of those as well). I always say that I take too much stuff along on my outings but apparently never can have enough Junk in the boat.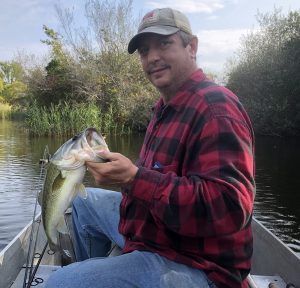 9:45am – Jim's 2-8 was Top Bass from the Knox County leg of the day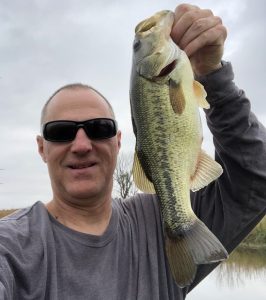 12:22pm – My Top Bass of the day at 1-13 on a spinnerbait from Knox County walk-in strip mine
Full Day Addendum – While we had a successful morning in combining for 37 bass in just under four hours at Little John, we both had other tricks up our sleeves. I headed to some walk-in ground after our joint outing for another dozen bass while Jim remained at Little John chasing some crappie. I stopped by again on my way home about 2:00pm just as Jim was wrapping up, or so I thought. Instead, about 7:45pm I got a text from Jim stating that he had made his last casts of the day at around 6:30pm at Banner Marsh where he fooled five more at 3-14,3-4,2-7,2-6 and 1-9.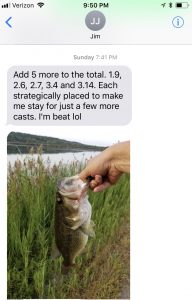 Jim couldn't get enough fishing it seems and his dedication paid off in Fulton County to end a long day
One That Got Away – As painful as it can be, it's a fishing standard that inevitably hits every angler from time to time. The fishing gods decided it was Jim's turn this time around. Shortly before we ditched the little boat and went our separate fishing ways, Jim flicked his wacky rig onto a shallow ledge featuring a collection of laydowns and worked his lure towards the edge into deeper water. I wasn't sure if it was a fish or a snag in the initial split second when I saw his rod bend but a huge thrash just at the surface and a big flash of green and white screamed "Big fish!" However, seconds later the worm came loose and we were left to wonder. I did not offer up an estimate, not the time or place, and we didn't fish long enough afterwards for the topic to come back up. But after nearly a week to replay those few seconds, I'll just say that the current lake record of 5-14 (a bass caught by Jim in 2014) wouldn't be the lake record anymore.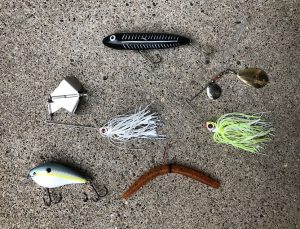 My arsenal for the day while Jim scored with a wacky rig and spinnerbait
A solid and enjoyable day on the water as we put the first week of Fall behind us. If pressed to choose, I would have to say that this is my favorite time of the year to chase some bass. Too tough to put the appeal into words but knowing that the days on the water are numbered seems to bring an added appreciation. Just a vibe that this is the home stretch knowing what looms on the horizon in terms of the seasons. Those bass know it too, providing us anglers with a good opportunity to find a few that let their guard down. Here's hoping for a few more chances to cross paths with a Fall feeding frenzy. Talk to you later. Troy