For the second consecutive Friday Flashback we revisit Knox County, Illinois' Lake Storey.
And here's what's extra cool about this post.
Just a few days shy of exactly 20 years later, the same two guys featured in these flashback photos are out there again looking for a few more bites as they add to their collective stockpile of fish stories.
As we await the results of the 2018 version of a Lake Storey outing with my brother, Brent, we'll take a look at the 1998 version as a warm-up.
When a fishing trip produces a pair of lake records that's a solid day. Especially when you only combine for four total catches.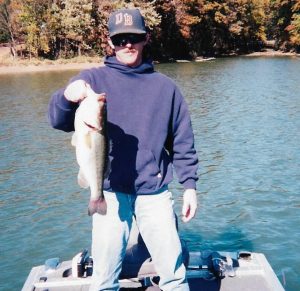 1:32pm (pic above) – Brent lands a 4-7 bass along a tried and true stretch or structure that consists of some shallow scattered riprap. No surprise at all that he is wielding a spinnerbait to fool a new Lake Storey bass record, eclipsing Dad's 4-6 from 1988. The record would stand until 2007 when I was able to bump it up another ounce with a 4-8.
3:30pm (pic above) – My trusty Blue Glimmer spinnerbait crossed paths with one of the lake's toothy residents that equaled my personal best muskie at 7-14 (33.0"), tying a 33.5" of the same weight from September 1997 at Snakeden Hollow's Lake McMaster. This Top Muskie has been topped four times over the years with the current mark of 43.5" and 19-8 from Lake Storey in September 2012.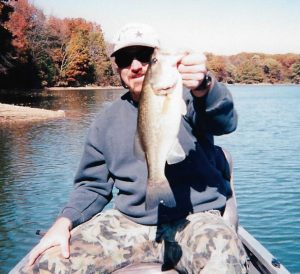 12:45pm (pic above) – For good measure, our third quality catch of the day was our first with a 2-0 bass also on the Blue Glimmer spinnerbait. Not a trophy or a record but a solid catch as anything at two pounds or better is a "good fish" in my book, especially on a stingy spot like Lake Storey.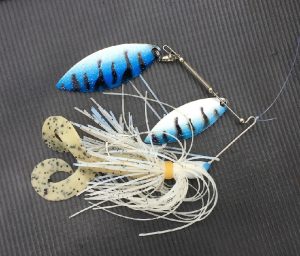 A legendary lure that I simply call the "Blue Glimmer"
What's also fun is that I remember exactly where all of our catches came from without having to peek at the log or scour the background of the photos for clues. It's a little something that I call "piscatorial memory", a concept long stashed away in my stack of blog posts for another day.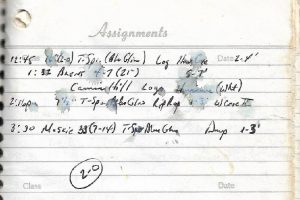 Original log entry complete with battle blemishes
Another fun note on this outing is a look back at the log entry as it features the splotches from the splashes of that new muskie record. While I don't recall the specifics of the muskie decorating the notebook, an investigative eye shows the muskie data to be free of blemishes leading me to believe that the muskie was the culprit. Makes for a good piece of the story at least.
I'll close with a final observation regarding the Lake Storey bass record as there seems to be a bit of a pattern. Looks like about every 10 years or so a new Top Bass joins the record book. Dad kicked it off in 1988, Brent upped it by an ounce on this 1998 outing, my 2007 bass came in a year ahead of schedule and here we are in 2018 with two of the Lake Storey record holders headed to the lake…
Stay tuned and talk to you later. Troy