Last Sunday afternoon provided a few hours to get on the water after some boat prep work at my folks in Galesburg in advance of some possible fishing later this week. After clearing the clutter from Dad's boat, checking tire pressure and getting the batteries charging I had several hours of daylight and the little johnboat in the bed of my truck. So, it was off to the strip mines where Top 5 leader, Jim Junk, had texted that he would be chasing some crappie. Perhaps he could be convinced to join up for some bassing…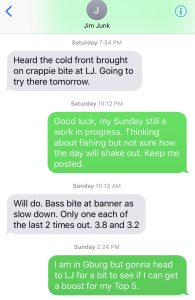 The makings of a fishing trip
Stats
Date: October 14, 2018
Location: Knox County, IL strip mines (1 lake with Jim, 1 lake solo)
Time: 3:10pm-6:15pm
Weather: Overcast/calm to breezy
Air Temp: 51F
Totals: 10 bass (Troy = 6, Jim = 4)
Lures Troy
Booyah Blade Spinnerbait (white/chartreuse) – 3 bass
Strike King Red Eye Shad (sexy shad) – 2 bass
Senko wacky rig (pumpkin/black flake) – 1 bass
Lures Jim
Wacky rigged worm
Top Bass: 1-7 Jim Wacky worm
Top 5 Weight (only 3 at 12" or better): 3-8 (1-7,1-1,1-0)
Notes and Nonsense
Teaming Up – I'd texted Jim to warn him that I was headed in his direction but hadn't received a reply and didn't spot his vehicle upon arrival so figured I was on my own. However, as I drug the boat down the grassy "ramp" I heard somebody holler. Turned out that I would enjoy some good company while Jim gave the semi-cooperative crappie a break.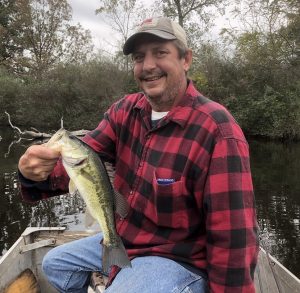 3:32pm- Jim with a 1-0 on wacky rigged worm
Counting Catches – As a dedicated "logger", I got a kick out of Jim mentioning that he recently decided to track some data on his catches. A text message from October 8 had put his October totals at "25 bass with 8 over 3 pounds and biggest at 4-1." As we hit the water, Jim noted that he was sitting at 35 bass which gave him just a slight edge over my October total. A slight edge of 35 bass. Well, in the hour and a half of our tag team bassing I sure didn't gain any ground as he continued to outfish me four to one.
Close Quarters – Don't know if you've ever teamed up with a co-angler in an eight foot johnboat but it's quite an interesting experience, been doing it for 35 years or so. Takes a little coordinated casting and boat maneuvering to hit your spots from a decent angle while ideally not hitting each other upside the head. In addition, not only can you get a visual hint when your partner is gearing up for a hookset but on occasion you can also feel the boat move. I got a laugh out of such an instance this time around in seeing and feeling Jim briefly lean into and flinch in a near hookset as a bass did one of those quick hit and then let go of the lure moves. The cool thing is that only seconds later the bass came back for another shot and got it right resulting in a repeat lean followed up by the real deal on a hookset and catch. Good stuff that I suspect you just don't get in a $50,000 bass rig.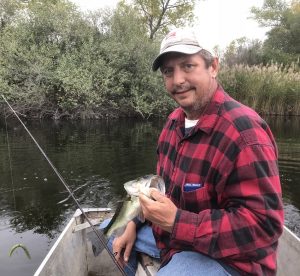 3:45pm Top Bass at 1-7 on an afternoon where we couldn't find that big bite
Fair Finish – After an hour and a half I decided to relocate to another nearby fishing hole while Jim elected to finish his day chasing a few more crappie. I managed to pick up five more bass including my Top Bass of the outing at 1-1. Nothing much to write home about but still blog worthy as I simply tell it like it happened. Jim wound up with a decent batch of crappie but elected to set them free when it was all said and done instead of winding up with a late evening of cleaning fish.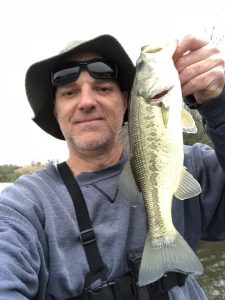 5:47pm best I could muster at 1-1 on a spinnerbait
So, glad to get out as always though not much to brag about. A bit more of a pleasant afternoon/evening than I really anticipated as a couple layers of clothing made it quite comfortable in the low 50s temps with merely a light breeze. Getting to that point where I know my days on the water are numbered so honestly a bit antsy to put some more bass in the log and hoping for a late season boost to my somewhat lackluster Top 5. Hope to invest some time (and a few vacation days) as the weather looks stable leading into and through the weekend although more than a bit chilly in terms of overnight lows. Hope you'll check back in for what lies in store over the back half of the month and if you get out, by all means send any Top 5 catches my way as we push towards 100 bass (93 bass and counting as we already have a new entry for next Monday's update). Talk to you later. Troy