Finally able to work in a Lake Storey trip for 2018 as I was starting to wonder if I would be able to get it done before the weather got too ugly for me. It took the investment of a pair of vacation days but certainly worth it for back to back days on my "home lake." The first of the two reports coming at you below and happy to say some productive days on a longtime favorite fall fishing destination.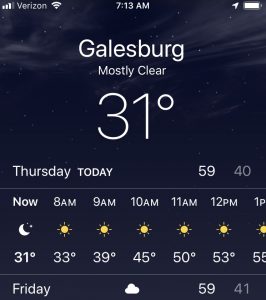 Stats
Date: October 18, 2018
Location: Lake Storey – Knox County, IL
Time: 10:20am-4:35pm
Weather: Sunny/breezy to windy
Air Temp: 44-61F
Water Temp: 54-58F
Totals: 13 bass
Lures:
Booyah Blade Spinnerbait (chartreuse/white shad) – 13 bass
Top Bass: 1-8 Spinnerbait
Top 5 Weight: 6-2 (1-8,1-6,1-2,1-1,1-1)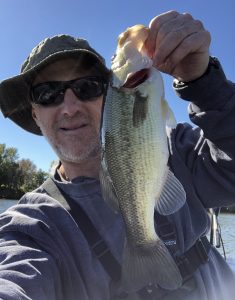 1:03pm Top Bass 14.5″ 1-8 Spinnerbait
Notes & Nonsense
First Cast – Lake Storey can be a stingy lake at times as it supports a population of smart bass that get their education via a steady stream of angling pressure. So when you launch your boat, do your best intro, describe a historically productive spot and then proceed to catch a bass on your first cast of the day, all you can do is laugh at your good fortune. And while I've often viewed the "first cast bass" as a potential bit of bad luck, all worked out just fine on this day. Video of the catch below.
Shifting Gears – After nabbing that first cast bass on a spinnerbait, I kept on tossing it around my regular stops and it kept on getting bit. Now I'm not normally a spinnerbait guy on Lake Storey (that would be my brother Brent's gig as we will see in the next report) as I lean towards more of a crankbait bite. But there's no way I'm going to alter my offering when the bass are telling me that they want a spinnerbait. Yes, even as a creature of habit, I'm not that stubborn. For proof, the spinnerbait caught every fish on this outing as my brief foray into other offerings (crankbaits, creature baits and lipless cranks) proved to be unproductive so I wisely set them aside.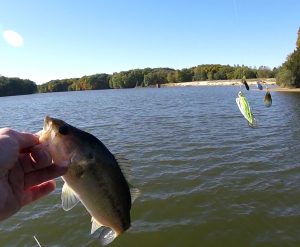 11:14am featuring a reveal on the bait that got the job done
Fun in the Sun – While full sun concerns me at a number of my fishing holes, Lake Storey is not one of them as I also prefaced in my intro. Turned out just fine as all but one of my catches were soaking up some rays on the banks hit by direct sunlight.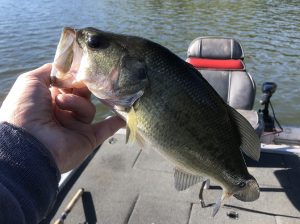 3:11pm Solid, stout fish are easy on the eyes, 14.5″ 1-6 on Spinnerbait
Not Made in the Shade – In contrast to the sun success, I sure couldn't buy a bite in the shade. Even when fishing similar depth and structure it was just no go. Unfortunately, it took me a while to figure out that even my go to spots just weren't going to work on the shady side as I went about an hour without a bite before making another run in the sun.
Wood is Good – Recent rains had brought the water level up a bit compared to the full drawdown pool which was kind of cool as it brought some structure back into play. A great deal more wood in the form of laydowns and brush were now shallow targets and 9 of my 13 catches were in those neighborhoods.
Fishing Friend – Ran into a fellow fisherman that I have known since the 80s and had a good chat which was a pleasant addition to our prodigious email correspondence discussing Lake Storey and beyond over the years. I'll call him "Larry" and while he was walleye fishing on this day, he noted that he'd run into a few bass in the pound range and backed up my assessment on how healthy the bass looked. So while size was lacking the bass were indeed a stout sort.

Consistency – Kind of interesting too, that my Top 5 Weight for the day of 6-2 was an exact match from my last outing on October 2, 2017.
10/18/2018 Top 5 Weight: 6-2 (1-8,1-6,1-2,1-1,1-1)
10/2/2017 Top 5 Weight 6-2 (1-11,1-3,1-2,1-1,1-1)
No lunkers on this outing but I was quite pleased with the quantity of bites and the quality build of the catch. My average catch rate based on data from 1997 to present comes in at 0.98 bass per hour so this trip's rate of 2.08 was outstanding for me. And what was also cool was the fact that I would be back on the water the next day with my brother, Brent, a spinnerbait wizard, to do it all over again. That report heads your way soon as the 2018 version of something I call "Lake Lowdown." But first, a recap of what the feature is all about along with the historical data from all prior "Lake Lowdown" outings. Hope you'll check it out and talk to you later. Troy