A late season doubleheader is today's flashback feature. I looked it up and turns out that October 22, 2003 was a Wednesday back in the days where I had an odd work schedule which provided for many weekday days off. Pretty cool in retrospect and still kind of miss that aspect of my former job. You've gotta like being out fishing when most everybody else is at work. Looks like the day started tough for Dad and I at Little John Conservation Club as noted in the stats and comments from the original report.

Original log entry from this pair of trips
10/22 Long Lake & Club Lake-Little John
Angler(s): Me & Dad
Time: 8:05 am-12:15 pm
Bass: 8
Lures: Jig (brown) with split double tail trailer (black)
Rapala Rattlin' Rap (brown craw)
Mann's Baby 1- crankbait
Vibra Shaft spinnerbait (blue glimmer)
Rebel Ghost Minnow
Spinnerbait (white)
Top Bass: 1-0 Troy Vibra Shaft spinnerbait (blue glimmer)
Highlights: Dad lost a nice fish on Club Lake while fishing a jig near the beach. The fish put a nice bend in his pole and despite a solid hookset, let go of the lure before we got a look. Dad nearly lost something else too, as one of my extra strength hooksets caused my lure to leave the water and nail him just below the belt.
Another interesting aspect of fishing back in 2003 was that if the bass didn't cooperate in the morning, I often had a chance to try it again in the afternoon. No kids kind of afforded free time like that and I took advantage on this day with a quick hit on a legendary, local farm pond.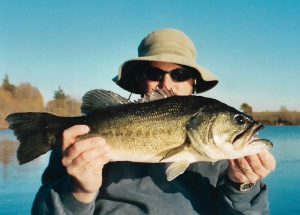 4:55pm 21.5″ 3-5 Jig & Pig on The Beaver Lodge, kind of a sickly looking fish, topic for another day…
10/22 Emstrom's Pond
Angler(s): Me
Time: 4:50 pm-6:05 pm
Bass: 4
Lures: Jig (black/blue) with twin tail trailer (black)
Mepps #5 (rainbow trout/white)
Top Bass: 3-9 Jig (also caught a 3-5 on jig)
Highlights: Two bass over three pounds on the jig while fishing The Beaver Lodge will make anyone's day. I'm glad I didn't give up after a fairly tough morning at Little John.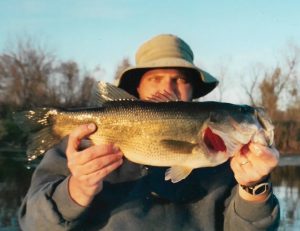 5:40pm 20″ 3-9 Jig & Pig on The Beaver Lodge once again, a classic piece of structure that's also a story for another day… 
Boy, how times have changed. Weekday mornings now begin with Julie and me assisting four youngsters prior to them heading off to school and today our afternoon/evening didn't end until about 8:30pm. A dentist appointment (complete with tooth extraction) for one of the boys, two parent/teacher conferences (had to skip a third due to lack of time), Julie actually conducted conferences all evening too from the teacher side and birthday gift shopping in advance of one of the boys heading to a local trampoline park for a party, Oh yeah, had to feed these people in the midst of all that stuff and then get the boys ready for an overnight visit to my folks as they are out of school due to more parent/teacher conferences. We're scheduled for 7:45am. I'd say thank goodness its Friday but it really doesn't matter as weekends are often just as busy. Funny how times change and you just hold on and try to stay in control and in the saddle for the weekly ride. Talk to you later. Troy