Nearly waited too long to get around to the Lake Lowdown project for 2018 and darn near missed out on my shot to fish Lake Storey as well. But it all worked out in the end as both items came together last week and did not disappoint.
This time around I brought my brother, Brent, along on the project for the first time since the inaugural stab at the concept back in 2002 on Knox County, Illinois' Lake Bracken. Sixteen years later we teamed up again, kicking the challenge up a notch with a visit to a public fishing hole. And a historically tough one at that.
Welcome to Lake Lowdown 2018 on Knox County Illinois' Lake Storey.
Conditions
Date: October 19, 2018
Location: Lake Storey – Knox County, IL
Time: 9:15am-3:00pm
Weather: Overcast/windy to very windy/spell of light to heavy rain
Air Temp: a cold 50-52F
Water Temp: 54-55F
Catch by Catch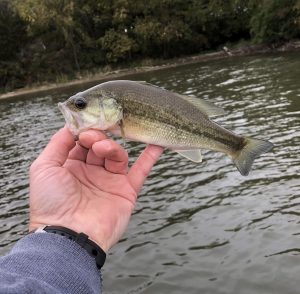 Bass #1 – 9:39 am 8" Mann's Baby 1- Crankbait (rainbow)
Fortunately, we didn't have to wait too long to long to put the shutout behind us as the first bass came aboard just over 20 minutes into casting. Not quite as quick as the previous day when I nabbed a bass on my first cast and not a trophy but hey, we're on the board.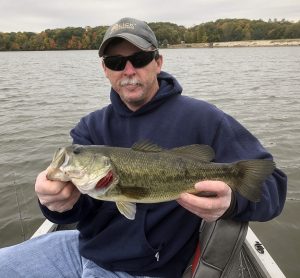 Bass #2 – 9:44am 17" 2-7 The Emiquon Special spinnerbait
It doesn't take long for Brent to work some spinnerbait magic with his legendary creation. This quality Lake Storey fish comes from some manmade structure and weighs nearly a pound more than anything from my previous day on the water. But it comes with a price as it destroys the skirt on Brent's best bait and he has no spare in tow.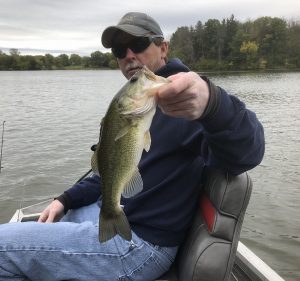 Bass #3 – 10:08am 15" 1-5 Tandem spinnerbait (white) with hammered copper blades
While he had to shift gears to a backup spinnerbait, Brent doesn't miss a beat with another solid bass from the back of a shallow cove. Another handmade bait is his replacement with a white skirt and tandem, hammered, copper blades. And to anybody who is reading this and is under the age of 20, well, that bait has probably been around longer than you have. Still works, though.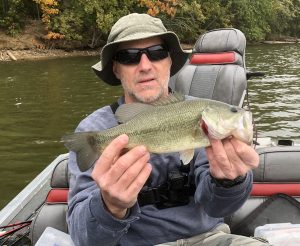 Bass #4 – 10:46am 12.5" 1-3 Booyah Blade spinnerbait (white/chartreuse)
Back on the spinnerbait bite that fooled 13 bass the previous day after messing around with some unproductive crankbait casts on this morning.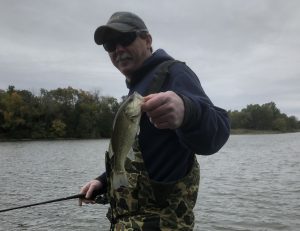 Bass #5 – 11:00am 11.5" Tandem Spin
Brent has donned his coveralls at this point as the wind has really chilled things out despite the temperature remaining stable in the low 50s. More on his attire in a later post as I milk this Lake Storey thing across a few blog entries.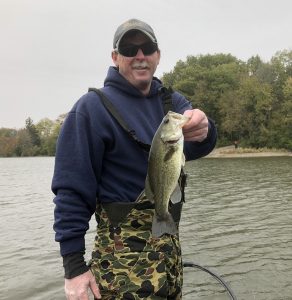 Bass #6 – 11:16am 13" 1-3 Tandem Spin
A mysterious figure lurks in the background as the rain begins to come down and we kick ourselves for not bringing rain gear as we bought the forecast of no precipitation. We were taught better by that fellow looming back there on the bank.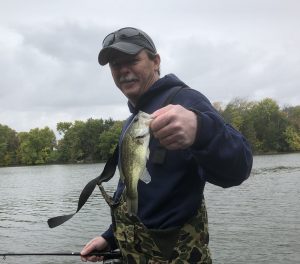 Bass #7 – 11:58am 8.5" Tandem Spin
After a rain delay with Dad as we made a run for his truck (actually Brent's as we had Dad's), Brent wasted no time getting us back on the board. We are damp, cold and the wind is even chillier. But the bass are still biting.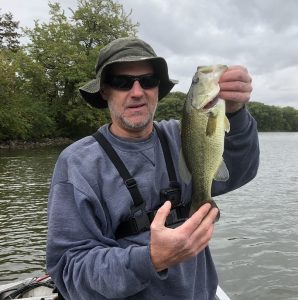 Bass #8 – 12:02pm 14.5" 1-9 Strike King 2.5 Rattlin' Squarebill Crankbait (sexy shad)
Not wanting Brent to have all the fun, my Top Bass for the day comes on board as I shift to a crankbait bounced around some rocks. I'd like to say it warmed me up a bit but nope, still the occasional shiver. This one completes our combined Top 5 and puts us at 7-11 and time to start culling.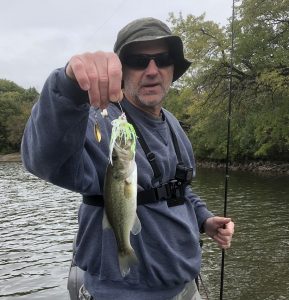 Bass #9 – 12:08pm 8.5" Booyah Spinnerbait
Not much of a bass but my only back to back catches on a day ruled by the guy in the front of the boat. Any sort of advantage that his positioning may have offered is tempered by the fact that I am confident that he would have outfished me from the back of the boat as well.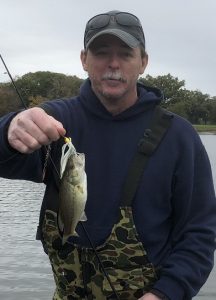 Bass #10 – 12:11pm 7.5" Tandem spinnerbait
Brent lays claim to both the smallest and largest bass of the day with this catch. He would best one end of that spectrum before the day was done so don't give up on this post quite yet.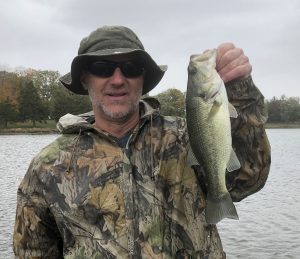 Bass #11 – 12:37pm 14" 1-7 Booyah Spinnerbait
Top 5 boost up to 7-15 as this one boots our 1-3. Oh yeah, Dad came to the rescue in a return with some raingear which is a very welcome windbreaker on the blustery day.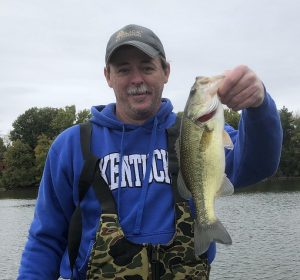 Bass #12 – 1:05pm 15" 1-8 Tandem Spin
Brent moves our Top 5 up by five ounces to 8-4 as we make a second stop on a productive stretch following a shutout on another go to area.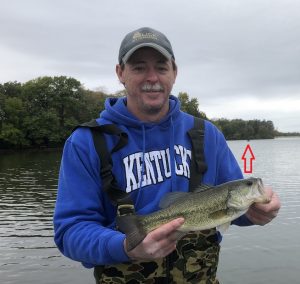 Bass #13 – 1:09pm 14" 1-7 Tandem Spin
Brent boosts us another couple ounces to 8-6 in displacing our 1-5. Watch out as he is starting to heat up. Fellow Top 5 angler, John Kirkemo, fishes in the distance after our second visit of the day to compare notes. More on our meeting in another batch of notes from this outing later this week.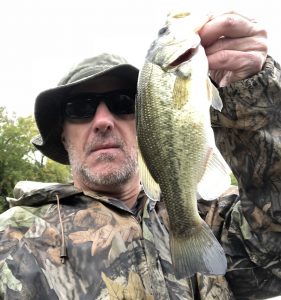 Bass #14 1:24pm 12" 0-10 Booyah Spinnerbait
Spinnerbait Bassing 101 as multiple casts to a laydown that runs perpendicular to the bank finally gives up a bite. Lake Storey 101 if it looks good work it over good as a lot of those bass need some "convincing" before they strike.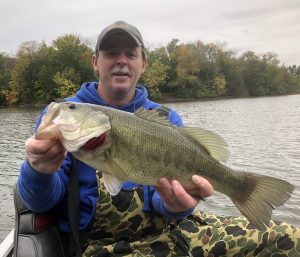 Bass #15 – 1:36pm 20" 4-11 Tandem Spin
A new Lake Storey record for family and friends eclipsing the 4-8 which had stood since 2007. Lake Storey 101 again as Brent had beat this spot to death with his spinnerbait before this brute decided to eat it. Just an awesome fish as Lake Storey bass of this size don't come around every day, no matter who you are. And how about that cull? Our Top 5 moves to 11-10 with a gain of over three pounds.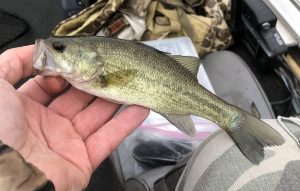 Bass #16 – 2:40pm 7.5" Strike King Squarebill
This Dam fish (that's the location so don't get up in arms over any questionable language) was my final bass of the day and tied me for the lead in the "Smallest Bass of the Day" category. Too chilled and beat for a celebratory fist pump though as the cold wind just continues to howl.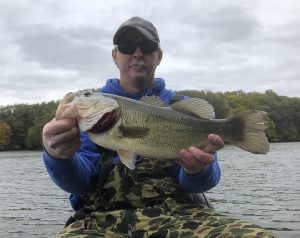 Bass #17 – 2:52pm 18" 3-8 Tandem Spin
Our plan was to fish until 3:00pm but after Brent landed another Lake Storey winner he decided that it was a fitting way to end his day. I agreed and we put our poles away and headed for the ramp (not many yards away) after a solid last cast bass. And a last cull gains us just over two pounds to finish the day with a Top 5 of 13-11.
Stats
Totals: 17 bass (Brent – 10 bass, Troy – 7 bass)
Lures – Troy
Booyah Blade Spinnerbait (chartreuse/white shad) – 4 bass
Strike King KVD 2.5 Rattling Squarebill Crankbait (sexy shad) – 2 bass
Mann's Baby 1- Crankbait (rainbow) – 1 bass
Lures – Brent
Tandem Spinnerbait (white) w/ hammered blades (copper) – 9 bass
The Emiquon Special Spinnerbait (brown/orange) – 1 bass
Top Bass: 4-11 Brent on a Spinnerbait
Top 5 Weight: 13-11 (4-11,3-8,2-7,1-9,1-8)
There you have it, Lake Lowdown for 2018 and many thanks to Brent for making it a rousing success. A little longwinded perhaps, but I've been known to do that sort of thing. However, I'd have to say blame it on the bass as they were quite generous to a couple fellows who have been chasing them for a long time.
Friday Flashback up tomorrow and some more notes on Lake Storey hopefully this weekend. Also have a Top 5 Update coming your way on Monday and still need to work in my latest fishing report from a strip mine visit earlier this week. Too much fishing and not enough time to write but I know that luxury is about to change. Talk to you later. Troy