The Friday Flashback post possibilities get a little lean as we head into the next to last month of the year. But if the weather cooperates in a reasonable fashion and I can find time to get away, the annual goal is to put a November bass on the board. Ten years ago I was able to do just that. Below is the original post that was sent to a group of family and friends as my fishing finale from 2008.
11:01am – took an hour and a half of trying but got my November bass which also turned out to be Top Bass of the day at 17″ and 2-8 on a Zoom Baby Brush Hog
November Bassin' – Always wanting to push the fishing year as late as possible, I'd held out hope that I could work in a November trip. Fate was on my side and I was able to spend one more day on Lake Storey. Just over six hours produced nine bass with a 2-8 taking Top Bass honors via a Zoom Baby Brush Hog. Two others gained entry into the record book at 1-13 and 1-10 with both falling to a Quad Blade spinnerbait (white). This bait was easily my top producer as it fooled seven bass and a Rapala DT6 (parrot) was responsible for one fish. While this trip failed to add any "accidents", a nice muskie did take a couple swipes at the spinnerbait but failed to get hooked. It was likely in the mid 30 inch range and really got the adrenaline pumping with a near surface strike roughly ten feet from the boat.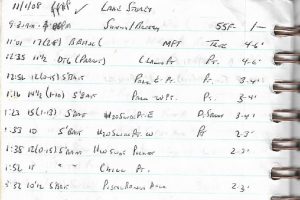 Original log entry from this outing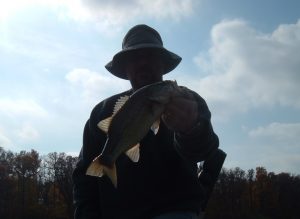 1:16pm – 14.5″ and 1-10 on a spinnerbait
Stats
Date: November 1, 2008
Location: Lake Storey – Knox County, IL
Time: 9:30am-4:00pm
Weather: Sunny/breezy
Air Temp: 55F
Water Temp: Forgot to check
Totals: 9 bass
Lures:
Quad Shad Spinnerbait (white) – 7 bass
Rapala DT 6 (parrot) – 1 bass
Zoom Baby Brush Hog (green pumpkin green) – 1 bass
Top Bass: 2-8 Brush Hog
Top 5 Weight: 7-13 (2-8,1-13,1-10,0-15,0-15)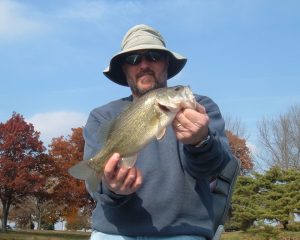 1:23pm – 15″ and 1-13 on a spinnerbait and did a little better with the lighting on at least one pic
One more Friday Flashback post to go for 2018 to wrap up of the series which kicked off back on March 16 and had a run of 35 consecutive weeks. In the meantime, the Top 5 Update streak continues on Monday with a multispecies flavor (a new species at that). Hope you'll tune in and talk to you later. Troy