The weather in West Central Illinois has taken a dip in the cold direction and even featured a measurable snowfall last week. But a couple anglers have still managed to get out there and fool some fish, including the first pair that add another entry to our "Other Species" category (meaning something that's not a bass).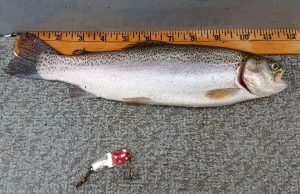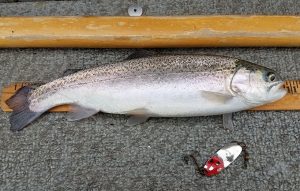 Rainbow Trout
Length: Both 11"
Angler: John Kirkemo
Date: November 5
Location: Lake Argyle – McDonough County, IL
Air Temp: mid 40sF
Water Temp: 53F
Lure: #2 Roy Self Spoon trolled behind ¼ oz. bead chain keel sinker
Structure: Open water 20' deep
Angler Comments: Murky water, strong at time south wind, overcast with occasional very light rain
Trip Tune: "The Way It Is" – Bruce Hornsby & The Range
Top 5 Length: 22"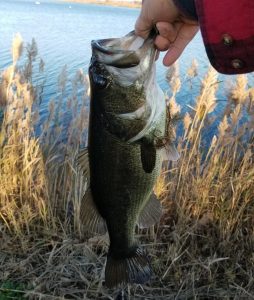 Weight: 3-10
Angler: Jim Junk
Date: November 5
Location: Banner Marsh
Lure: Lipless Crankbait
Angler Comments: Ended up with two bass on a lipless crank, big one was 3-10.
Weight: 4-0
Angler: Jim Junk
Date: November 7
Location: Banner Marsh
Lure: Lipless Crankbait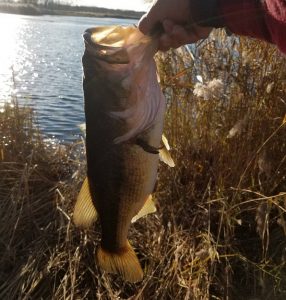 Weight: 4-3
Angler: Jim Junk
Date: November 7
Location: Banner Marsh
Lure: Lipless Crankbait
Structure: Weeds
Angler Comments: Six more bass with a pair of 4-pounders. All on lipless crank. Pulling it through weeds, pretty classic, hits came right after pulling it through a weed.
Top 5 Weight: 23-8 (5-4,5-2,4-9,4-5,4-4)
Kudos for continuing to get out there and get it done. I'll keep on posting them as long as you can keep catching and sending them. Thanks also to all for the late season contributions which have made for a strong finish to our 2018 Top 5. Been a fun year, will be interesting to see if we're done quite yet. Talk to you later. Troy