I always thought it would be interesting to look back through my fishing logs to see what my personal record is for "Most Different Lures That Fooled a Bass in One Year."
Hands down, 2018 wasn't it.
A project for another time, perhaps.
Instead, for today's 2018 recap we take a look at the relatively meager collection of baits that boated 216 bass.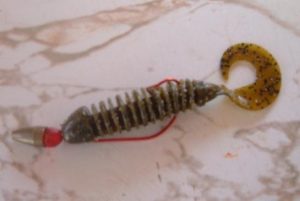 Grubs
Yum Wooly Curltail (green pumpkin) – 1 bass
Top Bass: 9.5" September 23 Knox County, IL public strip mine
Comments: I do like this lure but in hindsight I'm not sure of my reason for throwing it this fall other than possibly just to say I did because I had it tied on to one of my poles. A solid cold water bait which is effective when crawled slowly along the bottom…like I said, not really sure but glad to see a less than glamorous lure make an appearance.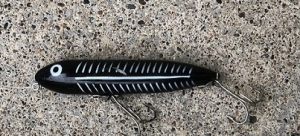 Stickbaits
Zara Spook (black shore minnow) – 1 bass
Top Bass: 15" 1-11 September 30 Knox County, IL public strip mine
Comments: I'd worn out my welcome on one of my favorite walk-in spots as the bass were less than interested in my spinnerbait offerings in spite of some pretty good conditions. Looking for a big bite that the fishing hole has been known to produce I went old school. Didn't fool a lunker but good to get bit. In addition, I had talked Spook fishing with my buddy, Jim Junk, a few days prior so it stoked the fire to revisit an offering that was a 80s favorite and not surprisingly still fools 'em.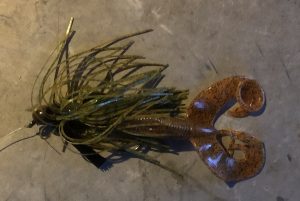 Jigs
Strike King Rattlin' Jig (green pumpkin) w/ craw trailer – 3 bass
Top Bass: 16" 1-15 November 24 Knox County, IL private strip pit
Comments: When an unanticipated trip materialized and provided a shot a November bass, I was all in with two baits. This was one of them and I stepped out of my normal black/blue jig & pig comfort zone with a different color scheme and a plastic trailer. Seeing a guy catch a 5-9 on the lake the previous month with a similar setup was all the evidence I needed.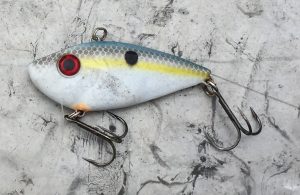 Lipless Crankbaits
Strike King Red Eye Shad (sexy shad) – 26 bass
Top Bass: 14.5" 1-13 April 13 Knox County, IL public strip pit
Comments: A solid cool water bait, the lipless crank got it done again, early and late. With the exception of a lone July bass, the rest were near bookends on the year. The first batch came from February through April while the last half dozen came from mid to late October. A true favorite for what I reluctantly refer to as "brainless" bassing. Nothing too fancy here as I used only one color this year when casting it out, cranking it back, covering some water and catching some fish.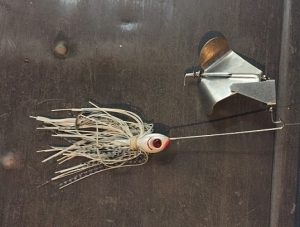 Buzzbaits
Booyah Buzz (snow white shad, bleeding shad, sexy shad) – 27 bass
Top Bass: 20" 4-8 September 23 Knox County, IL private strip pit
Comments: I probably invest more time in tossing buzzbaits than I should but they are not only a solid big fish producer, they're fun and addictive. For big fish proof, my 2018 Top Bass came on a buzzbait. However, that was the only Top 5 fish among those fooled on the buzzer, just kind of a weird year on the water.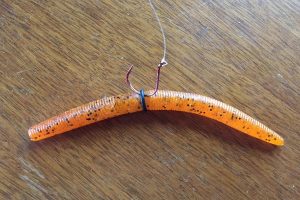 Plastic Worms
Senko wacky rig (pumpkin black flake, green pumpkin black flake) – 46 bass
Top Bass: 17" 1-14 Knox County, IL private strip pit
Comments: The Senko wacky rig would probably rank number one among the presentations in my repertoire. And while it sounds like a broken record at this point, I just couldn't put it in front of any big fish and get them to commit. Don't for a minute think that those results will discourage this wacky worm devotee though. 2018 was just one of those years.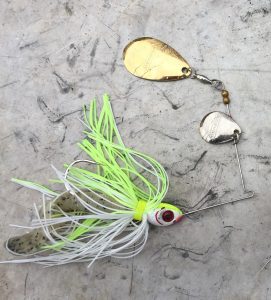 Spinnerbaits
Booyah Blade (white/chartreuse) – 52 bass
Top Bass: 16" 2-3 April 13 Knox County, IL public strip mine
Comments: My 2017 lure wrap-up piece mentioned that the good old spinnerbait, a mainstay from my formative bassing years in the 80s, was still mired in a bit of a disappearing act. Fortunately, while I still have subscriptions to those who have relegated this lure to the second string, I don't subscribe to that school of thought. These baits are still a winner in my book and I highly encourage all six of you who read this to pass it on and see if we can bring about a spinnerbait resurgence in 2019.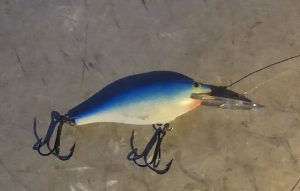 Crankbaits
Strike King Rattling Squarebill, Mann's Baby 1-, Rapala Shad Rap/Fat Rap – 60 bass
Top Bass: 18" 3-2 September 23 Knox County, IL public strip pit
Comments: Yet another batch of baits that typically allow me to fish fast and cover a lot of water. The exception in the group would be the Rapala Shad Rap which I have put to good use the last couple years in fooling some cold water bass. Another highlight was landing a bass on a Rapala Fat Rap for the first time in nearly 20 years as part of a tribute to former Major Leaguer, Rusty Staub, who passed away on March 29, 2018 (click here for post).
And there you have it, all of the lures that landed a bass in 2018. You see, who needs a tackle bag stuffed with a hundred lures when about a dozen will take you all the way through the year?
Actually, I do, even if it can be a back breaker lugging that arsenal around the strip mines. Because you just never know when you're going to need that one lure that your gut tells you is just right. And you're gonna kick yourself when you realize that its home in the garage. Talk to you later. Troy