Another successful year of sharing fish stories in the book as 2018 gives way to a New Year. As always, we've got stats…and a Top 5 Champ to crown. So dive right in for the rundown of the numbers and blurbs as we close the book on 2018, year five of the Top 5.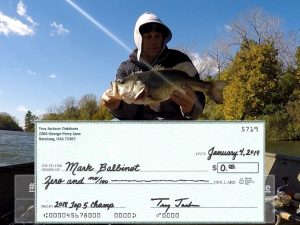 Congratulations to Mark Balbinot our 2018 Top 5 Champ
2018 Bass Totals (* = new record)
*January = 5 bass (old record 1 in 2017)
February = 5 bass
March = 0 bass
April = 12 bass
May = 24 bass
June = 10 bass
July = 8 bass
August = 4 bass
*September = 16 bass (old record 6 in 2014,2015,2017)
*October = 24 bass (old record 8 in 2017)
November = 8 bass
Comments: Ten bass by the end of February was a sight for sore eyes as you never know what the weather holds where most all of us Top 5 folks wet a line. I must say that March ended up as downer though with nary a submission. A strong finish to the year really pulled us through and included new record monthly totals among those last 48 bass.
Top 5 Weight by Month (* = new record)
*January = 13-5 (3-15, 2-7, 2-6, 2-6, 2-3) previous record 2-11 in 2017
February = 7-3 (2-6,1-7,1-5,1-2,0-15)
March = no submissions
April = 14-15 (4-0,3-0,2-12,2-10,2-9)
May = 19-5 (4-11,4-8,3-10,3-7,3-1)
June = 18-10 (4-5,4-1,3-9,3-7,3-4)
July = 18-13 (4-0,3-14,3-13,3-11,3-7)
August 11-6 (3-15,3-10,2-12,1-1)
*September = 23-8 (5-2,5-1,4-9,4-8,4-4) previous record 22-3 in 2014
*October = 28-9 (6-3,5-14,5-10,5-10,5-4) previous record 26-11 in 2017
*November = 26-1 (7-2,6-12,4-3,4-0,4-0) previous record 24-9 in 2016
Comments: Record breaking bookends on the calendar were a cool feature and prove that you can still get it done in cool water. An outstanding batch of bass during the final three months of submissions included all of the Top 10 bass for the year (more on that later).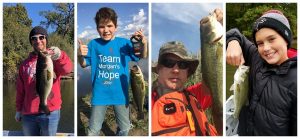 Chris Schwarz, Jayce Jackson, Paul Kessler, Riley Danner (left to right)
Boat vs. Bank
Boat = 55 bass
Bank = 61 bass
Boat vs. Bank Weight (* = new record)
Boat = 31-9 (7-2,6-12,6-3,5-14,5-10)
Bank = 24-2 (5-4,5-2,4-11,4-9,4-8)
Comments: You know, it kind of does my heart good to see a breakdown such as this. I've spent my share of time in both spots, still do. Both have their merits and the latter of the two is a necessity by rule on at least one of my stomping grounds. While the boated bass outweighed the banked bass, it certainly was an impressive batch for the bunch that prowled the banks. A boat definitely alleviates that old "sure wish I could get over there" feeling but the limited access of the bank can also pay dividends. That limitation can force you to slow down, work your spots thoroughly and maybe hit them a second time on the way back to the parking lot.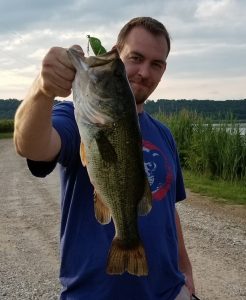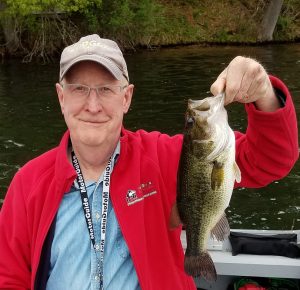 Nick Tiska, John Kirkemo (left to right) 
Public vs. Private
Public = 92 bass
Private = 24 bass
Public vs. Private Top 5 Weight
Public = 24-5 (5-4,5-2,4-11,4-11,4-9)
Private = 31-9 (7-2,6-12,6-3,5-14,5-10)
Comments: Even if you've got more than enough fishing holes to choose from do you ever wish that you had some more private honey holes? Sure, but those can be hard to come by these days. Thus, it's fun to see the results that the Top 5 crew produced by spending a lot of time fishing where everybody can fish.
The Baits (* = new record)
Plastic Worms = 56 bass (Top Bass 5-2 Jim Junk)
*Spinnerbaits = 17 bass (Top Bass 5-14 Mark Balbinot) beats 5-4 Terry Isbell 2014
Crankbaits = 15 bass (Top Bass 5-10 Mark Balbinot)
*Lipless Crankbaits = 8 bass (Top Bass 6-3 Mark Balbinot) beats 5-13 Troy Jackson 2015
*Chatterbait = 7 bass (Top Bass 4-11 Chris Schwarz) beats 4-10 Mark Balbinot 2016
Buzzbait = 3 bass (Top Bass 4-8 Troy Jackson)
Creature Baits = 3 bass (Top Bass 3-9 Paul Kessler)
Jigs = 2 bass (Top Bass 2-12 Brent Jackson)
Underspins = 2 bass (Top Bass 7-2 Mark Balbinot)
Jerkbait = 1 bass (Top Bass 1-6 John Kirkemo)
Topwater Frog = 1 bass (Top Bass 3-7 Nick Tiska)
Undisclosed = 1 bass
Comments: What can you say about the good, old plastic worm? Presentations may have changed as wacky rigging ruled the day amongst our anglers, but these things still get it done. Several new records are also established in 2018 and it took some darn good bass to set the marks.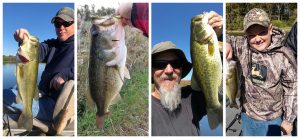 Brent Jackson, Jim Junk, Troy Jackson, Teagan Mills (left to right)
Monthly Top Bass (* = new record)
*January
3-15 Mark Balbinot (old record 2-11 Mark Balbinot 2016)
February
2-6 Troy Jackson
March
No submissions
April
4-0 Chris Schwarz
May
4-11 Chris Schwarz
June
4-5 Jim Junk
July
4-0 Jim Junk
August
3-15 Jim Junk
September
5-2 Jim Junk
October
6-3 Mark Balbinot
*November
7-2 Mark Balbinot (old record 6-8 Mark Balbinot 2016)
Comments: The new monthly Top Bass to begin and end our year were each part of their respective monthly Top 5 record books. Lots of folks can catch them when the conditions are favorable while January and November can kick up the challenge just a notch.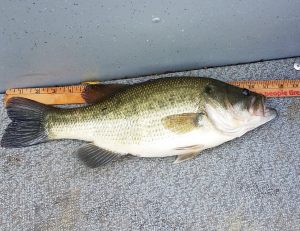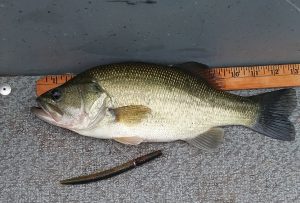 Patricia Kirkemo, Landon Hannam (left to right)
Top 10 Bass (* = new Top 10 all-time)
*7-2 Mark Balbinot 11/23 (#7 all-time)
6-12 Mark Balbinot 11/23
6-3 Mark Balbinot 10/20
5-14 Mark Balbinot 10/20
5-10 Mark Balbinot 10/20
5-10 Mark Balbinot 10/29
5-4 Jim Junk 10/26
5-3 Mark Balbinot 10/28
5-2 Jim Junk 9/8
5-1 Brent Jackson 9/23
Comments: In a case of "saved the best for last", the final submission of 2018 turned out to be the largest bass of the year. It also managed to crack the all-time Top 5 Top 10 list which is a pretty tall order these days as it takes a near 7-pounder.
Top Bass Angler Weights 
Mark Balbinot 31-9 (7-2,6-12,6-3,5-14,5-10)
Jim Junk 23-8 (5-4,5-2,4-9,4-5,4-4)
Chris Schwarz 20-15 (4-11,4-11,4-8,4-0,3-1)
Brent Jackson 19-2 (5-1,4-11,3-8,3-7,2-7)
Troy Jackson 15-9 (4-8,3-2,3-0,2-9,2-6)
Paul Kessler 14-10 (3-10,3-9,2-12,2-10,2-1)
John Kirkemo 10-8 (2-7,2-3,2-0,2-0,1-14)
Jayce Jackson 7-8 (2-5,1-13,1-5,1-4,0-13)
Nick Tiska 3-7 (3-7)
Patricia Kirkemo 2-15 (2-15)
Landon Hannam 1-5 (1-5)
Riley Danner 1-5 (1-5)
Teagan Mills 1-2 (1-2)
Comments: Congratulations to our 2018 Top 5 Champ, Mark Balbinot, whose strong finish propelled him to his third straight winning weight. All told, 13 anglers posted our 116 bass as well as the species to follow below.
Other Species
Comments: The Top 5 expanded to include species other than bass back in 2017 and the contributions have been rather slim with just over a dozen non-bass in the database. However, it's good to see that there's other fish in the lakes, ponds, rivers and streams than those crazy bass. It's always a treat when one of those "others" shows up in the Inbox with this year's newcomer being the rainbow trout.
Muskie Length Totals
70+" John Kirkemo (40", 30+")
Channel Catfish Totals
13-0 Teagan Mills
8-2 (25") Chris Schwarz
Rainbow Trout Totals
22" John Kirkemo (11",11")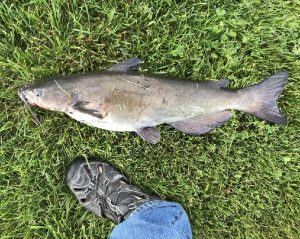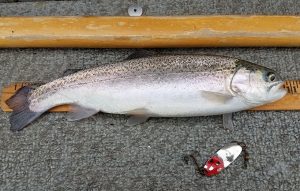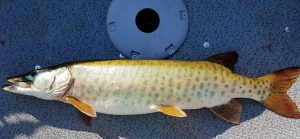 There you have it. The Top 5 turned five with a solid and rewarding batch of catches from some boys and a girl spanning the age spectrum from youngsters to considerably more "experienced" youngsters. The 2018 totals of 116 bass and 6 others represented a welcome boost from 79 and 13, respectively, in 2017.
So, you know what? We're going to do it again in 2019.
In fact, it's already off and running. But before we get to the year's first submission via next Monday's earliest Top 5 update ever, we'll take a look at the record book. Tune in over the next two days for a look at the all-time stats from five years of fishing. Talk to you later. Troy