"I get up in the morning and it's just another day,
pack up my belongings, I've got to get away."
Movin' On – Bad Company (1974)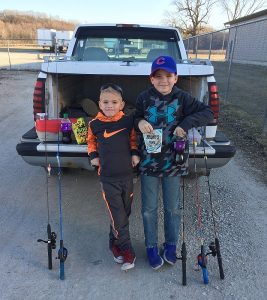 Henry County pond near Coal Valley, IL – March 3, 2018 with my boys, Zac & Jayce
An important aspect of a fishing trip is checking and double checking your stuff in an effort to insure that you have everything you need before you hit the water.
Take today's photo for instance.
Tacklebox, check! Spare poles in case of any issues, check! Waxworms, check!
That pretty much does it, all set to fish.
But wait, there's the drive to the fishing hole to consider as you don't want to end up parched or hungry. Kind of interferes with your concentration as you try to fool those wily panfish if you are not adequately hydrated and nourished. Thus a stop at the gas station is in order to get the rest of the essential supplies. Looks like a couple Grape Crush, some Hershey Drops and some Sour Patch Kids were the ticket. Pure sugar to keep my young fishermen on top of their game.
Not only part of a fishing outing but part of being a Dad. I can recall a few stops at a Mom & Pop shop called "The Trading Post" in Monmouth, IL while trapping or tagging along for bankpole or jug fishing when my brother, Brent, and I were kids. Dad would get us some sodas and a bag of Sterzing's chips for the ride home.
I guess it's what Dads do. And while the convenience of gas station fare is well, convenient, I sometimes long for the days when those places simply sold fuel for your vehicle not for your family. It all adds up and can get a little pricey with our crew in tow.
Just tough to say "No" when setting out on a big adventure such as the outing in today's photo. Gotta tell you though, with a roughly twelve minute drive to this fishing hole it actually took longer to track down our treats than it did to reach our destination.
It makes for a classic pic, however, probably worth the $8-$10. Talk to you later. Troy