"Everybody's a dreamer and everybody's a star,
and everybody's in movies,
it doesn't matter who you are."

Celluloid Heroes – The Kinks (1972)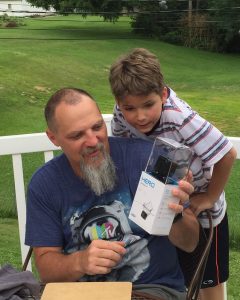 Happy Birthday GoPro – July 2017
Who would have thought that when I caught this bass fishing bug back in the early 1980s that we'd one day be able to essentially make our own fishing show?
Fast forward to 2019 and indeed we can do just that with an investment of a couple hundred bucks (assuming you already have a home computer).
Lucky for me, Julie decided to make such an investment for me with the purchase of a GoPro camera for my birthday back in 2017. I'd always thought that the devices sounded pretty cool but could never commit to pulling the trigger. Glad that she did as the camera has been a steady companion ever since and has allowed me to capture some fun footage to save for posterity.
If you've tagged along here on the blog you've seen some of the "highlights." Maybe one of these days I can step it up a notch with my own YouTube channel or something. Of course, then I'll need a theme song.
Perhaps something like "From the pits of Western Illinois to the lakes of Iowa…"
C'mon, join right in if you were a fan of Virgil Ward's "Championship Fishing" program back in the day as you know the rest. My apologies if you find his theme song running through your head for the rest of the day. A good theme song does that, and it could be worse, like "The Facts of Life" or something.
Oops, my bad.
Talk to you later. Troy