"Hello old friend, it's really good to see you once again."
Hello Old Friend – Eric Clapton (1976)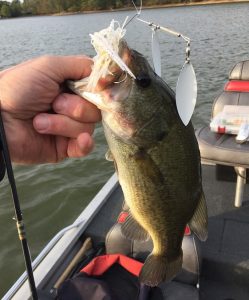 Lake Storey bass on a classic lure – October 2, 2017
Today's pic features a lure whose given name is a 3/8 ounce Stanley Rainbow Glimmer Vibra Shaft Spinnerbait in the Blue Glimmer pattern. My nickname for it is simply "The Blue Glimmer."
This one is certainly worthy of a nickname due to its ability to produce, kind of like how "Dr. J" or "Reggie" or "Pele" or "Cher" suffice. It doesn't go quite as far back as those folks but it does have a storied history. I've told that history a couple times over the blogging years. Once in a series on "Legendary Lures" in a previous blogging life and also in a 2017 post that detailed its return after an extended absence. I've got it on the radar to revisit the "Legendary Lure" concept one of these off seasons and you can check out the 2017 post by clicking on "The Blue Glimmer Returns."
As noted, the bass in today's pic came from Lake Storey and was the result of breaking a blade off of a Terminator spinnerbait on the second bass of the morning. Enter an old fishing friend, The Blue Glimmer, and a half hour later I had the first catch on the bait in nearly ten years.
Why the lengthy hiatus? Not really sure but likely due to the fact that the model went out of production and I only had a couple spares.
And wouldn't you know, the triumphant return was short lived. After a strong Lake Storey showing with seven bass I busted a blade off this one the very next outing.
Still got one spare remaining. Maybe 2019…
Talk to you later. Troy