"You just call on me brother (or sister) when you need a hand…"
Lean on Me – Bill Withers (1972)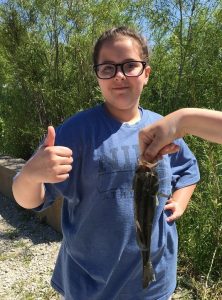 Carly with a Henry County, IL pond catch that took an extra hand to hold – May 29, 2017
Anybody remember the Addams Family?
Well, that's not Thing giving our youngest daughter, Carly, an assist with her bass but instead it's her younger brother, Jayce. He's much more in tune with handling the catch. In fact, he can hardly wait to get a hand on a fish no matter who is on the catching end.
When it comes to catching though, Carly will give that boy a run for his money as the most prolific fishing kid. A scan of the outdoor photo collection shows her with a bluegill on the end of a Mickey Mouse pole a month shy of turning two years old.
Carly also holds the unofficial kid species record with a collection of bluegill, crappie, bass, green sunfish and redear. She seems to have a knack for the latter of that bunch, prompting a previous blog entry for the original Blog Banner series entitled "Redear Queen" (click here).
I definitely give this pic a thumbs up just as Carly is doing with one of her two free hands. Hey, no harm in getting by with a little help from your friends (or a sibling). Heck, I used to fish with a Golden Gloves boxing champ in high school, toughest dude around, who either used a leather glove or had me unhook his fish. True story, and he was also afraid of worms. But those are tales for another day, if I ever decide to risk the reveal.
Talk to you later. Troy