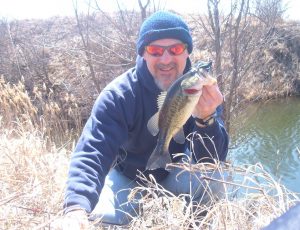 March 29, 2014 – the coveted and rewarding first bass of the year
Today's flashback features my first bass of 2014 which allowed me to meet the March bass goal with only a couple days to spare. It came from one of a pair of Snakeden Hollow potholes that I refer to as "The Craters" since they don't have a real name. There's a North Crater (where I nabbed this fish) and a South Crater separated by a narrow strip of willow covered ground that is nearly impossible to navigate.
The terrain where I caught this one is straight up strip mine country as the water behind me in this pic sits about twelve feet downhill. And when I say downhill, you actually have to slide/crawl/climb to get to and from a small foothold on the bank. A few yards across the narrow finger is a sunken, brushy tree that often holds a bass that will take an interest in a black and blue jig and pig.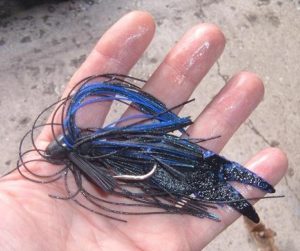 Black and blue jig and pig, always a good place to start this time of year
Here's a portion of the original blog posting from April 4, 2014 that appeared on the Heartland Outdoors website:
Go To Spot – For the last three years, my initial bass outings have been to a couple potholes at Snakeden that have yet to let me down. More specifically, bass number one for 2012, 2013, and now 2014, came off of a sunken bit of brush on the good old jig and pig. While I've yet to catch anything particularly large out of these waters (lake record stands at 1-12), proximity and reliability keep me coming back to start the annual quest. My six minute, moderate difficulty walk turned up bass number one on my fourth cast of the year. I spent another forty minutes casting the general area without another bite but left satisfied nonetheless; mission accomplished.
I had a good time, got a bit of a workout, took in some much needed fresh air and enjoyed open water after too long of a winter (145 days between bass). In the process I also fooled a few bass for icing on the cake. Nothing particularly noteworthy in terms of quality but I was happy to get bit. And you know me; I'll write and ramble about fishing regardless of what is caught.
Original log entry showing that I made another stop and added a few more bass including the one below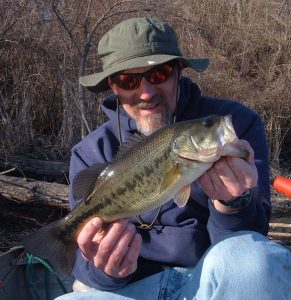 Still up to those old tricks in terms of searching for a March bass as well as talking fishing. And the bite is on per several reports from the last two days out of Knox and Fulton County including some solid Top 5 fish coming your way Monday. Talk to you later. Troy