With my boys having an impromptu weekend at my folks' and my girls being old enough to be somewhat self-sufficient I had an unexpected chance to get back on the water. Two trips in five days is not the norm so it was quite an exciting last minute development with the scoop to follow.

Things are starting to look up on occasion although still only the first week of April for this outing
Stats
Date: April 6, 2019
Location: Knox County, IL public strip mines (6 lakes)
Time: 8:50-11:35am, 3:25-6:25pm (5.25 hours fishing, the rest hiking)
Weather: Sunny-partly cloudy/windy
Air Temp: 48-67FF
Water Temp: not available
Totals: 16 bass, 1 green sunfish
Lures:
Strike King Pro Model Jig (green pumpkin) with Bass Pro Shops Triple Ripple craw trailer (pepper frog/hot orange) – 3 bass
ZMan Chatterbait (perch) with Yamamoto Zako trailer (Tennessee shad) – 6 bass
Bomber Flat A crankbait (baby bass) – 7 bass, 1 green sunfish
Booyah Blade Spinnerbait (chartreuse/white) with twin tail trailer (smoke) – 1 bass
Top Bass: 2-10
Top 5 Weight: 7-3 (2-10,1-4,1-3,1-1,1-1)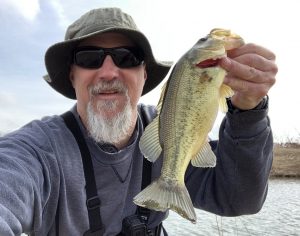 10:24am Took a while but on the board at 12.5″ and 1-1 on a jig
Notes and Nonsense
Shaky Start – So I overslept my 5:05am alarm and woke up at 5:55am instead. I then made the insides for breakfast burritos only to discover we had no tortillas. Upon arriving at the strip mines I fished a pair of proven lakes for roughly an hour and failed to get a bite. I was beginning to worry as I had to hit the road for a band event at about 11:35am and was sitting on a shutout with about an hour to go.
Lake Reliable – If I hadn't already given this lake a name, Reliable would fit the bill. My favorite spot actually goes by "2×4 Lake" (yeah, I made that up just like 20 or so other lakes on the site) and it came through after about five minutes of unsuccessfully casting a chatterbait. I switched up to a jig and what do you know, first cast bass. I thought, "Okay, now I'm onto something." Didn't get another bite for over an hour.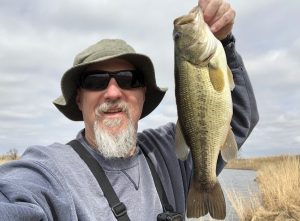 11:28am Caught with only minutes to spare on my first half of the day, Top Bass at 16.5″ and 2-10 on a jig
Clutch Bite – With about ten minutes remaining before taking the ten minute walk back to the truck I managed to get my second bite which turned out to be Top Bass of the day. This one also came on the jig and left me feeling a little better about a tough morning and a likely return trip in the afternoon.
And now a brief musical interlude from the day – Glenview Middle School Symphonic Band 
Dink Afternoon – While the return trip saw a significant uptick in numbers (14 versus 2), I continue to struggle to find many quality bites. I did manage to post a daily Top 5 but only one qualified for my 2019 Top 5 and the others all came in the lower one-pound range. Good to get bit nevertheless but still searching for some jarring hooksets and line stripping runs.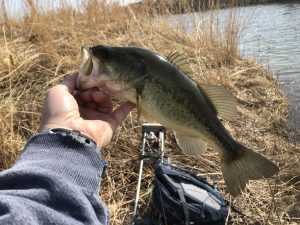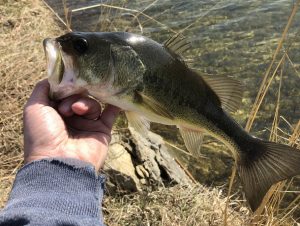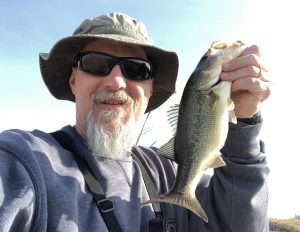 The rest of the Top 5 and kind of a matching set but the best I could fool 
Another hike in the books and still waiting for things to bust loose for me in terms of a quality bite. Not sure if it's me, the weather or my stomping grounds but off to a rough start in regards to those bigger fish. No matter what, I remain true to my fishing report mission in providing the pics and the data of how it all went down. And no complaints from this guy as I truly value any time on the water, especially when it's an unexpected bonus trip such as today's report. Plenty more fishing stuff to come and talk to you later. Troy