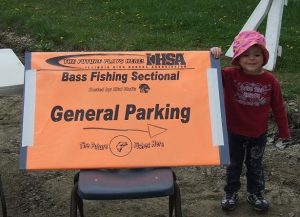 Carly welcomes fans to the first ever high school state bass fishing tournament (featuring one of her cousins)
Which state was first in the nation to hold a high school bass fishing state tournament?
Read on for the answer to an event where me, Dad, Julie and our youngest daughter, Carly, had a lakeside seat for that very first weigh-in. However, we weren't quite as close to the action as the high school angler and school we were there to support, Dylan Breuer and Canton High.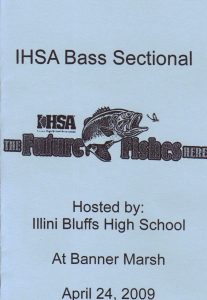 Below is the posting I compiled shortly after the event unfolded.
Rather than just learning history, a substantial number of high school students actually got to make history on April 24, 2009 as Illinois became the first state to conduct a high school bass fishing state tournament.
I had the good fortune of being in attendance at the well-organized Banner Marsh Sectional along with Dad, Julie (eight months pregnant at the time), and our youngest daughter, Carly. An added bonus was a kid from one of the Canton High School teams by the name of Dylan Breuer just happens to be our nephew (he's the son of Julie's brother, David).
While the day ended a bit on the windy side it was hard to complain in light of our recent bouts of rain and cool temperatures. It was a very well run operation especially for a maiden voyage. Teams fished from just before 8:00 am until 3:00 pm with the goal of bringing in a five bass limit (a twelve inch minimum length limit was in effect).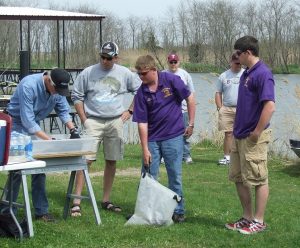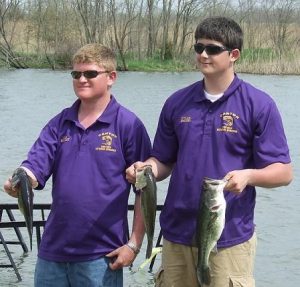 Dylan (above right) and partner Nick Wright (above left) were the first to weigh-in and their catch of 6.24 pounds wound up placing them ninth out of twenty one teams.  Dylan landed two of the three keepers including their big bass that tipped the scales at 2.65 pounds.
Depending on the efficiency of the weigh-ins at the other sectional sites, Canton #1 may have recorded the first catch in high school bass fishing history. Okay maybe that's a bit of a stretch but at any rate, they were certainly the first in our neck of the woods. I am proud to say that I was there to see it happen.
The top three finishers at the sectional (Pekin, Farmington and Peoria Richwoods) moved on to fish the state finals at Carlyle Lake on May 8 & 9 which was won by West Frankfort. Farmington's twenty seventh place finish was tops among the Banner qualifiers.
There you have it, a cool piece of bass fishing history with Illinois being the answer to the trivia question that led off today's Friday Flashback. In the 10 years since this first ever series unfolded, many other states have joined the fun and multiple regional and national tournaments have taken off as well. However, there's nothing like being able to say that you not only got to see it all get started but also had an angler in the mix. Talk to you later. Troy