The first day of summer was reason for the investment of vacation days for me and my brother, Brent. The objective was to try our hand at a stunt I'd long considered. As described in an earlier post I thought it would be fun to do it at a time when our combined ages totaled 100 years (I'm 51 for about another month and Brent is 49). If you checked out that prior post you already know that we pulled it off without hurting ourselves. Here's the fishing report part of the adventure.

Chronology and distance – driveway to parking lot to first steps to fishing hole
Stats
Date: June 21, 2019
Location: Knox County, IL public strip mines (3 lakes)
Time: 5:45am-12:15pm (5.25 hours fishing)
Weather: Sunny to overcast/breezy to windy
Air Temp: 63-71F
Water Temp: not available
Totals: 62 bass (Troy – 33 Brent – 29)
Lures
Troy: Rapala DT10 (parrot) – 16 bass, 5" Yamasenko wacky rig (watermelon/crème laminate) – 13 bass, Booyah Buzz Buzzbait – 4 bass
Brent – Mann's 4- crankbait (alewife) – 15 bass, Tandem Spinnerbait (white) – 10 bass, Senko – 4 bass
Top Bass: 2-4 (Buzzbait)
Top 5 Weight: 6-4 (2-4,1-1,1-0,1-0,0-15)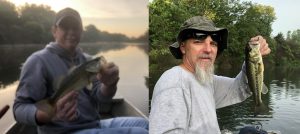 First bass with both on the board by 6:00am
Notes and Nonsense
Trailblazers – The most significant unknown of the trip was a cattail choked expanse of marsh that connected our smaller portage lake to the larger ultimate destination. From a distance, things didn't look so good. However, we found that apparently we were not alone in our ambition as a manageable path had been blazed through the hundred plus yard jungle. It took a steady amount of push poling with our oars and nearly getting stuck once but we made it. Had it not been for some bushwhacking Daniel Boone's of the strip mines it wouldn't have been possible. Many thanks to whoever you are.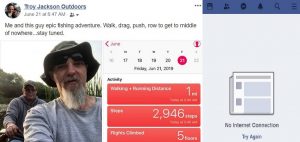 Truly "nowhere" after a few initial forays into live social media posts, fun to be out of reach
Impressions – As we emerged from the cattails on the shallow lower end of the lake it was pretty cool to get a view of the enticing expanse that lay before us. It had been thirteen years since I'd seen this water and that adventure was from a steep perch on a limited stretch of accessible bank. Things started out slow but I was confident that we would find a decent batch of bass before it was all said and done. The only down side was an impending batch of thunderstorms predicted about six hours out. And remember we had a significant row, push, row, carry and drag return to the truck on the way out.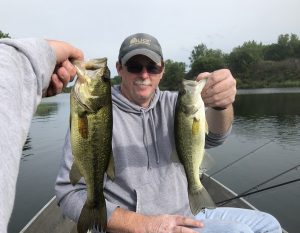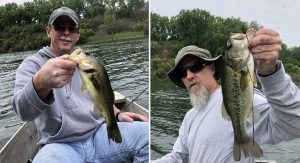 Always good when both anglers have one in the boat at the same time
Emiquonesque – Scattered bass throughout the first hour kept us interested as they say but a spot along the upper end of the lake really kept us busy. In a span of just over a half hour we would end up boating 18 bass between us as we ran into a stellar crankbait bite on what appeared to be some sort of expansive flat in maybe 8-10 foot of water. It was reminiscent of one of the old Emiquon days when it seemed as if someone flipped a switch and the bite was on. Not near the quality of those Emiquon bass but still a blast including a couple instances of two in the boat at once.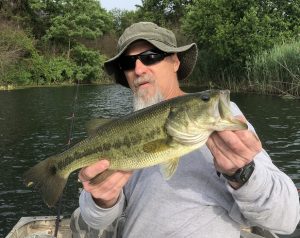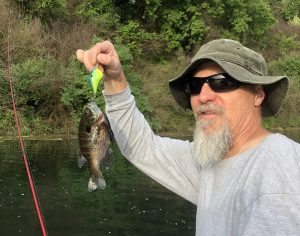 Top Bass and get out the field guide for these bass fishermen, one ambitious bluegill
Lone Lap – With the potential for bad weather and over two miles of row and haul from the far end of our destination back to the truck we only completed one lap around the larger lake. We got our fill but sure would have been nice to have spent a little more time and perhaps slowed down our presentations a bit in some areas. But the run and gun approach did find plenty of cooperative bass and certainly fit the styles of the guys sharing the boat.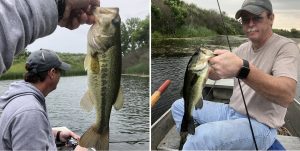 Our last bass before the weather sent us scrambling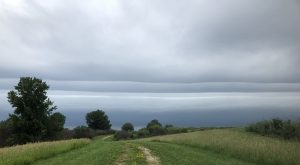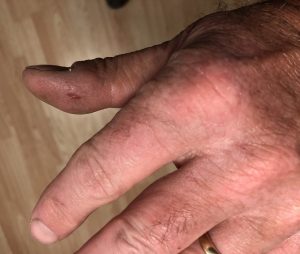 Strange skies ended up soaking us as we loaded our trucks and a welcome case of "bass thumb"
When it was all said and done we were no worse for wear just a little poison ivy on a finger, some soaked clothes, bass thumb and tired. In fact I fell asleep sitting on the couch for about an inning and a half of the Cubs game after stopping by my folks.
So, was it worth it?
Would I be willing to pull the stunt again?
Bet there sure would be a good bite in the fall…talk to you later. Troy