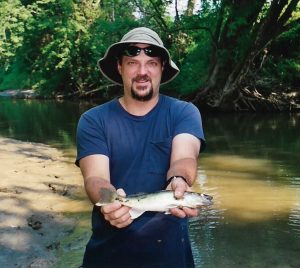 Rare walleye catch indicates good health in the Henderson County, IL creek
Excerpt below from an original 2004 post detailing a creek fishing trip with Dad.
Although I fancy myself as a bass fisherman, I enjoy fishing, period. Creek fishing is always a welcome adventure for some multi-species angling so Dad and I set out for Pat's Creek on July 29th. Armed with two dozen dew worms, you just never know what will tug on the end of your line. We ended up with lots of tugs on our lines before we headed for home, including one unusual and strong tug. More on that later.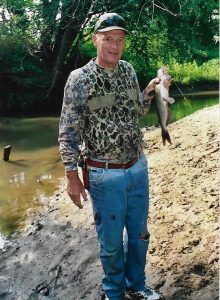 This guy has done this before and knows long pants are a wise choice on the long walk to the fishing hole
Father Knows Best – Typically we reach the creek by skirting the edge of The Cornfield to Buffalo Head Tree. However, Dad decided it was better to cut through the wooded pasture area near The Pond, as both the weeds and the corn were rather high. Good idea, if you are wearing long pants (Dad) instead of shorts (Me). Multiflora rose briars are much less forgiving to skin than denim and mosquitoes prefer the pasture to the cornfield along with exposed skin versus jeans. The stinging nettles and poison ivy between Buffalo Head Tree and Where We Get In were simply icing on the cake. In Dad's defense, I did get lost in the cornfield a couple years ago, so maybe he felt the alternate route was best.
Freshwater drum joins the list as you never know what your dew worm will attract
Attire – Speaking of proper creek attire, I tried out some new footwear. Sort of a "necessity is the mother of invention" type thing. The "necessity" arose when Dad cleaned his garage and decided the garbage was a good spot for the sandals I'd recently started wearing on creek adventures. Though not really an "invention", the Aqua Sock is certainly a new addition to creek fishing fashion. These things consist of a solid rubber sole with an elastic upper portion that fits snug like a slipper around your entire foot. While such an experiment is not advised, I decided to give it a go rather than turn my good sandals into creek gear. Fortunately, they worked like a charm and hardly collected any creek bottom to take home due to their snug fit. Cornfield and pasture terrain were also navigated comfortably with Aqua Socks. Overall, a welcome addition despite probably being designed by some surfer-dude who has never been totally stoked by an awesome creek fishing trip.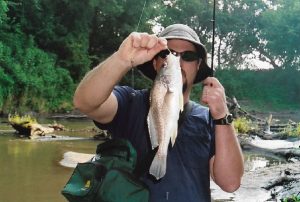 A drum of my own, think I got the other guy by a few ounces, but it's my story
Fall(s) In The Summer – Though much of the Summer has resembled Fall, this actually has nothing to do with the seasons. The "Fall(s)" described here can happen during any season of the year. Where We Get In consists of about a seven-foot weedy drop over less than ideal footing and ends in a mucky, stagnant pool of water with an extremely soft bottom. In spite of careful navigation, the slope continues to claim victims. Our outing was no exception. As usual, Dad led the way to the creek so I had a particularly good view of his less than graceful entrance into the creek as he lost his footing. Seeing that he hadn't injured himself, I had to chuckle a bit to myself because it's really kind of funny when it happens to someone else. Fortunately, Dad was not looking when I essentially duplicated his feat, ending up on my rear end and laughing again, this time at myself. My laughter (or possibly the thud) betrayed me, as Dad knew exactly what had happened before he even had to look.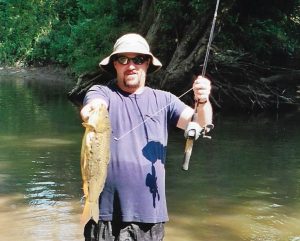 Improvisation in desperation as detailed below
Bait – Our two dozen worms only survived to The Culvert, leaving a couple popular fishing holes untouched on this adventure. However, it's hard to complain as running out of bait typically means a lot of bites. Near the end, we began using only half of a worm on each cast as well as trying to salvage any portions remaining after hooking a fish. Finally, Dad left me a dead worm that he found on the bank as he quit in order to clean some of the catfish that we kept. I managed to catch a 3/4-pound catfish on the dead worm but the fish didn't leave any portion remaining. Following a futile attempt to unearth some sandworms, I headed up the bank for some field corn as a last ditch effort. It was worth the climb as a 4-9 carp found the offering too much to resist.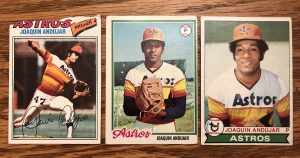 Anybody got a 1977 Topps Andujar to trade, always liked the shot but mine is severely damaged
Youneverknow – An interesting major league pitcher for the Astros, Cardinals and Athletics, Joaquin Andujar, once stated that his favorite word in English was, "Youneverknow'." The same can be said of fishing as an instance on this trip reinforced. Less than fifteen minutes into our outing we'd already hooked three catfish and a creek chub near the downstream section of a brushpile across from Where We Get In. Figuring there had to be a few hanging out on the upstream portion of the brushpile, I navigated my way around some logs and washouts until I was positioned just right. Following a well-placed cast, I felt the anticipated tap as a fish picked up my dew worm for breakfast. Ramming the hook home, I was rewarded with a heavy tug on the other end and got Dad's attention with "I've got a good one." About that time, fur came into view and Dad headed for the bank as an unhappy beaver broke the surface a few yards away from him. No sooner than it had emerged, the beaver dove again to the safety of the brushpile and got me snagged in the logs. After a few pulls, the hook dislodged and Dad and I were simply left shaking our heads trying to digest what had just happened. Mind you, the whole sequence of events took place in the span of five to ten seconds. Dad estimated the beaver at between 30-40 pounds based on his proximity and years of experience trapping.
Yep, youneverknow.
Talktoyoulater. Troy