Back in 2011 I posted something called "Thoughts at 44" and the concept continues to be an annual birthday blog tradition.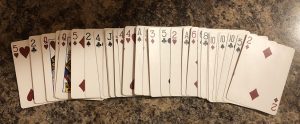 So, here in 2019 it is on to "Thoughts at 52", a birthday that I have been eager to reach. For as I leave 51 behind, in playing card parlance, I am no longer that "one card shy of a full deck." Figuratively, however, the jury is still out pending how today's post goes over.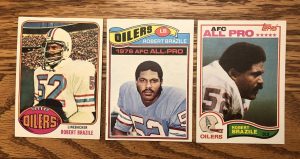 #52 Robert Brazile
The Houston Oiler linebacker and NFL Hall of Famer, also known as "Dr.Doom", was a fixture for a decade on some successful and entertaining teams. His prowess was often overshadowed by a collection of Oiler personalities. There was the colorful, cowboy hat wearing coach "Bum" Phillips, the end zone dancing Billy "White Shoes" Johnson and the epic, punishing running back, Earl Campbell. Good times for a young football fan.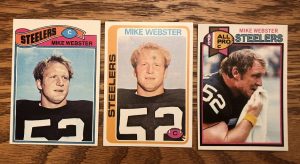 #52 Mike Webster
As a Dallas Cowboy fan, the Pittsburgh Steelers were the ultimate nemesis coming out on top in a pair of heartbreaking 1970's Super Bowl matchups. "Iron Mike" was the anchor in the middle of the offensive line for those victories and many more during his 15 seasons over the ball with Pittsburgh. The game appeared to take a heavy toll as Webster died at age 50 amidst a series of mental and physical problems.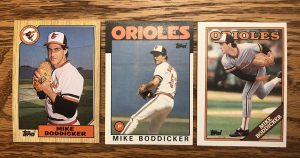 #52 Mike Boddicker
Finding that 80's Baltimore Oriole hurler, Mike Boddicker, sported #52 was kind of fun as it brought back memories of American Legion baseball and a road trip to take on Cedar Rapids during the 1984 season. A pair of the games were actually played in nearby Norway, Iowa, Boddicker's home town. I recall it being kind of a cool bit of current trivia but it sure didn't hold up to the Post 285 claim of our own hometown hero, Jim Sundberg.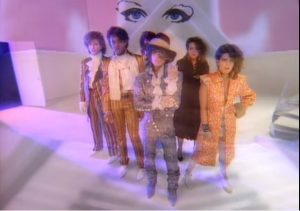 #52 All-Time greatest song per Rolling Stone magazine's Top 500
"When Doves Cry" – Prince (1984)
How in the world do you make such a list? I have trouble selecting a Top 10 Trip Tunes post although I must admit considering compiling my own Top 100 someday. While this one takes me on a nostalgic ride back to high school and I do enjoy a number of Prince cuts, if I had to choose pop/rock royalty, I'm taking Queen, hands down.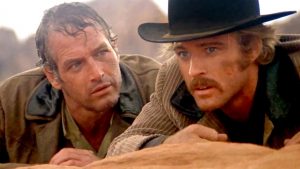 #52 All-Time movie per IMDB
"Butch Cassidy and the Sundance Kid" (1969)
Gotta love a buddy film and this one certainly ranks among the best. No better 1-2 punch of starpower than Newman and Redford and lines galore that stick with you forever. Always interesting when you find yourself rooting for the "bad guys".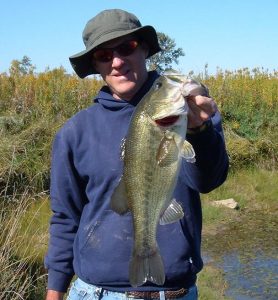 #52 Personal Top Bass
One from the Knox County public strip mines while fishing with my brother, Brent, back in 2013. Actually caught another one about 10 minutes later that was even a little bigger (it's #39 on my All-Time List). Boy, I miss those days when I knew how to fool a few big ones, been a tough couple years since turning 50.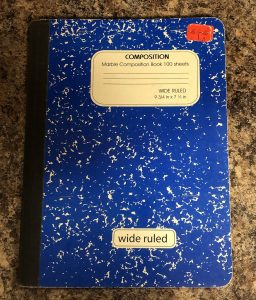 52 Weeks
I've long had an outdoor blog project in the works to cover each and every week. Maybe a January 2021 kickoff on that one after I have turned 53 as I always like to include an introductory post to start a series.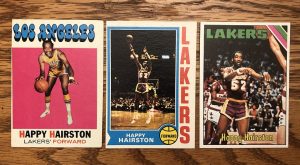 #52 Finale – Happy Hairston
What better way to finish a "Happy Birthday" post than with a guy who actually went by the name of "Happy." And I learned something as I put this post together, his given first name was Harold, still alliterative but just not the same flair.
So, here's to "52" and thanks for hanging in there for a bit of a ramble. But, hey, my birthday and my blog so here's hoping you'll cut me a little slack even if just for today. Talk to you later. Troy