"Very superstitious…" – Superstition, Stevie Wonder (1972)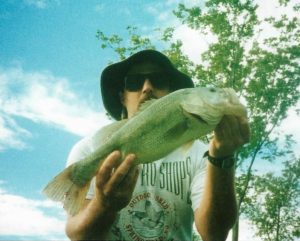 August 2, 1999 – Little John Conservation Club 20.5″ and 3-11 on a spinnerbait
Kind of fun when the lead pic is from exactly 20 years ago today.
And kind of weird when you look at the person in the mirror and ponder just how much superstition effects your routines and decisions. I suspect that for most of us it isn't a question of "whether" but "how much."
Participating in sports in my younger days, I employed "routines" aimed at repetition or consistency that were really just thinly veiled superstitions. Stand in the same spot on deck, three dribbles before a free throw, glove in the same place on the bench, that sort of thing.
Comfort type behavior, same applies to fishing, just have a look at today's three fishing pictures from the summer of 1999. I guess if it ain't broke, don't fix it.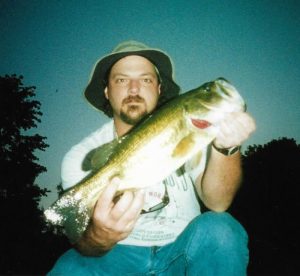 June 25, 1999 – 19.5″ and 3-3 spinnerbait and July 27, 1999 – 20″ 3-4 Zara Spook both from Little John
According to the old photo albums, the Bass Pro Shops shirt actually made its fishing trip shirt debut in 1995. And it came direct from Outdoor World when Brent and I made the nine hour pilgrimage to Springfield, MO back in 1992, a time when there was only one Bass Pro Shops.
As far as the original floppy hat, it broke onto the scene in 1999 and came from the Gurnee Mills Bass Pro Shops location. My girlfriend and I made that trek back in the day and me, her and the hat are still together over 20 years later. (Note: that would be Julie, now my wife, just to avoid any sort of weird, lurid confusion on the girlfriend thing).
Cool thing about the hat is that I had to bust it back out just last weekend as Floppy Hat V2.0 was in my truck at the local service station. Nabbed a near four-pounder on that trip, my largest bass of 2019, so maybe there truly is something to the whole superstition, good luck thing after all.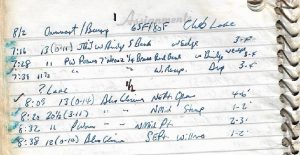 Just for fun, here is the old log entry from August 2, 1999
"Very superstitious, nothing more to say…"
Well, at least for today although I do have a whole pile of notes and a few old posts on the role of superstition in fishing. Some other time.
For now, give yourself a little escape and a smile today by clicking below. One fantastic, groovy cut written by a musical genius, performed by an eclectic, hip collection of players for an enthusiastic bunch of listeners (especially the youngster at the 4:10 mark). Trust me, you will not be disappointed, everything music should be.
Talk to you later. Troy