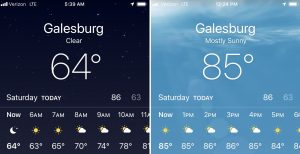 Took most of the morning to warm up but then got hot in a hurry
After not being in the boat together for a long time, Dad and I wound up on the water for back to back weekends with a trip to Lake Storey last Saturday. Normally not a summer destination, I'd been intrigued after a few recent jogs around the fishing hole as well as the success of my boy Jayce during a quick visit a week prior. Thus, we decided to battle the weeds and green water in hopes of also battling a few bass.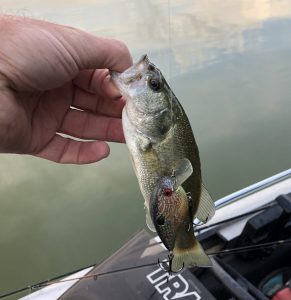 6:34am – One brave bass bites a bulky bait, basic bass behavior
Stats
Date: August 3, 2019
Location: Lake Storey – Knox County, IL
Time: 5:40am-11:40am
Weather: Sunny/calm to breezy
Air Temp: 64-84F
Water Temp: 79-81F
Totals: 8 bass, 1 bluegill (Troy – 8 bass, Dad – 1 bluegill)
Lures:
Strike King KVD 2.5 Squarebill crankbait (sexy shad) – 3 bass
5" Yamasenko weighted wacky rig (watermelon/crème laminate) – 2 bass
Booyah Blade Spinnerbait (bluegill) – 2 bass
Rapala DT10 crankbait (parrot) – 1 bass
Rebel Ghost Minnow – 1 bluegill
Top Bass: 1-12
Top 5 Weight (only 3 at 12" or better): 3-11 (1-12,1-1,0-14)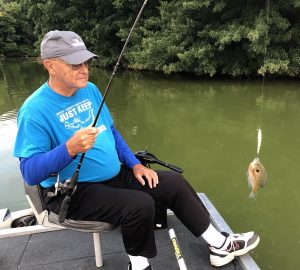 Dad on the board with a feisty bluegill 
Notes and Nonsense
Front Ended? – For the second time in two weeks at Lake Storey, one angler came up bassless. In both cases, it sure wasn't for lack of effort. And I can speak to one of the instances firsthand as my boy, Jayce, got me 4-0 during our couple hours on the water in late July. On that outing I was even up front on the trolling motor which is generally seen as advantage. Same spot for this outing and just one of those odd situations as Dad noted that he didn't feel slighted on our targeted areas just couldn't muster one of our target species although a bust off on a hookset left us to wonder.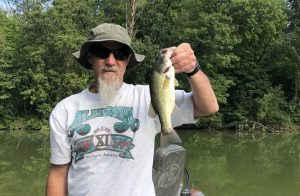 8:24am (12.5″ 0-14) & 8:59am (13″ 1-1) trying to scrape out a Top 5 but only got a Top 3 at the end of the day
Snags – Beyond that busted bite that Dad experienced we did have a handful of snagged lures along the way but only lost one other bait. An errant cast of my Senko drilled it into a nasty stand of poison ivy where it became lodged. Rather than going all the way in after it I elected to clip the line as me and poison ivy have a long, ugly history. I did go in to retrieve a crankbait snagged at water's edge to find that one treble was hooked into some old snagged fishing line, typically impossible to dislodge unless within reach.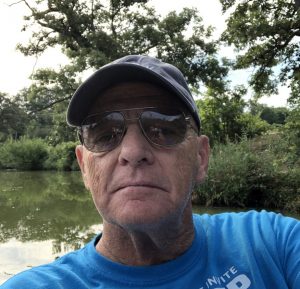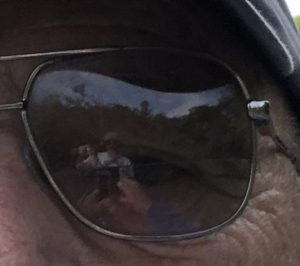 Tech Break – Dad says "That's not you, that's me???" when I asked him to snap a pic of a catch
Top Bass – Prior to the last couple weeks it had been quite a few years since I had fished Lake Storey at full pool, instead opting for visits during the annual fall drawdown. As such there was a lot more fishable structure that was in the water as opposed to high and dry. Problem was, the abundance of shoreline vegetation made a lot of the brush and laydowns tough to fish. However, one particular piece of structure, a stump, sits deep enough to be submerged beyond the weedline and invisible to anglers not intimately familiar with the lake. I mentioned to Dad, "there's a stump over there" as I cast my crankbait to find that there was also our Top Bass "over there."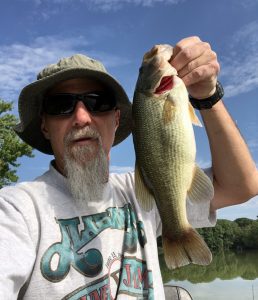 9:16am – Top Bass 15″ and 1-12 on squarebill crankbait 
Tiny Bass – There's a baseball saying that "it looks like a line drive in the boxscore" when describing a blooper, Texas Leaguer, swinging bunt or seeing eye groundball that results in a hit. Such can also apply to catching a less than impressive bass as it still counts as a bass recorded in the log and the totals. As long as the angler is wise enough not to report the specific details or shoot a photo, nobody knows the difference. Well, I guess I suffer from some combination of not that wise and easily amused so what you see is what I catch.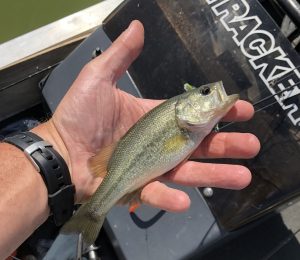 10:56am – Last bass 6.5″, called it a day about 45 minutes later figuring we couldn't outdo this one with a smaller catch
Nothing much to brag about but enough to keep us interested, actually a respectable quantity for us on a dog day Lake Storey trip. Definitely could have caught more and likely heavier on some of our strip mine water but there's something to be said for a challenge. And Lake Storey always provides just that. Talk to you later. Troy