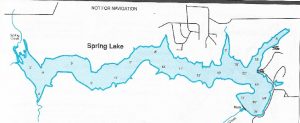 McDonough County's Spring Lake, not to be confused with similarly named Tazewell County fishing hole
Today's flashback features a rather lengthy excerpt from the original September 5, 2009 post entitled "Just Like Riding A Bike."
Thirty minutes into my return to bass fishing on August 16th, my old hobby indeed felt just like riding a bike. McDonough County's Spring Lake had already given me three bass with a combined weight of 7-12 and I was back in business after a somewhat self-imposed hiatus to get my fishing mind right. My brother and fishing partner, Brent, then responded with a trio of his own that tipped the scales at 4-14. Barely an hour into our trip we had nearly thirteen pounds of bass (all released of course). An impressive start and little did we know that we both had yet to land our largest bass of the trip.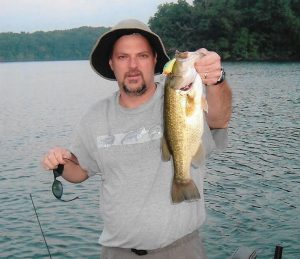 6:28am 18.5″ 2-15 on a Rapala DT6 crankbait (parrot)
Our immediate success was gratifying and I mentioned to Brent that our good fortune made me feel like laughing out loud. That would be "lol" in today's "textspeak" or whatever it's called as I don't partake in one of technology's latest rages. Paired with another comment we'd shared during the feeding frenzy (more on this later), it got me thinking about some of the peculiarities of the English language. Upon returning home, I pondered how I could relate our fishing adventure by enlisting the aid of figures of speech. Being a creature of habit, I often resort to such verbal tactics anyway but I thought perhaps this would be a chance to take it to another level while still being careful not to go overboard. All in all, it seemed like a perfect fit as fishing has contributed many phrases to our language that can be variously referred to as sayings, adages, clichés, idioms or old saws. One can "take the bait", be "caught hook, line and sinker" or rue "the one that got away." So, without further ado, I'll give it my best shot as we get down to brass tacks.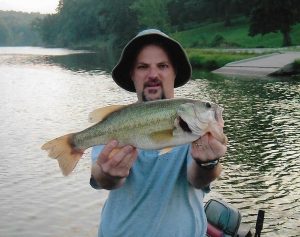 6:41am 19.5″ 3-11 on Rapala DT6 crankbait (parrot)
"A sight for sore eyes" – It was exciting to get back on the water to harass some bass and while I had actually seen the lake before this outing, it had been many years ago and only during a short hike along the dam area while not armed with a fishing pole. I'd also checked out some internet info and a relatively crude map in a publication I own along with soliciting some input from Brent who had spent the previous day on the lake. Upon getting out on the water I was pleasantly surprised with some relatively good water depth close to shore and ample structure in the form of fallen trees, points, riprap and duck blinds. An added bonus was the nearly complete absence of aquatic vegetation. Granted, this can work both ways, but in the midst of summer it was a welcome change as many of our area lakes become choked with shallow weeds. And things worked out well as we were able to spend more time removing largemouth bass from our hooks instead of what we grew up referring to as "moss bass."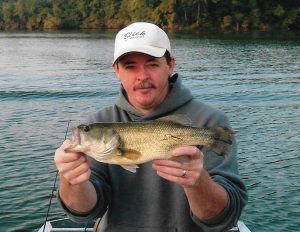 6:44am 16″ 2-0 Mann's Baby 1- crankbait (grey ghost)
"The early bird gets the worm" – Brent and I launched the boat and made our first casts right around 6:10 am and had a bass in the boat seven minutes later. When Brent hooked a 1-14 at 7:14 am it marked our sixth bass in just over an hour on the water. The next hour or so produced three more and at 9:36am Brent reeled in a short fish that would turn out to be our last catch of the day. During the final two and a half hours, the Spring Lake bass threw a shutout but it wasn't too hard to swallow after catching lightning in a bottle to start our day.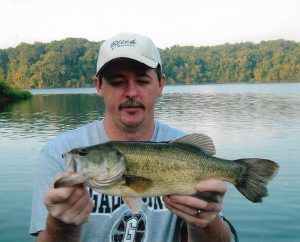 7:14am 15″ 1-14 Spinnerbait (yellow/white)
"Some things never change" – Consulting my fishing log it appeared that the last time Brent and I shared a boat was July 31, 2005. That's quite a span between trips considering the amount of time we used to spend fishing together back in the day. But as we all know too well, time flies as evidenced by the fact that in the interim Brent got married and we combined for three kids. Despite such life altering changes, there we were once again with Brent tossing a spinnerbait while I relied on a crankbait just as my 2005 log entry had also recorded. And both times we each were catching bass proving that there is indeed more than one way to skin a cat.
"You should've been here tomorrow" – This was the other comment (besides lol) that got me thinking about the English language and was derived from the fishing standard of a frustrated angler being informed by a local that he "should've been here yesterday." My misuse of the saying, while not grammatically correct, did have a purpose. Brent and Dad had fished the lake the previous day with limited success as they eked out three small bass during four early morning hours on the water.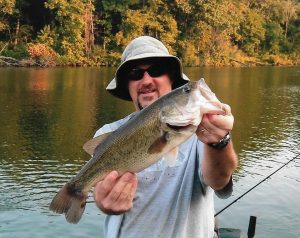 7:24am 20″ 3-12 Rapala DT6 (parrot)
My botched take on this saying represents a figure of speech known as a malapropism. Perhaps some of you may remember Norm Crosby, a comedian who made a living out of butchering the English language and is regarded as the "Master of the Malaprop." As a kid I recall him hosting a game show called "Liar's Club" in the 70's where a trio of celebrities described an unusual object for a contestant who had to decide which story was actually the truth. Anyway, while I'm off on a tangent I thought that I might as well pass along a handful of examples that I found amusing while researching malapropisms.
"It's not the heat, it's the humility." – Yogi Berra
"I know how hard it is for you to put food on your family." – George W. Bush
"I might just fade into Bolivian, you know what I mean." – Mike Tyson
"I am not going to make a skeptical out of my boxing career." – Tonya Harding
"Vagrant disregard for the law" or "patience is a virgin" – Archie Bunker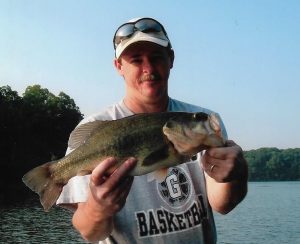 8:18am 18.5″ 3-12 Spinnerbait (yellow/white)
"Right place at the right time" – Although Dad and Brent's outing didn't provide much in the way of a fish story, Dad did relate an interesting anecdote from his trip to Spring Lake. After calling it a day and visiting the campsite where Brent, Kim and Brady were staying, Dad hit the road headed for home. As he exited the park onto a county road, he spied a young man pushing a bicycle down the shoulder. Dad opted to take the Good Samaritan route despite not knowing what you might encounter these days. It turned out that the fellow was a Western Illinois University student who had the misfortune of a broken chain while out for some exercise. He was grateful for the lift to the bike shop in Macomb as it is a rather substantial walk from Spring Lake. I guess timing is everything with the guy being lucky that the fish weren't biting as Dad quite likely would have still been in a boat on the water as opposed to his truck on the road.
"Better lucky than good" vs. "Practice makes perfect" – I hope that our success was more directly a result of the latter of this pair of sayings. We've been at this for a while and have no doubt refined our techniques over the years. The fish will often tell you what they want (or don't) but it's up to the angler to discern a pattern after taking into account a handful of variables. Weather, season, forage and structure are among the factors that must be assessed. Experience is also an indispensable tool and this time around we happened to start out in the right spots with the right presentations. Could we repeat the performance on a future trip? I'd like to think so; perhaps that's a future fish story.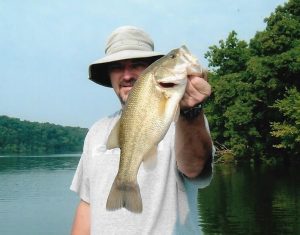 9:30am 17″ 2-6 Rapala DT6 (parrot)
"If at first you don't succeed, try, try again" or "What a difference a day makes" – A return trip after a tough day certainly gives credence to this adage. I must admit a bit of pessimism upon hearing that Brent and Dad had struggled during their day on the water. I'm as confident in their abilities as my own so it didn't bode well when I got wind of their fishing report. There was even brief consideration of a trip to nearby Lake Argyle but fortunately we stuck to our guns. How easy it would have been to simply write off Spring Lake as a bad fishing hole after one trying experience. Such is fishing; that's why it's not called "catching."
"If it ain't broke don't fix it" – Our success came by taking our time and thoroughly working over pieces of structure that we felt should hold a bass. Points, fallen trees and duck blinds with some proximity to deeper water was the pattern of the morning. A quality bite on crankbaits and a spinnerbait left little reason to experiment with some of our other "go to" lures such as the Senko or Baby Brush Hog. In the end, we combined for eleven bass with a tie for Top Bass honors as we each hauled in a 3-12. Our five heaviest bass combined for an impressive weight of 16-8, well over a three pound average per bass. Nine of our eleven bass exceeded twelve inches with weights as follows; Troy (3-12, 3-11, 2-15, 2-6, 1-2) and Brent (3-12, 2-0, 1-14, 1-0). The lure breakdown consisted of a Rapala DT6 (parrot – 4 bass), Mann's Baby 1- (grey ghost – 4) and a tandem spinnerbait (white/yellow – 3).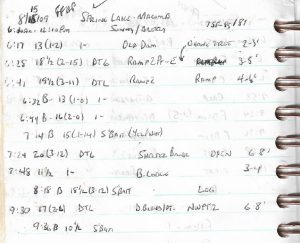 Original log entry from an entertaining and productive day on some new water
I did work a Baby Brush Hog around several logs to no avail and remarkably never even picked up my Senko wacky rig. But then again, you've got to dance with who brung you. We did experience the customary "one that got away" as Brent had a bass in the two pound range toss his spinnerbait after being hooked. The only concern was being shut out during the final two and a half hours but a fair amount of that time was spent exploring the southern bank which I found much less appealing. We also may have gotten a bit complacent but based on my year of futility any more bass would certainly have been icing on the cake.
Whew, hope you hung in there through that lengthy and wandering fishing tome. I won't keep you any longer today as I'm sure you've got bigger fish to fry. Talk to you later. Troy