Today's flashback is nearly five years ago to the day and was quite a trip in terms of quantity. Below is the original post in its entirety providing a testament for choosing boots over boats if you have the access and are willing to put forth the effort.
Originally Posted 10-9-14
After forty one days without a fishing trip I was eager to rip some lips and faced the usual fall dilemma of where to ply my trade. The Lake Storey drawdown is always an eagerly awaited annual challenge but the recent rain had filled it back up quicker than the water was flowing out of the drain. Snakeden beckoned as it closes on October 15 and I'd neglected the site this year after catching my first few bass on an "old faithful" pothole back in late March. Little John Conservation Club is a winner although I tend to hit it more heavily in spring and summer and don't get too antsy for one more shot as compared to the waterfowl season "shutdown" fishing holes. No offense, waterfowlers, but I've long borne a grudge towards those darn ducks and geese that deny me access to my fishing holes. In the end I choose another batch of Knox County public strip pits that shutdown on September 30 and invited my younger brother along for another cross country, walk-in pursuit of uneducated bass. And boy did we find 'em!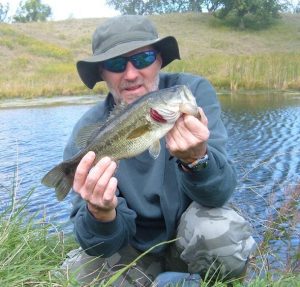 Quality could have been better for me but no complaint on quantity as noted below
Stats
Date: September 21, 2014
Location: Knox County strip mines
Time: 8:50am-3:50pm (5 hours fishing, the rest walking)
Weather: Partly cloudy/windy
Air Temp: 65-72F
Water Temp: no reading
Totals: 135 bass (9 different lakes)
Brent Totals: 67 bass
Troy Totals: 68 bass
Lures Brent (no specific lure totals available):
Strike King Red Eye Shad (sexy shad), Emiquon Special Spinnerbait (brown/orange), Zoom Baby Brush Hog
Lures Troy:
Strike King Red Eye Shad (sexy shad) – 35 bass, Senko weighted wacky rig (baby bass) – 15 bass, Booyah Counterstrike Spinnerbait (salt &pepper) with twin tail trailer (salt & pepper) – 10 bass, Yum Wooly Curltail (green pumpkin) – 8 bass
Top Bass Brent: 3-13 Emiquon Special
Top Bass Troy: 1-4 Strike King Red Eye Shad
Top 5 Combined Weight: 9-11 (3-13, 2-0, 1-9, 1-4, 1-1)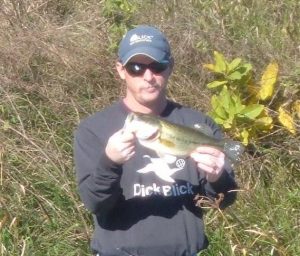 Brent with a 2-0 in this pic that I shot from across the lake
Notes & Nonsense
Slinging Blades – Me and spinnerbaits used to make a pretty good pair for quite a few years. But for the last twelve or fourteen years it's been rather hit and miss. And if it were not for a place called the Emiquon Preserve, my spinnerbait totals would be quite paltry when compared to back in the day. Regardless of usage and results, I've been a fan as long as I've chased bass so it was cool to set the hook on a handful of Booyah blade bites, the first of 2014. Every type of bait has its merits, its feel and, after thirty years of bass fishing, its history. It was certainly welcome feedback to once again feel my retrieve get heavy, skip a beat or go slack as a spinnerbait biting bass will do.
Emiquon Special II – Speaking of spinnerbaits, I was not at all surprised to watch Brent wield his go to bait with uncanny effectiveness yet again. For many years he put a hurt on the bass with a homemade spinnerbait that would eventually garner the moniker of "The Emiquon Special" after it was a major contributor on his 98 bass day back when that crazy fishery was hitting on all cylinders. Well, the original lure finally gave out resulting in a new version of the old weapon. It still seems to work the same although Brent did point out one noticeable difference with a reverent nod to the legend in stating, "This one's still got paint on the head." Another trip like this one though…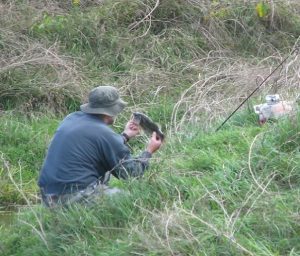 I got a kick out of Brent secretly snapping this pic of my makeshift selfie setup
Front Row Seat – Okay, so I was actually standing but nonetheless it's a good figure of speech. On a spot I call Far Lake, I had a perch several feet above the lake surface where about a three foot weedless chute cut through the weedline on a fair drop off. The water was pretty clear allowing me to watch half a dozen or more bass suddenly appear out of nowhere as my retrieve neared its end and just smash my Red Eye Shad. It was awesome to watch those camouflaged predators bolt from their ambush points and nail their target in a flash. It further reinforced the contention of Dad, Brent and I that there is no way you could reel a lure fast enough to keep it away from a hungry bass. The vantage point also reminded me how cool the bank can be as there are perspectives to be found that outrank any fancy bass boat. And those perspectives also provide some incentive to keep hiking in to places like Far Lake which got its name for just the reason one might suspect.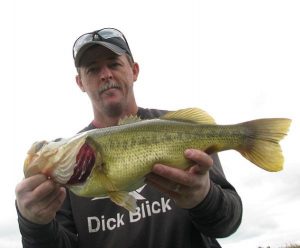 Top Bass of the day at 3-13 for Brent. Had these two met before? Read below.
Makes You Wonder – Back in April, Brent and I hit this same location and many of the same lakes to the tune of 107 combined bass. Our quality was much better on that trip with our Top 5 coming in at 17-2. Included in that bunch was a 3-8 fooled by Brent with a jig and pig on a spot I call Horseshoe Lake. Fast forward to this trip and Brent lands a 3-13 from the same lake while standing pretty much in the same spot, this time on his Emiquon Special. Was it the same fish? Who knows? What I do know is that I need to beat him to that spot when we head back next year (or leave him home).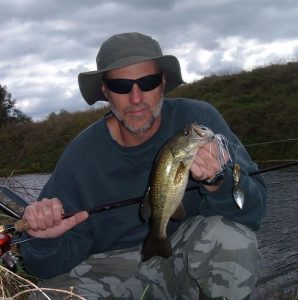 A bass I called #3772 but that's another story…
It should come as no surprise that we had a good time. Trekking across the undulating terrain of the strip mines can be taxing and it can be a drag walking half a mile to get to a spot that is only a few hundred yards away as the crow flies. But that's part of the deal; known that and done that for a long time. The legs are tired and the back is sore after one of these adventures as are wrists, forearms and shoulders from reeling in all those bass. Nice aches to have, I can live with that.
Once again, glad that I took to documenting these outings as it helps me remember stuff I forgot. Talk to you later. Troy