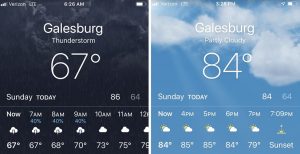 A second consecutive Sunday on Lake Storey with my brother, Brent, proved to be another winner. Lots of bass and plenty of other stuff including a batch of song titles to compliment my standard fishing report format.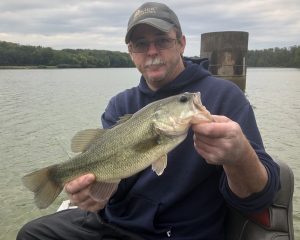 9:14am 15″ 1-12 Spinnerbait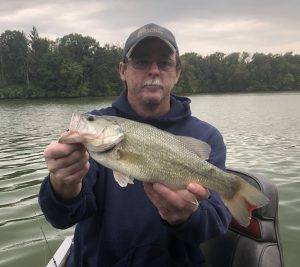 10:03am 15″ 1-11 Spinnerbait
"Lowdown" (Boz Scaggs – 1976)
Date: September 15, 2019
Location: Lake Storey – Knox County, IL
Time: 8:50am-3:05m
Weather: Overcast to sunny/windy and some rain
Air Temp: 66-84F
Water Temp: 73-74F
Totals: 21 bass (Brent – 12 bass, Troy – 9 bass)
Lures:
Brent: Spinnerbait (white) w/ tandem hammered blades (copper) – 9 bass
Mann's Baby 1- crankbait (grey ghost) – 2 bass
Senko wacky rig (bumblebee) – 1 bass
Troy: Strike King Red Eye Shad (orange craw) – 4 bass
Zoom Baby Brush Hog (watermelon) – 3 bass
Booyah Blade Spinnerbait (bluegill) w/ twin tail trailer (smoke) – 1 bass
Bomber Long A Jerkbait (red/yellow) – 1 bass
Top Bass: 2-2 (Troy), 1-15 (Brent)
Top 5 Weight: 9-5 (2-2,1-15,1-13,1-12,1-11)
"The Rain, the Park & Other Things" (The Cowsills – 1967)
"Who'll Stop the Rain" (Credence Clearwater Revival – 1970) – The original plan was to be on the water before sunrise, roughly 6:15am. The reality was a nasty thunderstorm that delayed my 45 minute drive as Plan B was to meet at Dad's garage at 7:00am instead. Brent and Dad had already been hanging out there for an hour when I arrived and we didn't actually get to head to the lake until about 8:30am.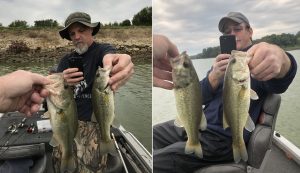 "Double Vision" (Foreigner – 1978) – The bass are rather wily on the heavily pressured waters of Lake Storey so two in the boat (a "double") is cause for a photo. Or two photos in this case as I was too busy shooting to realize that Brent was doing the same back in my direction. Cool idea, makes for a little something different for the fishing report.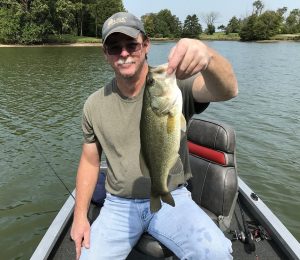 12:20pm 1-15 Spinnerbait
"It's Raining Again" (Supertramp – 1982) – Although the forecast indicated the rain was supposed to be done by 9:00am, a fairly heavy downpour came calling around 10:00am. Luckily, we had our rain gear at the ready which apparently was not the case for some other anglers launching their boat. We saw them backing down the ramp as the rain began but they were nowhere in sight by the time it subsided roughly 20 minutes later.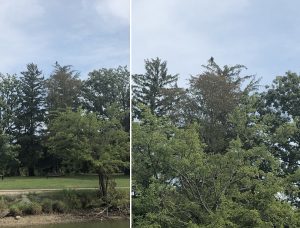 "Fly Like an Eagle" (Steve Miller Band – 1976) – A cool sight was a bald eagle that was spotted several times as we fished our way around the lake. In addition, we spotted another large bird of prey, an osprey, for the second weekend in a row. Several great blue herons, green herons, a couple kingfishers and some unidentified ducks at a distance rounded out a quality bird list.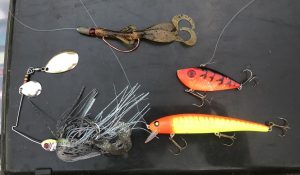 My portion of the lures that fooled our fish
"One Way or Another" (Blondie – 1979) – During our 15 bass outing on Lake Storey the previous Sunday, the bass told us that a spinnerbait was all we needed. Indeed, our pair of spinnerbait selections fooled every one of our catches and with such positive feedback we hardly threw anything else. On this outing, the spinnerbait was still the top producer but caught less than half of our haul. It was fun to alternate baits on different spots to find an effective presentation and Brent actually caught one on each of the three poles he had on board. You don't see that every day as he often finds no reason to set the spinnerbait aside.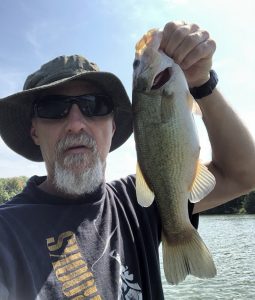 1:39pm 15.5″ 1-13 Red Eye Shad
Not a soul all day but a crowd shows up at our 3:05pm quitting time, go figure
"Still the Same" (Bob Seger & the Silver Bullet Band – 1978) – With the ugly morning weather it was no surprise that we launched mid-morning at an empty ramp. What was surprising was to only see one other boat on the water, a family who had launched at the opposite end of the lake. However, what was not surprising was the crowd that showed up to end the day. In fact, I commented to Brent as we headed to our final spot at 2:48pm that we had not seen a soul in the lot all day but just wait…Sure enough, as we got within a couple casts of the ramp, three bank anglers arrived and began fishing the launch area as did two trailers. I'd give the first crew about a C- if I were grading boat launching while the second guy did quite well with the added pressure of me heading to our truck and trailer. I did offer to assist as he was flying solo but he had it covered in fine fashion. No big deal as we were in no hurry but I swear, it never fails.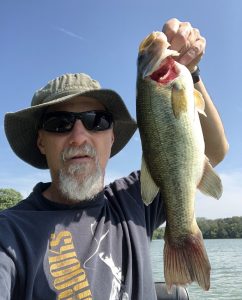 2:14pm Top Bass 16.5″ 2-2 Baby Brush Hog
All in all, "One Fine Day" on the water (The Chiffons – 1963). But "Enough is Enough" (April Wine – 1982) as I don't want to contribute to any "Wasted Days and Wasted Nights" (Freddy Fender – 1975). "Talk to ya later." (The Tubes – 1981). Troy