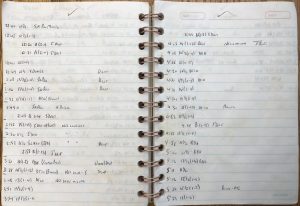 Only part of the original log entry on a day when Emiquon showed it's true colors
How about another Emiquon post as 2009 was quite a year on a brand new fishing hole the likes of which we had never seen. No better proof than an October 7, 2009 trip that actually takes a pair of flashback posts to cover. Part I today and a bonus Saturday Flashback to help tell the tale.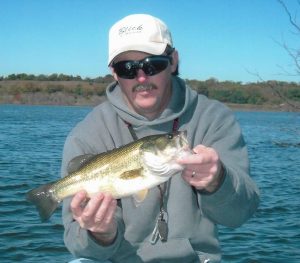 11:11am 2-1 on a spinnerbait
Excerpt from the original 10-11-09 post entitled "As Advertised"
Brent and I were back in the boat again less than two months after our successful August outing at McDonough County's Spring Lake. The time frame is noteworthy as we'd previously gone nearly four years between trips largely due to just being busy. On October 7th we eliminated work from the equation as we each took a vacation day specifically to get in a trip to Emiquon. Brent had yet to see the area and I looked forward to seeing his reaction to the expanse of water that slowly comes into view as you drop into the river bottom on Route 97. He was definitely impressed but I couldn't help thinking, "You ain't seen nothing yet" while hoping that the bass would live up to their reputation. As it turned out, I needn't have worried.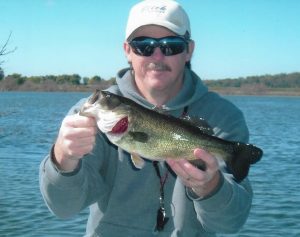 11:19am 2-2 on a spinnerbait
We hit the water at around 10:20am following a visit to Dickson Mounds Museum in order for Brent to obtain his fishing permit. After a twelve minute ride to one of our prime spots and a few tense minutes without a bite, we hauled aboard our first bass at 10:39am. Although we experienced a few flurries of activity in the first several hours I still maintained that Brent had yet to see Emiquon reveal its true colors. Sometime just before 3:00pm it started.
While I'd been fairly successful pulling bass out of a stretch of ditch with a couple different crankbaits, Brent was picking off scattered fish using a spinnerbait along the shelf on the west edge of the ditch. As the crankbait bite slowed, we decided to pursue Brent's spinnerbait pattern. It would prove to be the right move as Brent quickly began to add to his total. I'd brought along a counter that allowed me to punch in each bass for him rather than relying on tick marks in my fishing log, and the clicks began coming with increased frequency.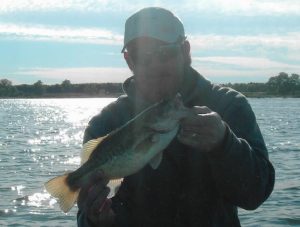 3:59pm Brent Top Bass 2-3 on a spinnerbait
I couldn't find a suitable spinnerbait in my arsenal to replicate his success and my crankbait bite had subsided so I experimented with a few other baits and enjoyed the show. At one point, I could no longer resist commenting on his good fortune asking, "Do you know how many you've caught?" He indicated that he wasn't sure but didn't seem too surprised when I said, "Fifty." And it wasn't long before I let him know that he'd reached seventy. Although I didn't ask him at the time, I was beginning to consider the possibility that he could reach the century mark as we still had about an hour and a half of fishing remaining. Not wanting to jinx him, I kept my mouth shut content to keep clicking off bass after bass as we settled into a favorite spot to finish off our day.
Apparently the area is no secret as it had drawn a crowd the entire day preventing us from taking our shot. But sure enough the bass were still there and cooperative despite getting pounded all day by the other anglers. Just before 6:00pm, curiosity got the best of my brother and I informed him that his total now stood at ninety two bass.
We agreed to fish until 6:15pm before taking off on the roughly ten minute boat ride back to the ramp in order to be off of the water before sunset as stipulated in the rules. Thus our only choice was to run back through a productive stretch of water that had already given us roughly three dozen bass. Were there eight more left for his spinnerbait? I honestly had my doubts even knowing how the Emiquon bass can turn on in a hurry. However, right away Brent stuck one on the spinnerbait and lost a second at boatside much to our dismay. I'd considered quitting so as not to take any of "his fish" but went about my business catching a couple on a Baby Brush Hog before a snag made the decision for me and I just sat back to watch the thrilling conclusion.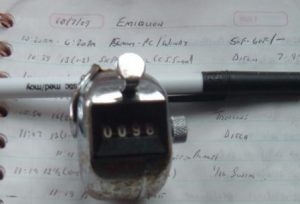 Brent slowly chipped away at the mark before we simply ran out of time. In fact, he was the one who made the call. It was a valiant effort and we left satisfied with the outing since you'd be a fool to complain about "only ninety eight bass." I did get a laugh though as Brent joked in hindsight stating, "Man, I shouldn't have eaten lunch."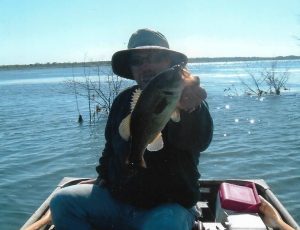 10:54am Top Bass on the day 2-6 on a crankbait
By the way, I thought that I had a decent day although fifty six bass certainly pales in comparison. I'd like to say it was due to running the motor, logging the trip or taking Brent's fish of the hook for him but none of the above were the case, I just plain got outfished. Overall, I was pleased with my output even though I found myself trailing by forty two bass when all was said and done. On "normal" lakes it is a rare trip where we can combine for forty two bass, let alone wind up with that amount being the difference. Suffice to say, that place is nuts.
Downright crazy, indeed. Man, those were the days. Still brings a smile and a head shake every time I revisit this outing. Which I am going to do again tomorrow with a few more notes and some stats. Talk to you later. Troy