As promised, here are some numbers and notes to complete the flashback that we started yesterday. Read on for Part II of the original 2009 post entitled "As Advertised" and a further look at a place called "Emiquon."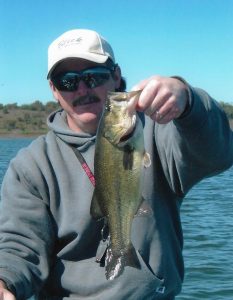 12:22pm 2-0 Spinnerbait
Statistics
Date: October 7, 2009
Time: 10:20am-6:20pm
Weather:  Sunny turning partly cloudy/windy
Air Temp: 50-60 F
Totals:  Brent (98 bass) Troy (56 bass)
Lures:  Troy – Strike King Pro Model crankbait (chartreuse sexy shad) 21 bass, Zoom Baby Brush Hog (candy bug) 12 bass, Rapala DT10 crankbait (parrot) 12 bass, Rapala DT6 (parrot) 5 bass, Yum Dinger worm (cotton candy) 3 bass, Hank Parker Classic spinnerbait (white) 2 bass, Senko wacky rig (blue pearl blue) 1 bass
Lures: Brent – Bass Pro Shops spinnerbait ¼ oz. (crawdad) roughly 80 bass, Mann's 4- crankbait (green firetiger) roughly 15 bass, Bagley DB series crankbait (unknown) 1 bass
Record Book Bass:  Troy (2-6, 1-15, 1-14, 1-13, 1-12, 1-12, 1-11, 1-9, 1-8)
Brent (2-3, 2-2, 2-1, 2-1, 2-0, 1-15, 1-14, 1-13, 1-12, 1-9)
Top 5 Weight: 10-13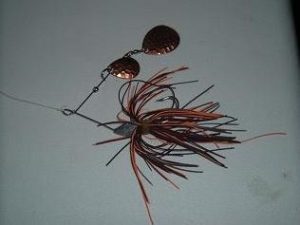 Rare photo of "The Emiquon Special", a spinnerbait that got it's nickname as a result of this outing
The Bait – Brent's spinnerbait was an old Bass Pro Shops model sporting tandem (two) copper hammered (dimpled like a golf ball) Colorado blades (see photo) and a brown/orange skirt (often referred to as crawdad). He just happened to have it tied on from a previous trip to Spring Lake and it proved to be a wise decision to stick with it. I've never seen anything like the performance. It is also worth noting that the bait is one of the first spinnerbaits we purchased upon getting into bass fishing which makes the lure close to twenty five years old. You can bet that I'll be rummaging around the baitshop in my garage prior to setting off again for Emiquon.
Sounds funny, but too bad I didn't have a phone back in the day to get a better picture of "The Clicker"
The Clicker – I'm not sure where I picked up my counter years ago but figured that it might be a handy tool for keeping track of my partner's catch. It has four digits and I mentioned to Brent as we neared the ramp to leave that we can potentially rack up 1,000 bass. However, having just pummeled the Emiquon population he was quick to point out my error with soaring confidence stating, "Actually it would be 9,999." I'm thinking he's probably up for a return trip.
The Bass – The vast majority of our fish were in the 12-14" range. All were healthy, aggressive and hard fighting. A handful that I examined also had fish tails emerging from their throats yet were still in pursuit of another meal. We've seen two bass on one lure and reports have noted several bass following a hooked fish to the boat on occasion. With the obvious population density it's no wonder that these bass are so competitive but fortunately it doesn't appear that anyone is starving at this point.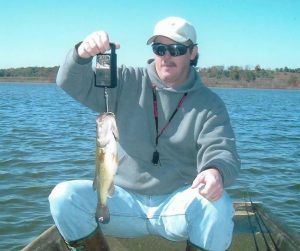 No brutes on this trip but the overall quantity and quality were unmatched by any body of water we have ever fished
The Lake – I would advise getting in on the action while it is hot as nothing lasts forever. Mother Nature and morons always have the potential to adversely affect things that seem "too good to be true." I've got no problem with the former as that's just the way things work in the natural world. There's always potential for disease if the population remains unchecked, flooding is no stranger to our neck of the woods and aquatic weed growth can pose problems. As far as the latter is concerned, I do have a problem as these days there's no shortage of irresponsible outdoorsmen (I use the term loosely) who poach, introduce exotic species or have a general disregard for rules and regulations. I hate to sound bitter but the whole "few bad apples" routine gets old after a while. Anyway, that's enough of the editorial. 2009 is drawing to a close but make sure to have your gear ready for 2010 and if you've been nice ask Santa for a decent size johnboat, a stout trolling motor and a couple batteries.
Ten years have passed and a lot of fish have been caught since this epic day on Emiquon. Regardless of what has occurred in the interim, this tale remains a favorite. I suspect it always will no matter what my fishing future holds in store. A true fish story. Talk to you later. Troy