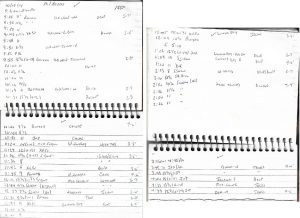 Original log entry from a successful day on the water
Here's a fish story from a pretty amazing Central Illinois fishing hole that I was fortunate enough to get a look at for the first time five years ago today.
Originally Posted 10-22-14
Is this there anything quite as exciting for an angler as new water?
It always gets me pretty fired up; even more so if it is a premier fishing hole with a reputation for some outstanding Illinois bass fishing. So when I got an invite this summer from a fellow named Chris Rock to wet a line in his lakes I was more than a little enthused. However, I was also more than a little bit busy and nearly missed my shot for 2014. A challenging weather day didn't make it easy on us but it was sure worth an occasional numb digit and several layers of clothing.
Stats
Date: October 18, 2014
Location: Peoria County lakes
Time: 9:30am-4:45pm
Weather: Overcast/windy
Air Temp: 47-52F
Water Temp: 54-56F
Totals: pushing 100 bass (Troy – 46 bass, Chris – similar numbers)
Lures Troy: Booyah Counterstrike Spinnerbait (salt & pepper) – 18 bass, Xcalibur XR50 lipless crankbait (chicken pox) – 11 bass, Senko weighted wacky rig (baby bass or natural shad) – 8 bass, Jig & Pig (black/blue or watermelon/green/black) – 7 bass, Strike King KVD Rattling Squarebill Crankbait (natural pumpkinseed) – 2 bass
Lures Chris: primarily a jig along with a chatterbait and Strike King crankbait
Top Bass: Chris 5-10 Jig
As big as they got for me but quantity was real solid for a chilly October day
Notes & Nonsense
Backstory – Chris runs a truck route for one of my employer's plants and apparently is one of the few people that I'm not related to who actually reads my blog postings. A co-worker mentioned that I should meet Chris and in that process I got an invite to fish. I was well aware of the lakes from the occasional appearance on a regional outdoor website and was real interested.
Fishing Fall – If pressed to select a favorite time period to chase bass, mid-September through October would quite likely be tops. However, during this time frame you just never know what hand Mother Nature will deal as the weather can be all over the place. Being a weekend angler with family obligations these days it narrows the window and keeps me honest when professing that "the best time to go fishing is anytime you can." On this day the mercury hit the low 50's but with a pretty steady north wind it sure never resembled what one would call warm. Despite reeling in more than a few bass neither Chris nor I worked up a sweat that necessitated removing any layers. In fact, we both went as far as stocking caps shortly into the trip and stayed that way all day. Luckily we never had to resort to gloves and a near 100 bass day does go a long way towards negating the occasional chill.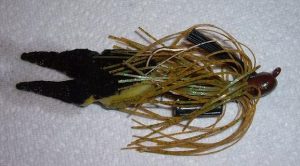 Had to shift gears from the tried and true black and blue to fool a few
A Pig of a Different Color – When it comes to jig fishing, I am true black and blue through and through. I'd bet that 90% of my jig bass have been fooled by some variety of this general color scheme. Therefore, it was a little unsettling when my old faithful bait just wasn't getting the job done. Chris was knocking them pretty good on a brown variety so I decided that it was time to give the star performer a break and put it on the bench. It kind of felt like scratching a Cal Ripken off the lineup card and inserting a Mark Belanger but you gotta do what you gotta do. Don't know if it was a good idea or not but the color combo pictured above did manage to produce several fish. Even so, it took some getting used to and I never really got used to it.
Speaking of Hogs – The bass pictured below claimed the Top Bass title for this trip and was a real interesting looking fish with a series of dark markings. Even though it's a good photo it still doesn't do justice to the splotches around the eye, on the gill plate, on both pectoral fins and near the tail; really cool stuff. And it was also really cool when Chris set the hook on one of those bites that looks and feels more than a little different than your run of the mill bass. He stated that it was a good one and the bend in his rod seconded that assessment. I got the honor of lipping the fish for him as he brought it boatside getting to hold a fish nearly a pound larger than what I've been able to muster on my own, good stuff.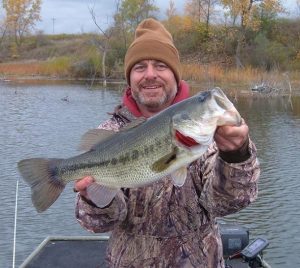 Chris with a 5-10 Top Bass of the trip 
Good Company – As good as the fishing was, it was also enjoyable shooting the breeze on matters fishing and otherwise. I don't really hang with any friends who fish so it's always cool to talk fishing (ranks among my favorite topics along with my family, old school baseball and 70's classic rock/pop music). It was extra cool having Chris provide a history on the area from rock quarry to fishing hole while relating epic catches, describing the lay of the land under the surface and pointing me in the right direction to catch some bass.
All in all, a great time on some cool water with a guy who knows how to get it done. It's always interesting fishing with a new partner and I just do my thing and hope it leaves a favorable impression. I was encouraged near the end of our outing after needing Chris to troll in to rescue my jig for the only time all day. He offered that staying unstuck in such a jungle of trees showed that I knew what I was doing. I was even more enthused when he mentioned trying our luck again next year.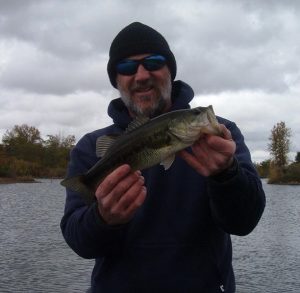 Nothing close to a lunker for this guy but boy, what an interesting fishing hole.
I was able to fish the spot again in April of 2015 and March of 2016 but those are flashbacks for another time. Perhaps another time I may also be able to create some new fish stories at the fantastic fishing hole. Talk to you later. Troy