Last Sunday marked the final day of 2019 access for anglers to Snakeden Hollow State Fish & Wildlife Area. The site shuts down for the waterfowl season so the birds win out over my bass (more on that some other time). Wanting one more shot, I decided to take a hike despite a recent cold front and the forecast of strong winds which can make it tough on an eight foot johnboat. The evening prior I put out a text to my brother, Brent, and he was game to give it a go as well. Read on for the results of our tag team outing.

Bundle up as this could be interesting
Stats
Date: October 13, 2019
Location: Snakeden Hollow, Knox Co. IL (4 lakes)
Time: 10:55am-5:25pm (5.25 hours fishing, the rest walking)
Weather: Sunny to overcast/very windy
Air Temp: 48-55F
Water Temp: not available
Totals: 23 bass (Brent – 12, Troy – 11)
Lures
Troy: Strike King Red Eye Shad (orange craw) – 6 bass, Booyah Blade spinnerbait (snow white shad) – 2 bass, Zoom Baby Brush Hog (watermelon seed) – 2 bass, Chatterbait (bluegill) with Zako trailer (smoke) – 1 bass
Brent – Emiquon Special spinnerbait (brown/orange) 11 bass, Mann's Baby 1- crankbait (grey ghost) – 1 bass
Top Bass: 4-5 (Spinnerbait)
Top 5 Weight: 11-9 (4-5,2-1,1-15,1-10,1-10)
A few of the bass that were captured on GoPro
Notes and Nonsense
Weather – The temps were in the 30s when I left home with a high of 55 predicted along with winds gusting over 20 miles per hour. Well, it all played out as predicted but with the strong wind and afternoon cloud cover it actually felt colder even though it got warmer. Trust me, it makes perfect sense if you were out there roaming around for about seven hours.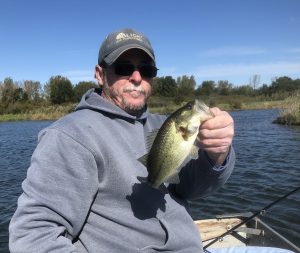 11:08am First bass – spinnerbait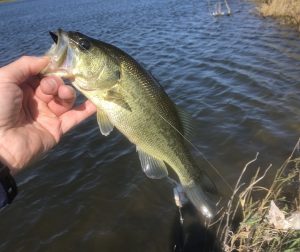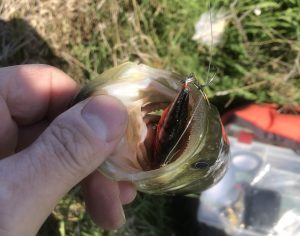 12:08pm my first bass took a while to find but was sure intent on getting the lure
First Bass – It only took about 10 minutes before Brent got us on the board with his old reliable spinnerbait. That spinnerbait would go on to land all but one of his bass with the lone exception falling to a Mann's Baby 1- crankbait while we briefly ditched the boat in favor of the bank. A reliable stretch was getting pounded by the wind making boat control impossible so we gave the oars a break and landed three bass and missed another. One of the three was my first catch of the day at 12:08 pm, roughly 70 minutes after we started casting. My lame excuse was being the designated rower (voluntarily) but really I just wasn't getting it done and still don't have my own version of "The Emiquon Special" spinnerbait. My boy, Jayce, does courtesy of a gift from Uncle Brent though causing me to ponder the ethics of raiding someone else's tacklebox.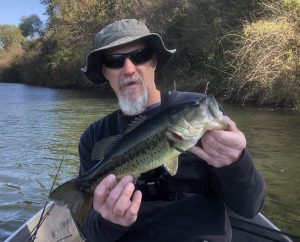 1:58pm 1-10 spinnerbait
Reunion – Choosing your spots can be tough at Snakeden as there are over a couple dozen viable fishing holes on the site. I wavered on a visit to an old favorite pondering whether it still held enough potential to justify the hiking effort. The decision turned out to be one of those "since we're this close…" types. An hour of casting gave us two of our eventual Top 5 but just as rewarding was reliving some old tales such as "the sumac forest" and "the biggest topwater explosion ever." Folks, we've got just a few fish stories between us.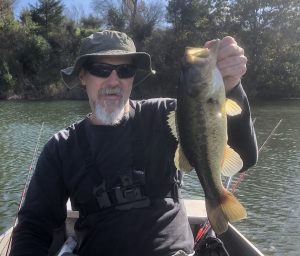 2:24pm 2-1 Zoom Baby Brush Hog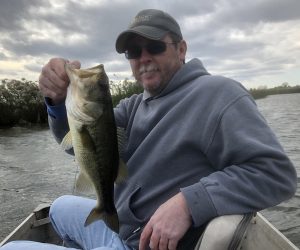 3:12pm 1-15 Spinnerbait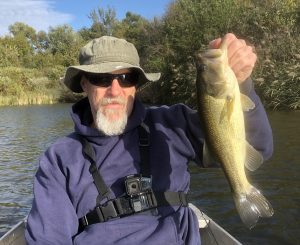 4:20pm 1-10 Chatterbait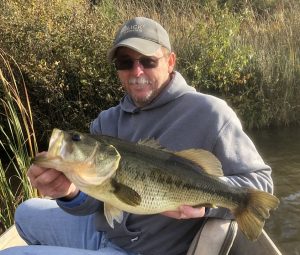 4:35pm Top Bass 4-5 Spinnerbait
Top Bass – The first time Brent and I ever fished what would eventually become Snakeden Hollow was July 1, 1987. That was three years before the ground would be open to public access. We were fortunate to get an invite from a fellow willing to take a couple teenage wannabe bass fisherman along for a visit inside a locked gate. In the 32 years since, we've caught more than a few bass out there including several that exceed the weight of 4-5 on Brent's latest catch. However, his fish is hands down the coolest looking Snakeden bass I've ever seen. An impressive catch and in this instance, I believe that the picture indeed does the fish justice as it could easily pass for a heavier bass. Whenever I get around to a post on my favorite bass pics of all-time, this one will certainly make the list.
Kind of blew it on my GoPro footage by accidentally turning off the camera mid-catch
Another good outing with my brother and we managed a respectable haul (and a brute) in some challenging conditions. Yet again reinforcing why you don't put those poles away to early and that the best time to go fishing is anytime you can. Which brings me to the following day and another fishing report to compile. Talk to you later. Troy