As the Friday Flashback series winds down, here's a unique Lake Storey memory with my brother from exactly 20 years ago.
What makes it unique you may ask? (or just play along if you aren't asking)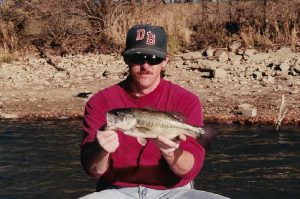 Brent with a 1-14 bass, safe bet it was on a spinnerbait
Is it the fact that Brent is clad in only a light long sleeved shirt during the second week of November?
Good guess, certainly different than today as the mercury dips below the freezing level 20 years later. But that's not it.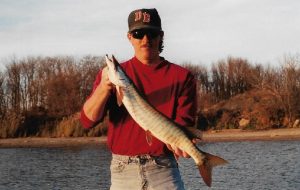 A bonus muskie "accident" is always exciting
How about a Lake Storey muskie catch as an oddity?
Nope. No guarantee of landing a toothy critter on these fall outings but no surprise to have one show up.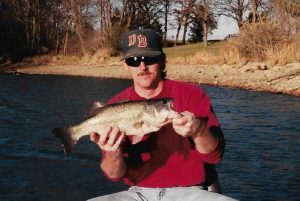 Top Bass of the day at 3-7
What about the location of that pair of decent bass?
Not really, as that spot has been pretty solid over the years. Please don't tell anybody though if you recognize that background.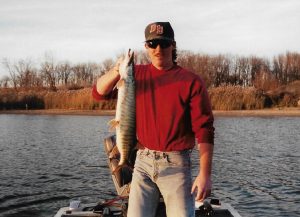 Is it strange that there are no pictures of my catches in the photo album?
Also no, as it is commonplace that I get outfished on these trips anyway. Besides, I have no idea what I caught, if anything.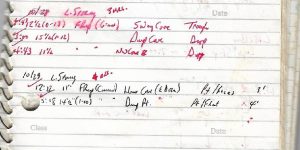 The 1999 log ends with October 28 & 29 entries, no details on this November outing, only pictures
Therein lies the "unique" part of today's tale. Beyond these pictures dated November 11, 1999 there is no other record of this fishing trip. Yep, no log entry and in pre-dating my 2002 writing habit, no submission for a blog entry either. Even my piscatorial photographic memory leaves me a little lost on this one and that, folks, is indeed downright bizarre.
Looked like a pretty good late season bonus day for Brent though and sure wish 2019 held some similar looking weather for one last shot at the bass. While that isn't likely to happen, I do have one more shot at a Friday Flashback next week and possibly a wrap-up piece for the series as a finishing touch. In addition, we have a couple fish for one more Top 5 Update on Monday. Talk to you later. Troy