Back in business with the first two regions of the Sweet Sixteen. No sense in giving a rambling intro as the lures speak for themselves.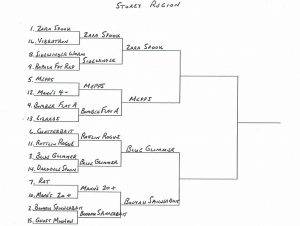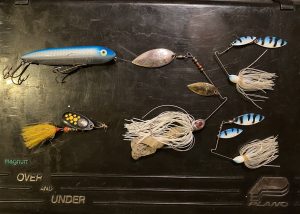 Storey Region
Zara Spook (1) vs. Mepps (5)
Matchup: A classic battle that originated for me in the mid-80s. Both lures were already legends when one found me and I found one. The Mepps was a fixture in Dad's arsenal and one of "only two lures you need to catch some bass" (more on the other one tomorrow). The Spook was something Brent and I read about and couldn't pass up at a tackle wholesale outlet on Grand Avenue ran by Dom and Pete Calderone.
Results: While both have faded from regular use among me and my fishing partners, they each hold many memories. Not only the memorable catches but the origins of how this whole thing once began with a handful of lures and a head full of dreams about landing some big bass. As these lures come in neck and neck in the sentimentality factor, the fact that the Spook produced more of those big bass gives it the edge in this matchup.
Blue Glimmer (3) vs. Booyah Spinnerbait (2)
Matchup: This is a spinnerbait battle that began with a homemade lure crafted by my baseball coach and early bass fishing mentor, Gary "Bru" Bruington. That one was lost to the ages somehow, initially giving way to a Roland Martin Blue Fox model and then a batch of Mann's Hank Parker spinnerbaits. Thirty five years after receiving that first spinnerbait, these two winners slug it out for the current spinnerbait title and a spot in the Elite Eight.
Results: The Booyah models are the spinnerbait stars when I hit the water these days as The Blue Glimmer has long been out of production. One of my last two Blue Glimmers bit the dust at Lake Storey a few years ago courtesy of a broken blade while fooling one last bass. I do have a final spare Blue Glimmer in the package so the bait indeed can live to cast another day. Which is just what it does in defeating the formidable Booyah Blades.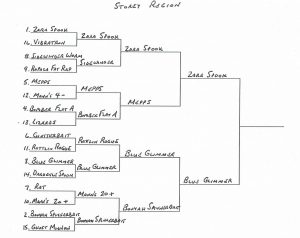 Emiquon Region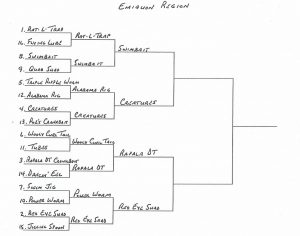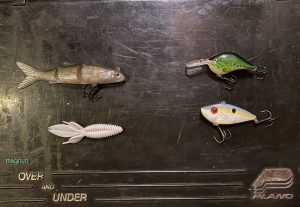 Swimbait (8) vs. Creatures (4)
Matchup: So some of these swimbaits are actually bigger than a lot of the bass this aging wannabe bass angler catches. Pretty cool looking but at a price that stops me in my tracks. After all, if I hang one of them in a brushpile I'm either going swimming or pulling out a hanky to dry my tears. Creature baits on the other hand, while not a dime a dozen, are certainly more in this frugal fisherman's price range.
Results: Jaw dropping bass pics from giant swimbait action sure do get my attention. But, there's a price in terms of both financial and time investment. I'm just not committed enough to that niche to spend my day looking for one or two big bites. Tried that one before as a muskie fisherman. Nope, I'll take my chances on a big bass eventually showing up among the collection of small to mid-sized bass that eat my muskrats and craws. Victory to the creatures.
Rapala DT (3) vs. Red Eye Shad (2)
Matchup: We're talking evolution and legacy in this matchup of differing crankbait styles. The Rapala DT Series comes from the legendary lure maker that first introduced the floating minnow, then divers such as the Shad Rap and Fat Rap along with a stab at a topwater bait in the Skitter Pop. The Red Eye Shad comes from a legacy of lipless cranks such as the Bill Lewis Rat-L-Trap and Rapala's lipless model known as the Rattlin' Rap.
Results: Quite the matchup here as the Rapala DT series hauled in an amazing bunch of Emiquon Preserve bass including my personal best. The Red Eye shad was no slouch down there either but truth be told, those bass were duller than the trebles on some of my vintage crankbaits. In the end, it's the Red Eye Shad with the win. Confidence and the added cold water effectiveness indeed make this a lure for all seasons.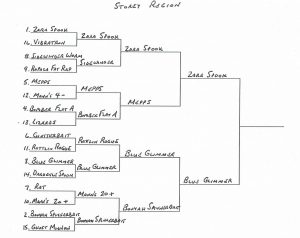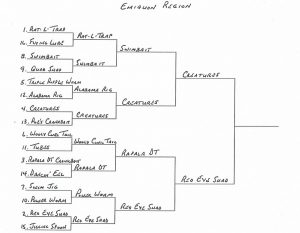 Full videos scheduled at Troy Jackson Outdoors You Tube (click here)
More to come with the Little John and Snakeden Regions tomorrow night. And have no fear, the Friday Flashback will appear with a slight delay as the "essential employee" status trumps "dedicated blogger". Guess what pays the bills? Talk to you later. Troy