In the final half of the Sweet 16 collection of lures, things get old school, create a buzz, turn wacky, and we finally get a resolution to the much anticipated "Baby" showdown.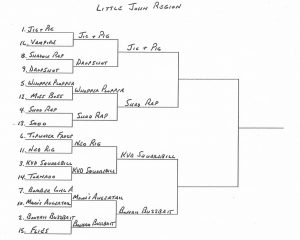 Little John Region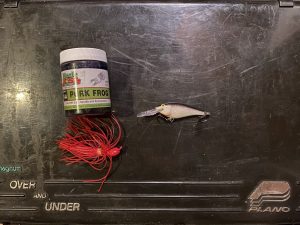 Jig & Pig (1) vs. Shad Rap (4)
Matchup: These two lures have done battle before as they often vie for the bookend bass of each fishing year. Cold water specialists that you should have on the end of your line right now.
Results: While the Shad Rap can somehow entice that cold water bite when other baits can't get it done, the jig & pig generally gets bigger bites. Generally speaking, when I get out in the cold water period I only have a narrow window of time on the water. In that time I am basically looking for one bite. And I've seen some good ones on the jig & pig which push it on to the region final.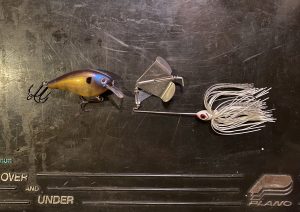 KVD Squarebill (3) vs. Booyah Buzzbait (2)
Matchup: The KVD Squarebill owes a debt of gratitude to the Poe's Crankbaits that bowed out in the first round of our tourney. Built to deflect off of structure, and with a little practice, these lures can save you a few bucks and nab you some more bass. Be very careful when you pick up a buzzbait. If the timing is right and you run into some early quality bites, you may be in trouble.
Results: Crankbait effectiveness is taken up a notch when you can run the bait into something whether it be wood, rock or the lake bottom. Sure is fun to get that thump after a bump but the explosion of a surface buzzbait strike is over the top. Every once in a while one of those buzzbait bass will fool you too, just barely slurping the bait in with hardly a ripple. You never know until you set the hook but wait for the weight before you do so. Easier said than done on our topwater winner that moves on to the next round.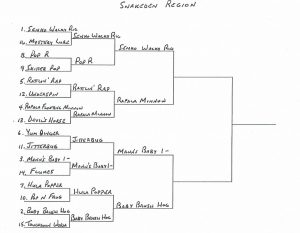 Snakeden Region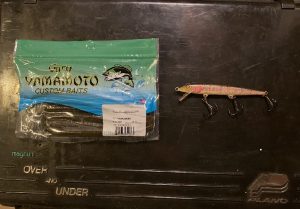 Senko Wacky Rig (1) vs. Rapala Floating Minnow (4)
Matchup: Tackle selection got a bit wacky back on May 22, 2005 at Lake Bracken when I broke down and tied on a plain looking worm to try out a new presentation. As they say, "The rest is history" and I've had one tied on ever since. Speaking of history, the Rapala Floating Minnow, originally crafted in Finland circa 1930s, caught the eye of American anglers in the 1960s. All these years later, the tackle aisles are still stocked with the "Original Floater"
Results: Shame on me, perhaps, that my last floating minnow catch came in 2006. Dad has busted it back out on several occasions in the meantime but I seemed to have forgotten my roots. Such can be fishing these days with overwhelming offerings tugging at an angler's mind. The Senko, on the other hand, has been on a spinning rod nearly every trip since that tackle changing first catch back in 2005. The Senko moves on but I'll make a note to dust of the Rapala this spring if conditions permit.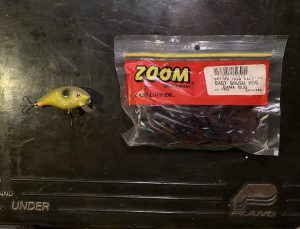 Mann's Baby 1- (3) vs. Baby Brush Hog (2)
Matchup: The media blitz for the "Battle of the Baby's" has hit a fever pitch in the days leading up to this matchup. Fierce allegiances have spiked merchandising, The Babys rock group has seen a resurgence in radio airplay and internet hits and a variation on a popular 70s soft drink jingle has resurfaced. Anybody recall the original version of "I'm a baby, he's a baby, she's a baby…wouldn't you like to be a baby, too?" Okay, maybe not, but I could see it happening.
Results: When the bass tell me that I need to slow down, I occasionally listen. And when I do, I often reach for the Baby Brush Hog. Just did that last year in fact, so the Zoom creature represents a contemporary lure. As does the Baby 1- which also reeled in a few in 2019. The fast moving Baby wins out in this matchup as that's my speed and for many years my lifestyle with four kids.
We have our Elite 8 baits and little rest for the contenders (and the blogger) as the show must go on. Talk to you later. Troy