The Final Four is about to be set based on the battles below.
Little John Region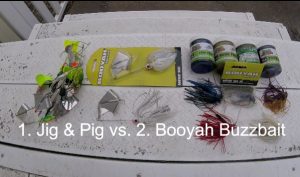 Jig & Pig (1) vs. Booyah Buzzbait (2)
Lyric (Jig & Pig): "The jig is up the news is out." Renegade – Styx (1979)
Lyric (Booyah Buzzbait): "Lights out, ah ha, blast, blast, blast." Lights Out – Peter Wolf (1984)
Matchup: Big bass potential is an appealing feature of both baits in this battle. However, they get the job done in different conditions and different fashions. The jig shines in cold water while the buzzbait typically stays home until the water warms. The jig is a slower, bottom bouncer as opposed to the buzzbait which speeds through the surface with a crazy racket. And finally, the jig is an in your face, in your home presentation for the bass while the buzzbait rings the dinner bell far and wide.
Result: This one goes right down to the wire, much back and forth in determining the victor. Both have some big bass potential as the jig is productive in the early season when big bass catches are always a possibility. Wielding a buzzbait early or late in the day during warm water also has the same potential as those big bass are a little less wary. In the end, this one ends on a buzzer beater and the buzzbait goes down while the jig & pig fights on in the Final Four.
Snakeden Region
Senko Wacky Rig (1) vs. Mann's Baby 1- (3)
Lyric (Senko): "Oh but they're weird and they're wonderful." Bennie and the Jets – Elton John (1974)
Lyric (Baby 1-): "Every time I think of you it always turns out good." – Every Time I Think of You – The Babys (1979)
Matchup: This is what I call the "I told you so" contest. Back in the 90s, a fishing buddy and co-worker they call "Woody" introduced me to the Mann's Baby 1-. Knowing that he knew how to catch some bass I followed his advice, bought a few and never looked back. Similarly, when I finally got wise and bought into the Senko wacky rig that anglers raved about in major magazines, I also found it to be a winner.
Results: I am a creature of habit so often it is tough for me to change my ways or venture into new baits or presentations. In the case of these two lures, that was a mistake. The Senko will win this one running away but for my "I told you so" advice, you would be wise to put these two lures to use if you haven't already.
Thus, the Final Four is set and we will now enjoy a much needed break before the Lure Lunacy semi-finals launch next Saturday. But have no fear, there is some other blog stuff in the works beginning with our latest Monday Top 5 Update. And somewhere along the way, I need to work in last week's Friday Flashback. Talk to you later. Troy