My aim is to get a fishing report out shortly after the actual outing but often easier said than done. For one thing, I have to help pay the bills and this whole entertaining blog thing ain't what does it. For another, after that bright idea known as "Lure Lunacy", well, I'm a little wore out. So, a bit belated, here is the latest report covering a couple hikes around the strip mines.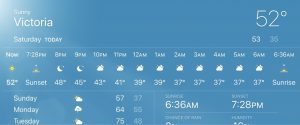 Stats
Date: April 4, 2020
Location: Knox County, IL strip mines (5 lakes)
Time: 2:30pm-6:35pm (3 hours fishing)
Weather: Sunny/breezy
Air Temp: 50-52F
Water Temp: not available
Totals: 16 bass, 1 crappie
Lures: Strike King Red Eye Shad (orange craw) – 8 bass, Jig & Pig (black/blue) – 4 bass, Bomber Flat A (baby bass) – 2 bass, Blue Glimmer Spinnerbait – 2 bass
Top Bass: 1-12 (Jig & pig)
Top 5 Weight (3 at 12" or better): 4-8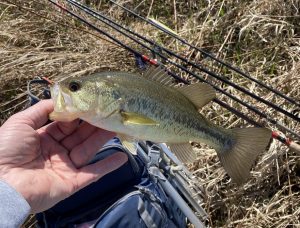 2:30pm – First bass on about my third Red Eye Shad cast, small but a good sign 
NEW FEATURE: TRIP LYRIC
As I have noted before, when my mind gets to wandering I typically find a few lyrics bouncing around upstairs. Some are remnants of a tune heard earlier in the day, some just kind of show up and some pertain to the present circumstances. Often, when fishing, the lyric is of the latter persuasion. And such is the case with the lyric that kicks off a new feature that I intend to include with each fishing report going forward.
TRIP LYRIC (4/4)
"And there's not another living soul around." – Say You Love Me, Fleetwood Mac (1975)
I'm standing in the middle of nowhere, gazing across a deep strip mine cut to the vast expanse before me and I see absolutely no humans or any vehicles on the distant roadways. Not entirely uncommon but it seemed to have a bit more impact in light of the current state of our nation.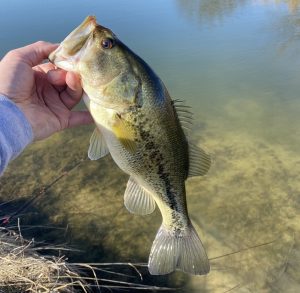 4:46pm – Top Bass 1-12 on a jig & pig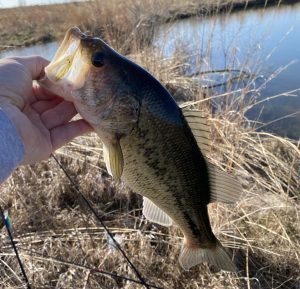 4:55pm Top Bass Runner-Up 1-8 Red Eye Shad
Notes and Nonsense
Smart, Dumb or Dinner? – During three visits to this area dated September 29 and 30, 2013 and April 12, 2014 I caught and released four bass at four pounds or better (two on 9/29/13 and two on 4/12/14). I haven't caught another four pounder from this area since, over the course of 23 more visits. And we're talking over 500 bass I've logged while wandering around out there in the meantime as well as a couple hundred more by my occasional fishing partners. Are the big ones getting smarter, am I only able to catch the dumb smaller ones or did somebody eat my "trophies"?

3 of the Final Four lures landed a bass, only the eventual champ missed out (too early for a good Senko bite)
Stats – Part II
Date: April 5, 2020
Location: Knox County, IL strip mines (5 lakes)
Time: 12:30pm-4:30pm (2 hours fishing)
Weather: Sunny/windy
Air Temp: 52-60F
Water Temp: not available
Totals: 1 bass
Lures: Strike King Red Eye Shad (orange craw): 1 bass
Top Bass: none 12" or better
Top 5 Weight (none 12" or better): Zero Point Zero
TRIP LYRIC (4/5)
"Maybe we could walk around all day long, walk around all day long." – Hurts So Good, John Cougar Mellencamp (1982)
And that's pretty much what I did and how I felt later that evening and only one small bass for the log. The truth also hurts in not so good of a way.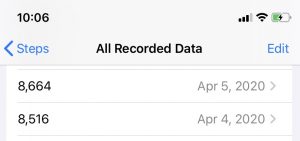 Notes and Nonsense – Part II
Photo Free – Normally, I'm pretty good at snapping a batch of pics of the bass, big, small and smaller to help tell the tale, good or bad. Well, as far as fishing success, this one turned out on the bad side. So bad, in fact, that by opting to not take a photo of my first small catch, I missed any opportunity for a fish picture. Lesson learned, alhough not missing much.
Observations – Now I know several lakes not to fish anymore. Some didn't have enough water, some may not have any fish and one may just be too far of a walk. The latter looks good. Plenty of water, some nice points, a couple rocky areas and at least one sunken tree but during a handful of visits I have never seen nor caught a bass. While completing my long, fishless, pothole peeking walk back to my truck I did startle a big coon, spooked a very large snapping turtle and discovered most of a deer skeleton. That's about as exciting as it got.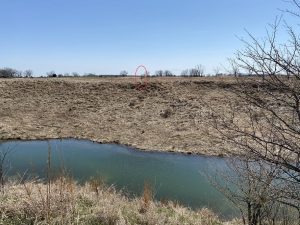 Oh yeah, I also saw my brother, Brent, from a very safe social distance. Didn't know he was going to be there and our contact would amount to a wave, a few texts and a phone call across a broad strip mine cut. (He fooled about a half dozen with Top Bass 1-10)
A tale of two fishing trips kind of sums up early season angling and sometimes just fishing in general. Although bummed after the second day, time (and writing) have a way of recharging the batteries. We'll see what lies in store as our odd April moves on. Talk to you later. Troy