I don't know about you but when I fish an area frequently I begin to come up my own names for spots on the body of water. Such was indeed the case for Knox County, Illinois' Lake Bracken. I first fished it with some Little League teammates around 1978 or 1979, enjoyed our family's membership through the 80s and then owned a house with the lake as my backyard from 1994-2003.
5/25/2000 Lake Bracken 17.5″ 2-9 Mann's Baby 1- Crankbait from Shed Cove
Many memories and many fish including those in today's flashback which takes me back to a time with far less responsibilities. Not only had we not started a family yet but I didn't even have a job in May 2000. The latter aspect was about to change but I still had a few days to goof around.
And part of that goofing around was fishing.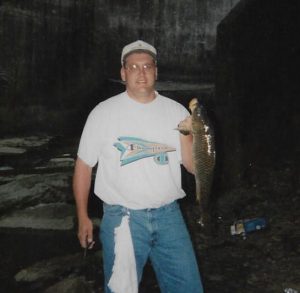 5/25/2000 Mark Junk 5-11 Carp on a doughball at The Spillway
From the log entry above, it looks like I made a day out of it. I spent the afternoon bass fishing on the lake and then headed to The Spillway to chase some carp for the evening with my buddy, Mark "Geek" Junk. And then it was back up to the lake to try our hand at some catfishing at The Clubhouse. Results appeared to be decent with Geek's nice carp and one fair sized bass for my contribution.
5/25/2000 Mark Junk 13-15 Carp at The Spillway on a doughball
But the real reward is being able to look back at the pics and the log entry and reminisce. There's no place quite like The Spillway and The Clubhouse was no longer a "clubhouse" as the building had burnt down many years prior. And all of these years later, I could still take you right to Patterson's Cove, Idlewild, Sandy Bank and Shabena Cove. Bet I could even find a bass or two along the way. Talk to you later. Troy