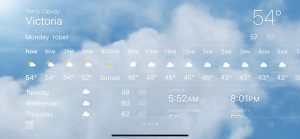 After an appealing 70 degrees and 27 bass the previous day (including several on topwater), I suspected that this follow-up might not be as kind. A nearly 20 degree drop in temps and an easterly wind sure had me thinking "I got a bad feeling about this." But a day off of work and the prospect of working in another fishing shirt on May the Fourth meant that I had to get back on the water.
Stats
Date: May 4, 2020
Location: Knox County, IL strip mines (3 lakes)
Time: 11:00am-5:15pm (5.00 hours fishing)
Weather: Overcast/windy
Air Temp: 55F
Water Temp: not available
Totals: 17 bass
Lures: Stanley Vibra Shaft Spinnerbait (blue glimmer) – 10 bass, Senko weighted wacky rig (smoke) – 4 bass, Booyah Buzzbait (salt and pepper) – 1 bass, Xcalibur XR50 lipless crankbait (chicken pox) – 1 bass, Jig & Pig (black/blue) – 1 bass
Top Bass: 2-7 (Spinnerbait)
Top 5 Weight: 11-1 (2-7,2-6,2-3,2-2,1-15)
Trip Lyric
"Don't stop believin."
Don't Stop Believin', Journey (1981)
There's some truth to this lyric as my first four hours of running around were a struggle. A couple quality bites can turn your attitude around and this was the tune that was running through my head once I got them. I'd like to say that I did not stop believin', but in reality, the cold front had both me and the bass in somewhat surly moods.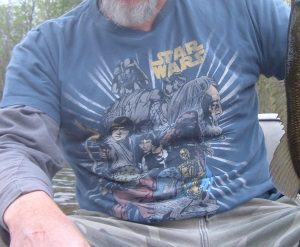 Lucky shirt for the May the Fourth outing
Notes and Nonsense
10 – For me this is the number of movies in the Star Wars series after the original 1977 release "Episode IV: A New Hope." My list consist of Episodes I-III, V-IX along with Solo and Rogue One. Debatable, sure, a few duds, yeah. But as a 10-year old kid in a Galesburg, IL theater, that first one sure left a mark that still endures over 40 years later. May the Fourth was my chance to give a shout out via my Star Wars lucky fishing shirt.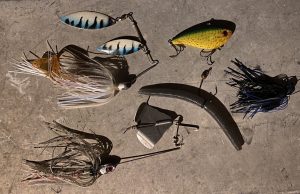 The Blue Glimmer (upper left) ruled the day
20 – "Hokey baits and newfangled presentations are no match for the Blue Glimmer at your side, kid" – Han Solo (sort of)
Nothing like reeling in the years by reeling in some bass on a twenty plus year old spinnerbait. The Blue Glimmer was a hit in the 90s and still rocking it in 2020. On this day it was definitely the MVP (Most Valuable Presentation). It landed my final nine bass during the last hour and a half of the outing and caught my entire Top 5.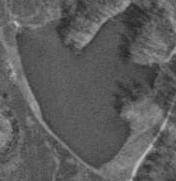 30 – "A long time ago…" – Star Wars: Episode IV – A New Hope
Over 30 years have passed since I first fished this area back in 1987. In fact, the lake where the bass caught fire to end my day wasn't even a fishing hole back in those days. Nope, it was just a strange depression of funky colored, swampy ground and scattered weedy vegetation. Fun to reminisce and even more fun to pull some nice bass out of that former "wretched hive of scum and villainy" (all bass released as always).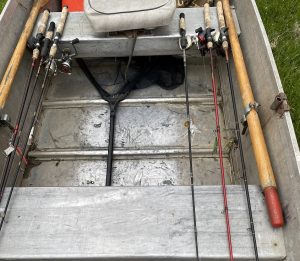 A glimpse inside my Millenium Falcon
40 – "She may not look like much, but she's got it where it counts." – Han Solo
My deluxe watercraft dates back over 40 years and still floats once it is pulled out of the truckbed and drug to the water. Believe it or not, Dad and a friend found this thing washed up in a logjam on a Henderson County, IL creek all those years ago. The rest is history that deserves a closer look someday.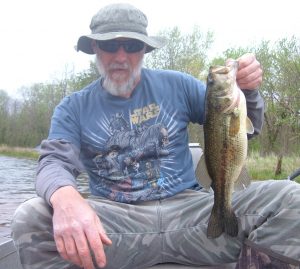 50 – "Your powers are weak old man." – Darth Vader
These days that old boat is propelled via a 50-something "trolling motor." I hesitate to think how many hours or miles that motor has racked up over the years. Still going strong though and on the third set of oars if I am not mistaken. I believe I could still give some of these childhood heroes a run for their money.
May the force be with you and talk to you later. Troy