A couple weeks ago, the Friday Flashback told of the first Senko bass I ever caught. May 22, 2005 at Lake Bracken, a true highlight in a lifetime of fish stories. Well, just over a week later, Dad and I were back on Lake Bracken and that wacky presentation was on the end of my spinning rod. Below is the original log entry along with the original fishing report submitted on June 30, 2005 as part of a "June Wrap Up."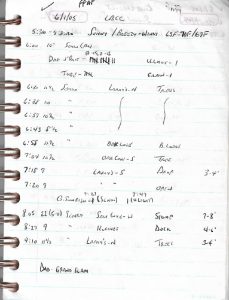 Original log entry – June 1, 2005
June 1 – The first day of the month turned out to be the only day of the month that I actually wet a line. Dad and I hit Lake Bracken from 5:30am-9: 30am and we landed 31 bass. Dad led the way catching 19 with 12 coming on a Rebel Ghost Minnow, 5 on his tube jig and one apiece on a plastic crawdad and a twister tail. I caught 12, all of them on my Senko. The highlight of the day was a 5-0 that I caught off of a stump in about seven feet of water. The bass currently holds the Top Bass title for the year and missed the Lake Bracken record by one ounce.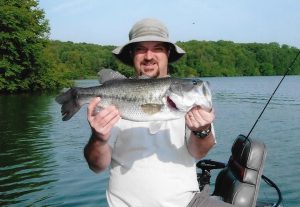 Senko record of 5-0 from June 1, 2005 (later eclipsed on May 19, 2007)
If I wasn't hooked on the Senko from the success of that first May outing, my second trip wielding the lure certainly sealed the deal. It's been a mainstay in my arsenal ever since.
Oh, by the way, Dad and I would make our next visit to Lake Bracken on July 13, 2005. Guess what lure caught ten of his eleven bass? Talk to you later. Troy