After nearly a month without a fishing trip and with a weeklong work trip to North Carolina on the horizon it was looking like the bass were going to get an even longer break. That fishing hiatus changed in a hurry though following a Thursday night text from my friend, Chris Rock, offering "if you are able to get away Saturday morning…" Even though I would be leaving my family for most of the week beginning at about 4:00am Sunday morning, Julie said, "Well, you gotta go." My thoughts exactly and I'm sure glad I did.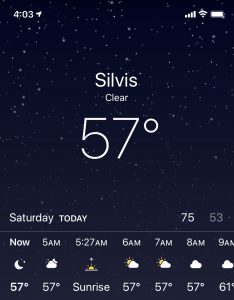 Early departure to make the 5:30am launch time
Stats
Date: June 13, 2020
Location: Peoria County, IL private lake
Time: 5:50am-10:50am
Weather: Partly cloudy/windy
Air Temp: 57-64F
Water Temp: 74F
Totals: Troy = 42 bass, 1 tiger muskie, Chris = more than 42 bass
Lures: Blue Glimmer Spinnerbait – 16 bass, Mann's Baby 1- Crankbait (red craw) – 11 bass, Strike King 2.5 Rattling Squarebill Crankbait (sexy shad) – 10 bass, Booyah Buzzbait (bleeding shad) – 4 bass, Strike King Red Eye Shad (orange craw) – 1 bass, Strike King Red Eye Shad (sexy shad) – 1 muskie
Top Bass: 2-5 (Chris) and 2-3 (Troy)
Top 5 Weight (Troy): 8-9 (2-3,1-14,1-10,1-8,1-6)
Notes & Nonsense
Rebounding – It had been a few years since I had a chance to fish a lake that had churned out several bass topping eight pounds. In the interim, Chris noted that Mother Nature had thinned the big bass in some manner so such bass were now unlikely. An unfortunate setback for the fishery but those we landed seemed quite healthy and headed in the right direction.
Comfort and Confidence – It's always interesting when I get to fish with a partner and observe different approaches. Chris did much of his damage with a swim jig, a lure that I could stand to learn better. Not surprisingly, I stuck to several of my standard offerings. While the bass mood did fluctuate at times, it was cool to find that we were both able to dial in our own effective presentations.
Muskie Mystery – About midway through our morning, Chris pointed out a nice sized muskie swimming in the distance with its head sticking out of the water. I can't say that I've ever seen such a thing before as the fish covered several yards in this manner before disappearing. Post fishing research by Chris turned up some possible explanations below. In the same general location, as we ended our outing, we actually got one in the boat but I was too distracted to ask the catch about the behavior. Maybe next time…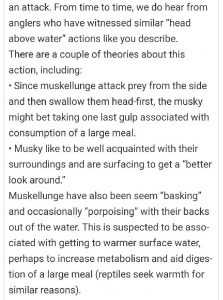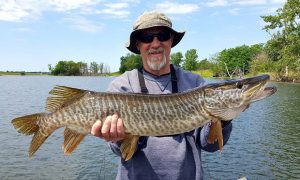 10:50am 36″ 12-12 Strike King Red Eye Shad (sexy shad)
Last Cast – We'd discussed "quitting time" and I opted for "around 11:00am" as I had plenty to do with a weeklong work trip beginning at 4:00am the next morning. As the deadline approached I'd been struggling to get bit while Chris continued to fool several bass on a couple different lures. I was confident in a lipless crank but felt I may have the wrong color so I switched out my orange craw for a sexy shad pattern. A few casts later, at 10:50am, the action below took place. After the release, I put my poles away, convinced that there was no better way to end the day. I'd have to say that it was my best "last cast" ever and a welcome "accident."
Thanks to Chris for a great day and his guidance on a stellar body of water. I've done this fishing thing for a long time but still get a little self-conscious as a guest. Once I get going though, the mind and muscle memory kind of go on auto-pilot and the fish stories start to flow. I believe I only wound up with one snag and with Chris on the net was able to get a close muskie strike on 12-pound mono into the boat. I guess all of those years of practice tend to pay off in the form of some new fish stories. Talk to you later. Troy