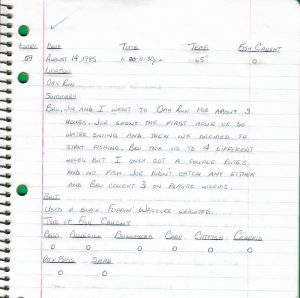 I always have fun reminiscing as i put together one one of these weekly flashbacks but I will admit that I have been looking extra forward to this one. Funny how some things seem just like yesterday from 35 years ago while others indeed seem like a long time ago.
As today's original log entries note, "Bru, Joe and I" went on a pair of August outings. For those who don't know Bru and Joe, well, I am going to tell you a bit about them. For those who do know Bru and Joe, well, you know that they are indeed a pair of memorable characters.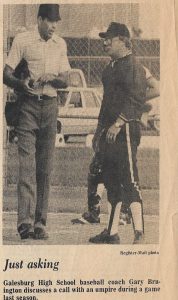 "Bru" and "Blue" having a discussion
Bru is Gary Bruington, longtime Galesburg Silver Streaks baseball coach and stellar GHS athlete in his day (Dad told me all about Bru's abilities as I was growing up). Bru's 1988 Silver Streaks claimed the state baseball title in dominating fashion (I was fortunate to be in the stands in Springfield that day) but our story occurs a few years prior.
Not only was Bru a great coach and teacher but he also served as a mentor to a teenage kid who had been bitten by the bass bug. Bru gave me my first spinnerbait and I remember marveling at the size compared to my old standard Beetle Spin offerings. He also showed me how to rig a Texas rigged worm. And Bru would take it a step further in inviting me out on Knox County's Oak Run to show me just how to fish such a presentation (outfishing me about 10-0 on the two trips included in this post). Now, that is a not only a good coach but flat out a good man.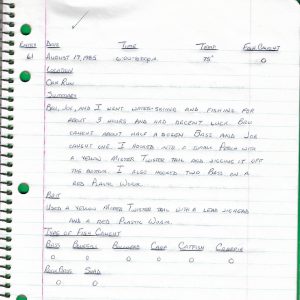 Our Oak Run outings also included some water skiing which was extra entertaining with Joe in tow. Joe Dennis is the toughest dude that i have ever met and has the Golden Gloves boxing cred to back up my assessment. Joe was also one to talk some good-natured trash among friends (and a little less friendly to some opponents and the occasional sports official). In the good-natured trash talking regard that made Joe and Bru two peas in a pod. This made the water skiing quite a spectacle as Joe constantly ran his mouth while Bru navigated in a manner seemingly aimed at dumping or perhaps killing Joe. I kept my mouth shut, enjoyed the show and crossed my fingers that Bru wouldn't treat me in the same fashion.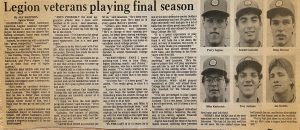 Joe, me and some teammates in our younger days
I have more stories about Joe Dennis than likely anybody I have ever met. Rivals growing up, temamates later, good friends and even fishing buddies, quite ride. Joe wound up in Alabama for college and still resides down that way. It's been quite a few years since we crossed paths, sadly at a GHS andLegion temmate's funeral and happily at Joe's induction to the GHS Athletic Hall of Fame. No matter the years, we don't miss a beat and the tales start flowing.
Like the time Joe got ejected during our inner city Churchill-Lombard Junior High basketball rivalry.
Or the time Joe got the boot against Moline High School. I was right behind him and an opponent who began mouthing off as we lined up for an inbounds play. I believe I even told the fellow that he'd better watch his step but did he listen? The kid had been asking for it, was kind of annoying over the years.
Or in junior high when Joe and his fellow linebacker, Bobby Jackson, convinced me that my quarterbacking days were over. Just not worth the beating they threatened and effectively dished out.
Then there was the bench clearing altercation with the Farmington Legion baseball squad.
And the Peoria Spaulding High School baseball fiasco (neither of the above were instigated by Joe but always a good teammate for me to locate when push came to shove).
Oh yeah, there was the time Joe and I got technical fouls down at the Morton High School gym when getting a "homer" job by the officiating crew. It was my lone career technical while Joe would eventually end up getting tossed after one of the officials disregarded Joe's request to mop up a slick area on the floor. The ref said something along the lines of "Clean it up yourself." Joe responded in kind by telling the ref to do something himself and it kind of went downhill from there.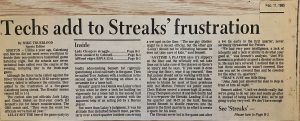 Yes, we also caught a few fish over those high school years with Joe always having "The Glove" in tow. A leather work glove as the fellow who could whoop pretty much anybody didn't like to handle our fish.
Geez, I guess don' t get me started. Quite a pair of guys sharing today's flashback and memories to last a lifetime. Talk to you later. Troy