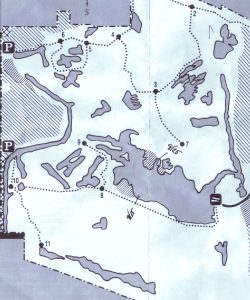 If you have roamed the woods, waded through creeks or wandered around fishing holes, perhaps you have also taken to naming some of the areas along the way. For me, some names represent physical landmarks, some pertain to geographical orientation and others have a bit of a backstory. The collection of waters at Snakeden Hollow fall under each of those criteria and more.
For starters, some already had designated names from the outset back when the site went public in 1990. Spots like Freshwater Lake, Lake Victoria, Northwest Lake, Finger Lake, Beaver Lake and Bearclaw Lake have stood the test of time.
Others such as Piedmont Lake, Upper/Lower Twin Lake and Goldenrod Lake came strictly from my imagination. As did the following list of lakes which include a bit history for today's post.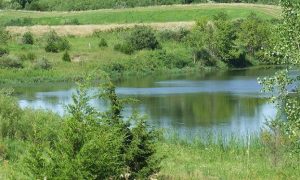 Sewaqe Lake
This lake lies below a water treatment area that borders a portion of Snakeden's northern boundary. This name falls under the landmark category and I still find its appellation appealing although it sounds rather disgusting. Unless, of course, you know the rest of the story.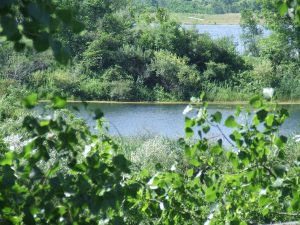 Lake Dolomieu
This one just has a kind of fancy ring to it. As a guy with a biology degree, this name allowed me to pay tribute to Linnaean taxonomy, binomial nomenclature and the species that calls this lake home. This hard to find lake is chock full of smallmouth bass which bear the genus/species designation of Micropterus dolomieu.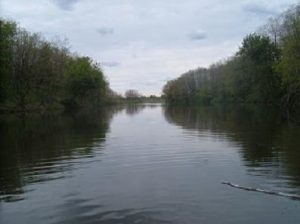 Locust Lake
I first "discovered" this secluded spot in 2009 as Lake McMaster was undergoing a drawdown to allow for construction of overflow structures. At that point, Locust Lake was accessible on foot across a portion of the dry Lake McMaster lakebed but nowadays would require a portage. My choice for a name arose from a portion of the bank that is covered in a grove of locust trees.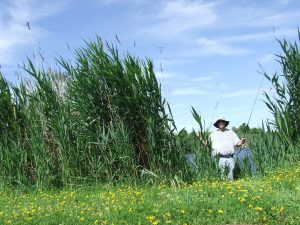 Loon Lake
While the name brings to mind a group of aquatic birds with distinctive calls, there's a bit more to this story. On March 26, 2007, I found myself standing near a nameless lake talking with two other anglers. It is rare to ever see another fisherman in the inner reaches of Snakeden, much less for three of us to actually converge at the same remote location. The other anglers, who were not companions, were quite a pair. One of the individuals was exploring via a decked out bicycle customized for Snakeden. He was also without a shirt on what I found to be a rather brisk spring morning. The other fellow had some bizarre purple topwater lure hanging from his rod that looked to have been made in shop class many years prior. So, "Shirtless Guy" begins to passionately and more than a bit colorfully ramble about the lake's lunkers stressing that perseverance was the key to fooling those wily bass. "Industrial Art" simply nodded along as the strange purple plug bounced away on the end of his rig.
As we parted ways, it entered my mind that Loon Lake would be a fitting name for the fishing hole. For one thing, it would serve the purpose of an homage to wildlife. In addition, it would honor those anglers who are a bit off center as I also had to chuckle at one of "Shirtless Guy's" final comments. On this day, I'd brought along a video camera to film some of my exploits. I was toting it in a carrying case over one shoulder along with my tacklebag while also lugging a tripod in hand with my fishing poles. As our conversation wound down and I mused about this pair of oddballs, "Shirtless Guy" asked, "So what's up with the tripod?" Touché.
Talk to you later. Troy