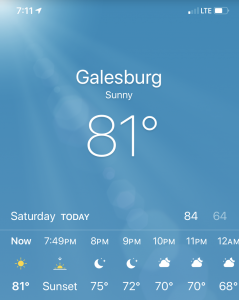 As best I can recall, I first fished Lake Storey in the early 1970s with Dad and it's always a treat to get back on that old hometown fishing hole. This trip actually involved several "missions" and limited fishing but always a good time back in The Burg.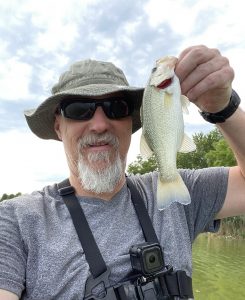 4:55pm – first bass, mission accomplished and the rest didn't get much bigger.
Stats
Date: August 22, 2020
Location: Lake Storey – Knox County, IL
Time: 4:40pm-6:40pm
Weather: Partly cloudy to sunny/breezy to calm
Air Temp: 85-81F
Water Temp: Forgot to check
Totals: 3 bass
Lures: Blue Glimmer Spinnerbait – 2 bass, Strike King Red Eye Shad (sexy shad) – 1 bass
Top Bass: not applicable
Top 5 Weight: Nothing at 12" or better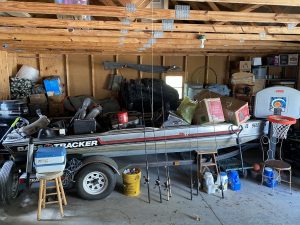 Notes and Nonsense
Mission One – Dad's boat had not been out of the garage since my trip to Lake Storey last October. As a result, it had attracted a fair amount of clutter from Christmas décor to toys to Mom's original childhood highchair. Under Dad's direction, we were able to get the stuff relocated. Mission accomplished.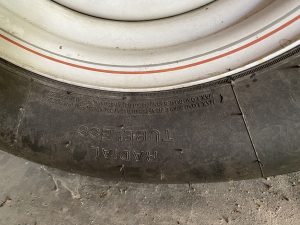 Mission Two – The boat batteries needed charged and the tires required a dose of air in order for the boat to be road and water ready. We hooked up the chargers as we cleared the clutter and Casey's came through with a working air pump. Mission accomplished, barely (see Mission Three below).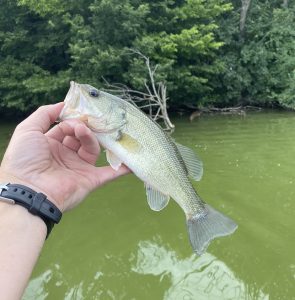 5:05pm – another smallish bass that lives tight to the wood in the background
Mission Three – I figured that while I was in town and the boat was ready that it was worth an evening peek at Lake Storey. My first casts came at 4:40pm with the intent to fish until sunset. However, the partial charge on the batteries as we cleaned the boat nearly left me out of juice after two hours. Thus, I called it quits on fishing at 6:40pm and spent the next forty minutes or so limping back to the ramp from halfway down the lake. Maybe not my brightest idea to roam so far but I did land the third of my three bass down there by Cannon Hill. Mission accomplished, just enough juice to run the boat up on the trailer.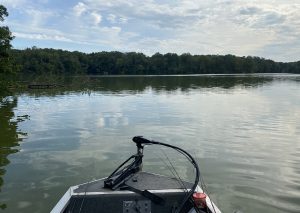 Weeds weren't bad, fooled a few bass and plenty of reminiscing in the relative solitude
Mission Four – This whole pandemic thing has obviously had a profound effect on things that we may have previously taken for granted. One of those things has been the regular visits with my folks. So it was great to hang out on the patio and shoot the breeze for a few hours before and after my brief Lake Storey visit. Mission accomplished with plans to get the whole crew included on a visit soon.
I bill this thing as an "outdoor" website but a fish story always involves more than just the fish or the time on the water. And a trip back home for a visit with an old favorite fishing hole, its wily inhabitants and my folks never disappoints. Talk to you later. Troy