Another update just goes to show that skill and perseverance can add a few more bass to the log as ice begins to form on our area fishing holes. It may not be easy or comfortable and you may not catch a bunch but there are still some bites to be had out there. And some good ones in today's update along with an entertaining fish story.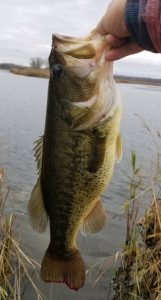 Weight: 4-15
Angler: Jim Junk
Date: November 29
Location: Banner Marsh
Lure: Lipless crankbait
Top 5 Weight: 25-13 (5-15,5-5,4-15,4-14,4-12) culls a 4-11
In addition, Jim just sent me the pics and details below as he has added a couple December bass to his ledger. I'm always up for a fish story and this one brought a smile. Would have been fun to have been an observer for this stunt.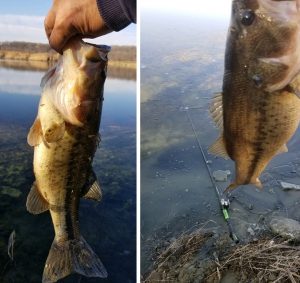 "I'm on the board with a couple December bass yesterday (12/5). Both came on a white chatterbait. They were 3-12 and 3-9. Had to go through the ice for one and the water is pretty chilly. There was about 10' of rather slim ice before open water. Hooked up and actually got the fish up on the ice but he flopped off and was on the ice just out of reach. Put one foot on the ice and was able to reach but broke through before getting back on the bank."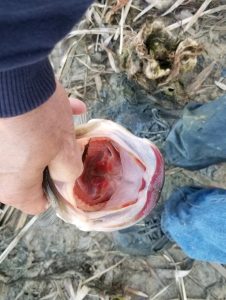 As I mentioned in the intro, skill and perseverance go a long ways in landing such late season bass. Also noted that it may not be easy or comfortable and there you go with a prime example from Jim in getting it done. Kudos for the effort and thanks for the contributions to keep the Top 5 Updates rolling on. Talk to you later. Troy