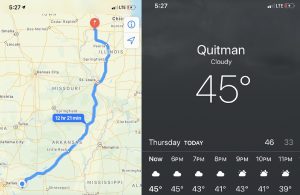 This week's work duties found me making a round trip drive with stops in north central Arkansas and south central Texas. Such an itinerary gave me the opportunity to take a drive by a legendary northeast Texas fishing hole named Lake Fork. I packed a few poles and some tackle just in case I could swing a pit stop on my way home. After a final half day of work and a five hour drive, I made it to the lake with about 45 minutes of daylight remaining. Texas weather wasn't as nice as I'd hoped but there I was on the bank of a spot that I'd dreamed about for over thirty years.
Stats
Date: December 3, 2020
Location: Lake Fork – northwest of Quitman, Texas
Time: 4:53pm-5:18pm
Weather: Overcast/windy
Air Temp: 45F
Water Temp: felt warmer than the air
Totals: 1 bass
Lures: Chatterbait (bluegill) with Zako trailer (green pumpkinseed with white) – 1 bass
Top Bass: 2-7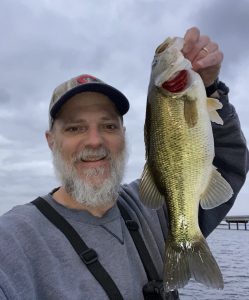 5:18pm – Mission accomplished as daylight faded
Notes and Nonsense
Search for a Spot – After a five hour drive from Seguin, Texas it was time to find an area with decent bank access. In such cases, I always look to start with the dam (rocky bank with proximity to deep water). However, I could not find any dam access roads and only a pay ramp area with shallow water and rather barren bank access. A gas station stop for some dam advice proved fruitless so it was back to Google where I spied a causeway crossing an arm of the lake. All in all, I wasted the better part of an hour of daylight just trying to find somewhere to cast.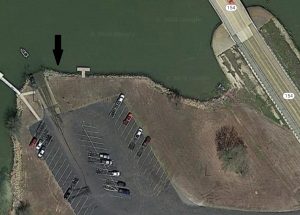 Technology makes it cool to see exactly where I found my Lake Fork bass
Riprap Really Rocks – The causeway that I selected happened to have parking for a public launch ramp and bank access to the water beneath the causeway. Plenty of large rock, known as riprap, lined several stretches of bank, just the kind of spot I look for when chasing bass from the bank on a new lake. Typically, these riprap stretches have a batch of rock that extends out into the lakebed and provides several appealing factors. For starters, the breakline/transition between rock and lake bottom provides a classic "edge" where bass like to hang out. In addition, there are countless nooks and crannies in those underwater rocks that hold forage such as baitfish and crawdads. In terms of presentation, these areas are custom made for a parallel retrieve from the bank. This keeps your lure in the strike zone for the entire cast and also allows you to bump the structure along the way. Finally, from a financial standpoint as a frugal fisherman, I can often get a hung lure freed by walking to the bait to give it some slack or a pull from the opposite direction.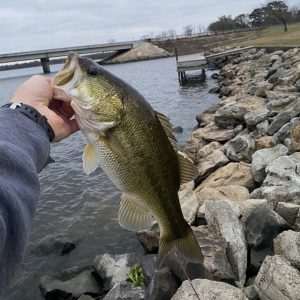 A look back at the stretch of structure that this bass called home
Plan B – After 15 minutes of casting along the causeway riprap without a bite, I headed to the ramp area for crunch time as daylight faded. I tried a spinnerbait on riprap stretches on each side and along the ramp but found no bites. As a result, I decided to switch to a chatterbait and work the ramp area again with the new presentation. A few casts later, I had a solid strike jar me out of my mindset that things were not going to work out for a Texas bass. Very cool and some important fishing lessons reinforced by the catch. If you think you have some good water but aren't finding a bite, a change in lure, retrieve speed or angle can be the key to fooling a fish. And while this outing was very limited in terms of time, it is well worth hitting a good looking spot a couple times in order to cross paths with an interested bass.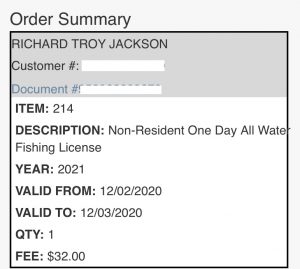 $37 Bass – A non-resident one day permit in Texas comes in at $16 and there is also a $5 transaction fee. I opted for a pair of one day passes but things did not work out on the previous day as I ran into access issues and fading daylight but that's another story. At any rate, that Lake Fork bass wound up with a price tag of $37. I suppose if I was to calculate the hourly cost of fishing it would be $74/hour as I only cast for about 30 minutes on my two days' worth of permits.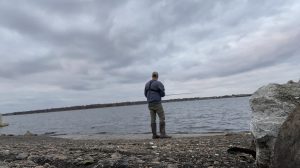 Seen a lot of pics and vids of Lake Fork over the last 30 years, fun to join the club
All good in the end as I was actually there for work after all, the fishing was just icing on the cake. I'll tell you what though, it sure made my day. The combination of six days away from my family, a thousand miles from home, hotel beds, restaurant food, too much beef jerky and M&Ms and poor radio reception for most of the journey just wore me out. Therefore, it was good to find something to recharge my batteries. Fishing on a renowned bass lake that I never dreamt I would see and taking a picture with one of its inhabitants was a winner. Still smiling as I type. Talk to you later. Troy