The first open water fishing trip of the year is always an eagerly awaited event. And in the case of my first trip of 2016, I just happened to be in the midst of blogging through a chronological rundown of "first bass" from 1997 through 2015. Secretly, I thought it would be an excellent finale to that series if my first bite was a good one to lead off 2016. Well, I did catch a good one, but it showed up one bite too late which was just fine.
Read on for some stats, pics and excerpts from the original blog entry posted on March 17, 2016.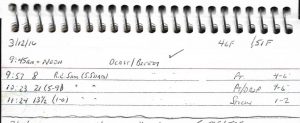 A great start to another year on the water
Well, I finally got my shot to get out and wound up with a real solid day. I'd sure been chomping at the bit with the combination of above average weather and a rousing start for the anglers who've joined the Top 5. As a result of some cooperative fish, I was able to establish my initial five fish limit and leave myself ready to cull next time out. In the case of four of my Top 5 creel I suspect they won't be around for many more outings. Now that's not bragging, they just aren't that big. But I count 'em all and you gotta start somewhere. On the other hand, the kicker bass of my day, well, it could be around for a while. Here's the stats and the story.
Stats
Date: March 12, 2016
Location: Knox County strip mines (2 private, 2 public)
Time: 9:45am-6:05pm (5.25 hours fishing, the rest relocating)
Weather: Overcast/windy/scattered rain
Air Temp: 46F-55F
Water Temp: 51-52F
Totals: 19 bass
Lures: Strike King Red Eye Shad (sexy shad) – 15 bass, Spinnerbait (salt and pepper) – 2 bass, Chatterbait (white) – 2 bass
Top Bass: 5-9 Strike King Red Eye Shad (sexy shad)
Top 5 Weight: 10-13 (5-9,1-6,1-5,1-5,1-4)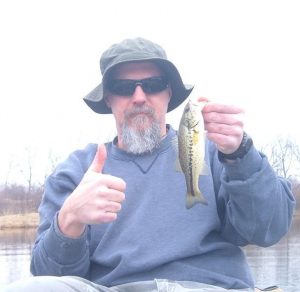 9:57am – First bass
Notes & Nonsense
First Bass – Rather than keep you in suspense for the 2016 entry if you are still hanging in there with the First Bass series, I present the above fish as the winner. At 8" it winds up as the smallest of the first bass in the last twenty years of fishing. Here I was setting the stage for a repeat of my 2015 First Bass (that one was 5-13, by the way) and it just didn't work out. No matter though, the first catch of the year is always a winner and this winner came off an underwater ridge on the Strike King Red Eye Shad only twelve minutes into casting.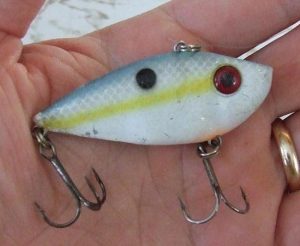 Strike King Red Eye Shad – Can't go wrong cranking this one around to start the year
The Sound of Silence – My second bass of the year was quite a jump in size as it could have eaten that first bass. Once again, the Red Eye Shad did the trick when worked across a sharply dropping point where I also landed a 4-13 in July of 2014 on the same bait. Pretty cool, one lure, one point, two bites and over 10 pounds of fish. What was also cool was the way the fish hit the lure. The water and weather conditions were just right to hear the rattle of the lipless crank as it did its thing about five feet under the stained water. I've experienced this before at Emiquon where you hear the bait skip beat before you ever feel a strike as the fish hits the lure coming at you. I knew I had a fish via my ears before I ever felt it in a tactile sense. I had no idea how large it would turn out from the lack of rattle but sure knew it was good when I instinctively put the hooks to it. I've never caught a six-pounder (got really close with a 5-15 and a 7-3) but sure thought this one had a chance when it broke the surface and later came aboard. I weighed it twice to make sure but only 5-9, I'll take it.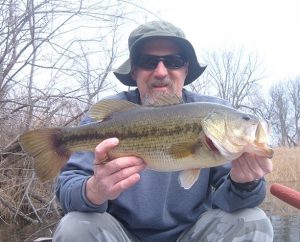 10:23am – Second bass, just a bit larger than the first
Looking back, it is funny that I noted the lack of a six-pounder to close that old fishing report. Would you believe that my first bass of 2017 achieved that milestone and currently stands as my best ever first bass? Of course, that's another story and one that you will get in the 2022 version of Friday Flashback.
But hey, before we worry about that, we've got thirty-eight more Fridays to cover as the series runs its course. Still looking to get that first bass of 2021 but may be a couple weeks away before I can get my shot. Talk to you later. Troy