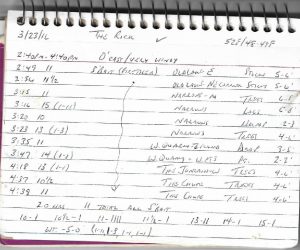 An impromptu outing five years ago on a quality fishing hole with a generous host provided a welcome escape. Read on for the report from "The Rock" as originally submitted on March 30, 2016.
A couple weeks ago I chalked up my 3/12 outing as my lone shot at some March bass. Work and family commitments for the rest of the month meant a wait until sometime in April for round two. And I was good with that after a successful debut both in terms of quantity (19 bass) and quality (established my initial Top 5 limit). However, during a work trip down to Peoria County I had the good fortune of crossing paths with a fishing friend, Chris Rock, who invited me out to The Rock for a couple hours of casting once my job duties were completed. I wasn't sure considering it being an awfully long day but upon texting Julie, she gave me the boost I needed by texting in return, "You gotta do it." So, I did.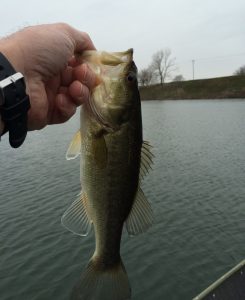 2:49pm – first bass and a March bonus on an ad lib outing
Stats
Date: March 23, 2016
Location: The Rock
Time: 2:40pm-4:40pm
Weather: Overcast/very windy
Air Temp: Low 50's (may have qualified for wind-chill)
Water Temp: 48-49F
Totals: 11 bass (Chris similar if not more)
Lures: Spinnerbait (firetiger) – 11 bass, others on chatterbait, jig or jerkbait
Top Bass: 1-11 (Chris likely got me by a few ounces on one of his bass)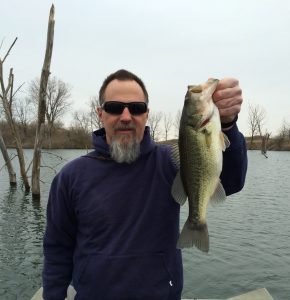 3:16pm – Top Bass 15″ and 1-11 on a spinnerbait
Notes and Nonsense
Foul Weather Fishermen – While some are referred to as "fair weather fishermen", in our experience on the water together, Chris and I would definitely not fit the bill. About midway into our gray, windy, cold front afternoon Chris commented, "I don't think we've had a nice day yet" in reference to our two previous outings together. I'd had the same thought running through my head as this day was no exception. For proof it took until somewhere between Wyoming and Toulon on the drive home before I could once again feel all my fingers. Even so, it was certainly worth delaying my after work drive by a couple hours.
Generous Guide – Chris not only knows a thing or two about his fishing holes, but he is also simply a good angler. As such he is also an excellent guide, helping to put his guests in a solid position to catch some fish. But despite Julie advising me to take my fishing gear to work "just in case", I had left it at home. Of course, when offering up the invitation to go fishing, Chris also added that he had "plenty of fishing stuff". On the water he opened up his tacklebox for my selection along with the advice that we were going to start our quest in some areas featuring 3-6' depths. I chose a spinnerbait in firetiger, was rewarded with my first bass about ten minutes into casting and stuck with the bait the entire trip. It served me well which was fortunate as most of my fingers wound up so numb that I don't believe I could have tied on another lure anyway.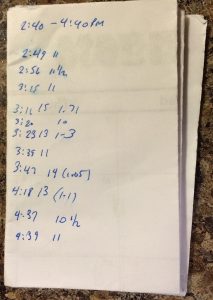 Makeshift log as I can't ditch the documenting, old habits are hard to break
Improvisation – An impromptu trip calls for some adjustments on my part in terms of my fishing habits. One somewhat unnerving matter was not having the regular tools with which I document my catch, no tape measure, no scale, and no log. Years of tracking fish is too much to disregard even for one trip so I did the best I could. After eyeballing thousands of bass, I felt confident in my estimates on the lengths of my catches. Anything worth weighing was taken care of via Chris' scale and my log consisted of a piece of scrap paper as included above. I did have my good luck floppy hat in the truck, however, even though a stocking cap may have been more weather appropriate.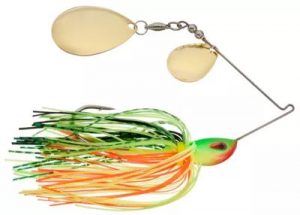 A winning choice from my fishing partner's tacklebox
All in all, a cool finish to a long day which saw me get out of bed at 2:00am, hit the road for Peoria County at 2:55am, work from 4:30 am until 2:00pm, cast from 2:40pm until 4:40pm and get back home at about 6:30pm. Took me a couple days to get rested but definitely worth it and many thanks to Chris for the invite and the generosity. Always a good time hanging out on the water and some bonus bass to boot.
Fun to look back on one of those outings that prove the saying that "the best time to go fishing is anytime you can." I also like to think that winging it with a lone borrowed lure and getting it done deserves a little pat on the back. Then again, it may be more about the fishing hole than the fisherman, as it is quite a special place. Talk to you later. Troy