Each month, I try to go beyond the numbers with some further insights and observations from my time on The Canal. Such notes from July cover water conditions, Canal access, a nostalgic technique, and an out of the ordinary item from The Canal's "Lost and Found."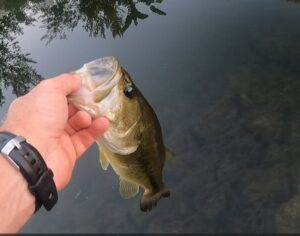 More water on this stretch of The Canal as last year the submerged rocks in this photo were high and dry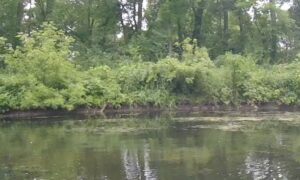 In contrast, the exposed bank on this stretch was under water last year
Water Levels – I have fished The Canal for just over two years and it has been interesting to explore the miles and miles of water. One observation that stands out for 2023 is the change in water levels on different stretches. I don't know the rhyme or reason for the differing levels, but I have struggled to parlay these changes into a solid bite. On the pools that are deeper this year, I can't find a consistent bite on the increased shoreline structure. On the low pools, I can't find where they are hiding in the abundant vegetation. Just a strange year for me out there and beginning to think that The Canal spoiled me in previous years.
Old school pedal power as I go back to my Canal roots
Back on the Bike – My first experiences on The Canal beginning in June 2021 were either on bike or on foot. For July this year, six of my eight outings went back to my roots with pedal power. These trips were quick hits when I had less than two hours to cast. The approach was quite effective in landing two thirds of my July catches and all my July 2023 Top 5 bass.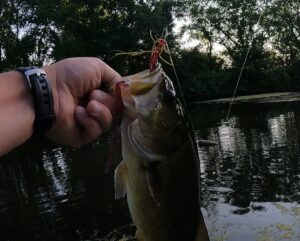 The good, old Texas rigged plastic worm has been getting it done for a long time
Texas Time – On the previously mentioned bike rides, I invested a significant amount of time throwing a Texas rigged worm. This presentation goes back to my bass fishing roots in the early to mid-80s but has been neglected for a long time. New techniques, lures, and confidence baits have dominated my offerings instead. However, I found an area that featured a deep, clean channel and decided to break out the old setup. The bass in the area took a liking to the lure and included four over two pounds.
Instead of a lost lure, I found a prehistoric creature last month
Dimetrodon Discoveries – An occasional bonus from prowling The Canal is adding some tackle to the collection. This is particularly true when accessing the water by boat as you can pluck lost lures from trees that a bank angler cannot reach. 2023 has provided slim pickings though as shore bound anglers are either improving their casting or not fishing where I fish. My July discovery pictured above was made in a parking area rather than the trees. It was a plastic creature that I recognized as Dimetrodon from back when I was a kid and totally into dinosaurs. Upon doing a bit of research for this post though, I found that Dimetrodon was not a dinosaur but rather a "non-mammalian synapsid" that predated the dinosaurs by many millions of years. In fact, Dimetrodon became extinct roughly 40 million years before the dinosaurs roamed the earth. It was cool to discover some new information from my Canal discovery. And while it was rewarding to find that those in the know still called this creature Dimetrodon, the revelation that my childhood "dinosaur" collections weren't quite paleontologically accurate was disappointing. Of course, some of the sets also included cavemen, which I already knew was wrong, just like Cha-Ka from the old "Land of the Lost" series.
And now, it is on to see what August holds in store as I continue to "Prowl the Canal." Talk to you later. Troy