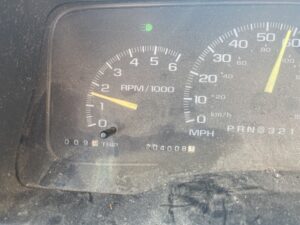 On the road to the fishing hole, 204,000 miles and counting
After 123 days of "winter", the water was open, the weather was stellar, and I had a weekend day to get away. I met my brother, Brent, at one of the Snakeden lots in search of my first bass with the anticipation of a little exercise along the way (Brent got his first bass and some exercise several days prior). We covered a lot of ground for not a lot of bass, but I was more than happy to kick off 2022. Read on for the rundown.
Stats
Date: March 20, 2022
Location: Snakeden Hollow (5 lakes)
Time: 12:10pm-6:00pm (4.50 hours fishing)
Weather: Sunny/breezy to windy
Air Temp: 59-71F
Water Temp: no reading
Totals: 11 bass (Troy – 6, Brent – 5)
Lures: Rapala Shad Rap (blue) – 5 bass, Spinnerbait (green) – 3 bass, Strike King Red Eye Shad (chartreuse sexy shad) – 2 bass, Chatterbait (white) with twin tail trailer (root beer pepper green) – 1 bass
Top Bass: 1-11 Rapala Shad Rap
Top 5 Weight (only 4 at or > 12"): 4-5 (1-11,1-3,0-12,0-11)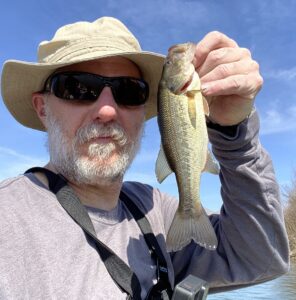 1:20pm First bass, plenty of room for improvement
Trip Lyric
"It's been a long time, been a long time, been a long lonely, lonely, lonely, lonely, lonely time." – Led Zeppelin, Rock and Roll (1971)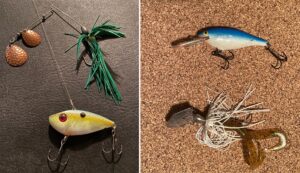 Winning Lures (Brent, left – Troy, right)
Notes and Nonsense
Overdressed – I am not sure what I was thinking other than the forecast was not going to meet it's high in the 60s. My attire consisted of a themal, a long-sleeved t-shirt and a sweatshirt along with some fleece lined pants. It turns out that the temperature hit 70 and resulted in a pile of shirts cast aside as Brent was somewhat similarly dressed. But Dad always said on the trapline that "you can take off what you don't need but you can't put on what you don't have." Right on the money at the fishing hole as well.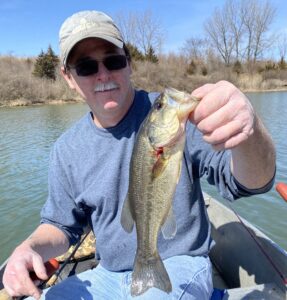 1:29pm Brent's first bass of the day (third of the year)
Fellow Fishers – We were not the only folks taking advantage of the pleasant first day of spring. Four anglers crossed our path, several others were spotted from a distance and over a half dozen cars were scattered around the lots. One pair of fishermen repeated our report of "some small bass" while a second pair expressed a desire to "find a spot away from the crowd."
4 for 5 – All told, we fished five bodies of water, one more than my initial goal. Only the first spot was a shutout on Goldenrod Lake. Slurry Lake produced seven bass, Bearclaw two, Bactrian one and Beaver one. This trip was one of the earliest visits that I have made to most of these spots, and I was struck by how clean and clear the waters were in late March. The place still brings surprise and enjoyment nearly thirty-five years after Brent and I first fished it.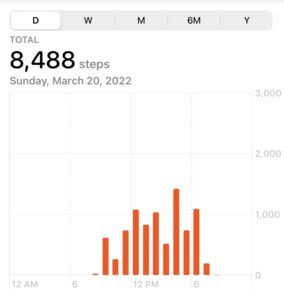 Roughly 772 steps/bass, but who's counting
Record Quest Data – As covered in the trip preview post "Go Fish!", an added objective in my fishing reports this year will be a look inside the record book. I still think it is a fun idea, but we didn't find much to add on this inaugural outing. In fact, had Slurry Lake not been lacking two fish for a full Top 5, I wouldn't have any record data to report. The details are below with the new Top 5 catches in bold.
Slurry Lake
All-Time Top 5 Weight: 10-4 (4-3,3-9,1-1, 0-12, 0-11)
A boost from 8-14 to 10-4 in the record book, all good.
A slow start is infinitely better than no start and plenty of casts to go as we make our way through another year of fishing and blogging. Stay tuned and talk to you later. Troy